Lockheed P-2 Neptune Video - Overview
Lockheed P-2 Neptune Video - Flybys
Lockheed P-2 Neptune Aircraft Information
Lockheed P-2 Neptune
P-2 (P2V) Neptune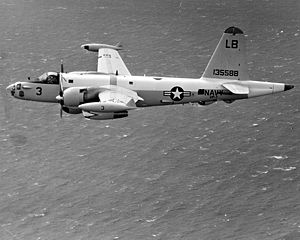 Picture - SP-2H of VP-7 over the Atlantic in the mid-1960s.
Role: Maritime Patrol and Anti-Submarine Warfare
Manufacturer: Lockheed
First flight: 17 May 1945
Introduced: March 1947
Retired: 1984 From military use
Primary users: United States Navy Japan Maritime Self Defense Force Royal Australian Air Force Royal Canadian Air Force Argentine Navy
Variants: Kawasaki P-2J

The Lockheed P-2 Neptune (originally designated P2V until September 1962) was a Maritime patrol and ASW aircraft. It was developed for the United States Navy by Lockheed to replace the Lockheed PV-1 Ventura and PV-2 Harpoon, and being replaced in turn with the Lockheed P-3 Orion. Designed as a land-based aircraft, the Neptune never made a carrier landing, although a small number of aircraft were converted for carrier use and successfully launched. The type was successful in export and saw service with several armed forces.
Design and development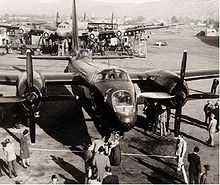 Picture - XP2V-1 prototype in 1945
Development began early in World War II, but in comparison to other aircraft in development at the time it was considered a low priority. So it was not until 1944 that the program went into full swing. A major factor in the design was ease of manufacture and maintenance, and this can be said to have been a major factor in the type's long life and worldwide success. The first aircraft flew in 1945. Production began in 1946, and the aircraft was accepted into service in 1947.
It was one of the first aircraft to be fitted in operational service with both piston and jet engines. The Convair B-36, several Boeing C-97 Stratofreighter, Fairchild C-123 Provider, and Avro Shackleton aircraft were also fitted with both.
Operational history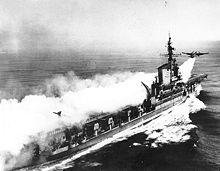 Picture - A P2V takes off from the USS Franklin D. Roosevelt (CVA 42) in 1951
Early Cold War
Prior to the introduction of the P-3 Orion in the mid-1960s the Neptune was the primary U.S. land-based anti-submarine patrol craft, intended to be operated as a the hunter of a '"Hunter-Killer" group, with Destroyers employed as killers. Several features aided this task:
Various sonobouys could be launched from a fuselage station in the after portion of the fuselage and monitored by radio
While some models were equipped with "pointable" twin .50 caliber machine guns in the nose, most had with a forward observation bubble with an observer seat, and this feature may be seen in several of the images.
A Magnetic Anomaly Detector was fitted in an extended tail, producing a paper chart. While unmarked charts were not classified, any with annotations were classified as secret.
A belly mounted surface search radar enabled detection of surfaced and snorkeling submarines at considerable distances.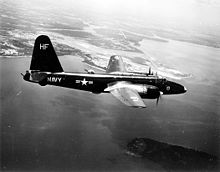 Picture - P2V-2 of VP-18 over NAS Jacksonville, 1953
As the P-2 was replaced in the U.S. Navy by the P-3A Orion in active Fleet squadrons in the early and mid-1960s, the P-2 continued to remain operational in the Naval Air Reserve through the early 1970s, primarily in its SP-2H version. As active Fleet squadrons transitioned to the P-3B and P-3C in the mid- and late-1960s and early 1970s, the Naval Reserve P-2s were eventually replaced by P-3As and P-3Bs and the P-2 exited active U.S. naval service.
Vietnam War
During the Vietnam War, the Neptune was used by the US Navy as a gunship, an overland reconnaissance and sensor deployment aircraft, and in its traditional role as a maritime patrol aircraft. The Neptune was also utilized by the U.S. Army's 1st Radio Research Company (Aviation), call sign "Crazy Cat," located at Cam Ranh Bay, as an electronic "ferret" aircraft. Observation Squadron 67 (VO-67), call sign "Lindy", was the only P-2 Neptune aircraft squadron to ever receive the Presidential Unit Citation. VO-67 lost three aircraft and 20 aircrew due to ground fire during its ultra secret missions into Laos and Vietnam in 1967-68. The ROCAF/Taiwan's secret 34th Squadron's RB-69A/P2V-7U ELINT/SIGINT aircraft flew a low level electronic reconnaissance from Da Nang, flying over Thanh Hoa province on 20 August 1963 to investigate a air resupply drop zone that turned out to be a set trap for a ROCAF C-123B airdrop mission 10 days earlier due to the air inserted agents were captured and turned. Next year an air defense radar mapping mission was also flew by 34th Squadron's RB-69A/P2V-7U aircraft into North Vietnam and Laos on the night of 16 March 1964. The RB-69A took off from Da Nang, flew up the Gulf of Tonkin before coasting in near Haiphong, then flew down North Vietnam and the Laos border. The mission was requested by SOG for helping plan the insert or resupply of agents. Seven AAA sites, 14 early warning radar sites and two CGI radar signals were detected.
Falklands War
The Argentine Naval Aviation had received at least 16 Neptunes in different variants since 1958 including eight ex-RAF for use in the Escuadrilla Aeronaval de Exploracix³n (English: Naval exploration squadron). They were intensively used in 1978 during the Operation Soberania against Chile including over the Pacific Ocean.
During the Falklands War (Spanish: Guerra de las Malvinas) in 1982, the last two airframes in service (2-P-111 and 2-P-112) played a key role of reconnaissance and aiding Dassault Super x‰tendards, particularly on the 4 May attack against HMS Sheffield. The lack of spare parts, caused by the US having enacted an arms embargo in 1977 due to the Dirty War, led to the type being retired before the end of the war; Argentine Air Force C-130 Hercules took over the task of searching for targets for strike aircraft.
In 1983, the unit was reformed with Lockheed L-188 Electras modified for maritime surveillance; in 1994 these were replaced with P-3B Orions.
Other military operators
The Canadian version, the Lockheed CP-127 (P2V-7) Neptune served in the RCAF Maritime Air Command from 1955, as an anti-submarine, anti-shipping and maritime reconnaissance aircraft, being fitted with piston engines initially. In 1957, the CP-127s had two underwing Westinghouse jet engine pods installed. This conversion provided additional thrust for an improved takeoff, increased endurance by allowing higher weights of fuel and generally improved the overall performance of the aircraft. Armament included two torpedoes, mines, depth charges, bombs carried internally plus unguided rockets mounted externally underwing. A total of 25 Neptunes served with nos. 404, 405 and 407 squadrons until the type was replaced by the Canadair CP-107 Argus in 1968.
The Royal Air Force Coastal Command operated 52 P2V-5s, designated Neptune MR.1s as a stop-gap modern maritime patrol aircraft until the Avro Shackletons could enter service. They were used from between 1952 and March 1957, being used for Airborne Early Warning experiments as well as for maritime patrol.
In Australia, the Netherlands, and the US Navy, its tasks were taken over by the much larger and more capable P-3 Orion, and by the 1970s, it was only in use by patrol squadrons in the US Naval Reserve. The US Naval Reserve abandoned its last Neptunes in 1978, those aircraft also having been replaced by the P-3 Orion. By the 1980s, the Neptune had fallen out of military use in most purchasing nations, replaced by newer aircraft.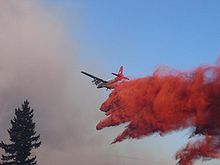 Picture - Neptune Aviation Services' P-2V Neptune drops Phos-Chek on the 2007 WSA Complex fire in Oregon.
In Japan, the Neptune was license-built from 1966 by Kawasaki as the P-2J, with the piston engines replaced by IHI turboprops. Kawasaki continued their manufacture much later than Lockheed did; the P-2J remained in service until 1984.
In 1954 under Project Cherry, CIA obtained five newly built P2V-7 (7047/135612/54-4037, 7097/140438/54-4038, 7099/140440/54-4039, 7101/140442/54-4040, 7105/141233/54-4041) and converted these into P2V-7U/RB-69A variants by Lockheed's Skunk Works at Hangar B5 in Burbank, California, for the CIA's own private fleet of covert ELINT/ferret aircraft. Later to make up P2V-7U/RB-69A operational losses, the CIA obtained and converted two existing US Navy P2V-7s (7286/150283 in September 1962, 7021/135564 in December 1964) to P2V-7U/RB-69A Phase VI standard, and also acquired an older P2V-5(128355) from US Navy as training aircraft in 1963. Test flights done by lead aircraft (7047) at Edwards AFB from 1955 to 1956, all the aircraft painted with dark sea blue color but with USAF markings. In 1957 P2V-7U (7047) was sent to Eglin AFB for testing aircraft performance at low level and under adverse conditions. The initial two aircraft (7097, 7099) were sent to Europe, based at Wiesbaden, West Germany, but were later withdrawn in 1959 when the CIA reduced its covert aircraft assets in Europe. The CIA sent the other two P2V-7U/RB-69As to Hsinchu Air Base, Taiwan, where by December 1957, they were given to a "Black Op" unit, the ROCAF/Taiwan's 34th Squadron, aka the "Black Bat" Squadron, and painted in ROCAF/Taiwan markings. The ROCAF/Taiwan P2V-7U/RB-69A's mission was to conduct low level penetration flights into mainland China to conduct ELINT/ferret missions including mapping out China's air defense networks, inserting agents via airdrop, and dropping leaflets and supplies. The agreement for Plausible Deniability between US and ROC government meant the RB-69A would be manned by ROCAF/Taiwan crew while conducting operational missions, but would be manned by CIA crew when ferrying RB-69A out of Taiwan or other operational area to US.
The P2V-7U/RB-69A flew with ROCAF/Taiwan Black Bat Squadron over China from 1957 to November 1966. All five original aircraft (two crashed in South Korea, three shot down over China) lost with all hands on board. In January 1967, two remaining RB-69As flew back to NAS Alameda, California, and were converted back to regular US Navy P2H/P2V-7 ASW aircraft configurations.Most of the 34th Squadron's Black Op missions still remain classified by the CIA, although a CIA internal draft history, Low-Level Technical Reconnaissance over Mainland China (1955-66), reference CSHP-2.348, written in 1972 that covers CIA/ROCAF/Taiwan 34th Squadron's Black Op missions is known to be in existence but would not be declassified by the CIA until after 2022.
Civilian firefighting
P-2/P2Vs are currently employed in aerial firefighting roles by operators such as Aero Union and Neptune Aviation Services and can carry 2,400 gal (9,084 l) of retardant with a service life of 15,000 hours. Neptune proposes to replace them with Bombardier Q200 and Q300 aircraft which are estimated to have a service life of 80,000 hours.
"Truculent Turtle"
The third production P2V-1 was chosen for a record-setting mission, ostensibly to test crew endurance and long-range navigation but also for publicity purposes: to display the capabilities of the Navy's latest patrol bomber. With time, the aircraft has come to be called "Truculent Turtle," but, in fact, its nickname was simply "The Turtle," which was painted on the aircraft's nose (along with a cartoon of a turtle smoking a pipe pedaling a device attached to a propeller).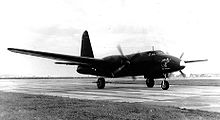 Picture - P2V-1 Turtle in 1946
Loaded with fuel in extra tanks fitted in practically every spare space in the aircraft, the Turtle set out from Perth, Australia to the United States. With a crew of four (and a nine-month-old gray kangaroo, a gift from Australia for the Washington, D.C. zoo) the aircraft set off on 9 September 1946, with a RATO (rocket-assisted takeoff). Two and a half days (55h, 18m) later, the "Turtle" touched down in Columbus, Ohio, 11,236.6 mi (18,083.6 km) from its starting point. It was the longest unrefueled flight made to that point - 4,000 mi (6,400 km) longer than the USAF's B-29 Superfortress record. This would stand as the absolute unrefueled distance record until 1962 (beaten by a USAF B-52 Stratofortress), and would remain as a piston-engined record until 1986 when Dick Rutan's Voyager would break it in the process of circumnavigating the globe. The "Truculent Turtle" is preserved at the National Museum of Naval Aviation at NAS Pensacola.
Variants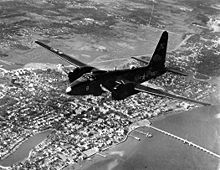 Picture - P2V-3 of VP-5 in 1953
XP2V-1
Prototype, one produced.
P2V-1
First production model; 15 built.
P2V-2
Second production model; 81 built.
P2V-2N "Polar Bear"
Modified Neptune with ski landing gear and early MAD gear; one1 built.
P2V-3
Upgraded powerplant; 83 built.
P2V-3C
Carrier-based Neptune; 11 built.
P2V-3B
Conversions from other P2V-3 models, including P2V-3C and -3W, fitted with the ASB-1 Low Level Radar Bombing System; 16 converted.
P2V-3W
Airborne Early Warning variant, APS-20 search radar; 30 built.
P2V-3Z
VIP combat transport; two built.
P2V-4 (P-2D)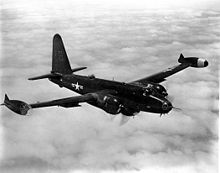 Picture - P2V-5 with nose turret in 1952
Upgraded powerplant and fuel capacity; 52 built.
P2V-5
Replaced solid nose with turret, APS-20 and APS-8 search radars standard, jettisonable wingtip fuel tanks. Late models featured observation nose and MAD gear in place of nose and tail turrets; 424 built.
P2V-5F (P-2E)
Modification with J34 jet engines, deleted wing rocket stubs, increased bombload.
AP-2E
Designation applied to P2V-5F with special SIGINT/ELINT equipment used by the US Army's 1st Radio Research Company at Cam Ranh Bay.
P2V-5FD (DP-2E)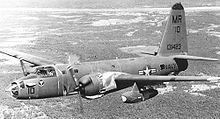 Picture - An OP-2E of VO-67 in 1967/68 over Laos
P2V-5F with target towing or drone launch capability, various defensive equipment and all weaponry deleted.
P2V-5FE (EP-2E)
P2V-5F with Julie/Julie ASW gear but without other changes of P2V-5FS (SP-2E). Assigned almost exclusively to USNR.
P2V-5FS (SP-2E)
P2V-5F with Julie/Jezebel ASW gear.
OP-2E
Modified for use as part of Operation Igloo White with Observation Squadron 67 (VO-67); only 12 converted.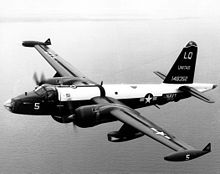 Picture - P-2H of VP-56 in 1963
P2V-6 (P-2F)
Aerial mine delivery capability, APS-70 search radar, upgraded powerplant; 83 built.
P2V-6B
AUM-N-2 Petrel missile launch capability.
P2V-6M (MP-2F)
Formerly P2V-6B, 16 produced; note that originally the M mission modifier prefix stood for missile carrier, but was eventually dropped, becoming the role-modifier for multi-mission aircraft.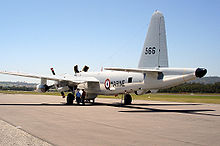 Picture - Restored French P-2H in Australia, 2004
P2V-6F (P-2G)
P2V-6/P-2F refitted with J34 jet engines.
P2V-6T (TP-2F)
Trainer version with armament deleted, wingtip tanks often deleted.
P2V-7 (P-2H)
Last Neptune variant produced by Lockheed, upgraded powerplant, jet pods standard, improved wingtip tanks, APS-20 search radar, bulged cockpit canopy, early fitted with nose and tail turrets, but replaced with observation nose and MAD tail, dorsal turret also fitted early and replaced with observation bubble; 311 built.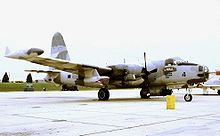 Picture - US Navy AP-2H of VAH-21
P2V-7LP (LP-2H)
Ski landing gear, JATO provisions; four built.
P2V-7S (SP-2H)
Additional ASW/ECM equipment including Julie/Jezebel gear.
P2V-7U
Naval designation of the RB-69A variant.
AP-2H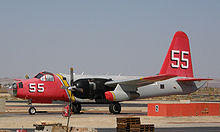 Picture - Minden Air's Tanker 55, formerly an SP-2H, at Fox Field
Specialized ground attack variant for Heavy Attack Squadron 21 (VAH-21); only four converted.
RB-69A
Least known of the P2V Neptune family. Five built, two converted for CIA covert operations, obtained with USAF help and operated by ROCAF/Taiwan's 34th Squadron. Aerial reconnaissance/ELINT platform, modular sensor packages fitted depended on the mission needs. Originally fitted with Westinghouse APQ-56 Side Looking Airborne Radar (SLAR), the APQ-24 search radar, the Fairchild Mark IIIA cameras, the APR-9/13 radar intercept receiver, the QRC-15 DF system, the APA-69A DF display, the APA-74 pulse analyser, the Ampex tape recorder, the System 3 receiver to intercept enemy communications, the APS-54 RWR, a noise jammer, the RADAN system doppler radar navigation, and others. In May 1959, a upgrade program known as Phase VI was approved, and added the ATIR air-to-air radar jammer, replacing APR-9/13 with ALQ-28 ferret system, the QRC-15, 3 14-channel recorders and 1 7-channel high speed recorder to record ELINT systems, the K-band receiver, the ASN-7 navigation computer replacing RADAN, and Fulton Skyhook system.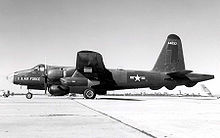 Picture - RB-69A of the CIA in USAF markings
Lockheed produced seven main variants of the P2V. In addition, Kawasaki built the turboprop-powered P-2J in Japan. Model names after the 1962 redesignation are given in parentheses.
C-139
The C-139 designation was applied to a planned transport version of the Neptune, which was cancelled before any aircraft were built.
Neptune MR.1
British designation of P2V-5; 52 delivered.
CP-122 Neptune
RCAF designation of P2V-7.(jet pod not initially fitted to 25 P2V-7 aircraft delivered to RCAF, but subsequently retrofitted)
Kawasaki P-2J (P2V-Kai)
Japanese variant produced by Kawasaki with T64 turboprop engines, various other improvements; 82 built.
Operators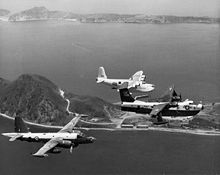 Picture - A RAAF SP-2H with a USN P-5 and a RNZAF Sunderland in 1963
Military operators
Argentina
Argentine Navy - Argentine Naval Aviation (eight units)
Escuadrilla Aeronaval de Exploracion

Australia
Royal Australian Air Force
No. 10 Squadron RAAF
No. 11 Squadron RAAF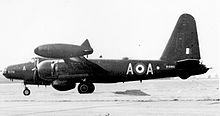 Picture - A Neptune MR.1 of 217 Sqn Coastal Command RAF in 1953
Brazil
Brazilian Air Force (14 Units)
1°/7° Grupo de Aviax§x£o

Canada
Royal Canadian Air Force
No. 404 Squadron RCAF
No. 405 Squadron RCAF
No. 407 Squadron RCAF

Chile France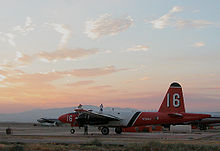 Picture - Aero Union P-2 Tanker 16 at Fox Field in 2003, without jet engines
Japan
Japan Maritime Self Defense Force

Netherlands
Dutch Naval Aviation Service

Portugal Republic of China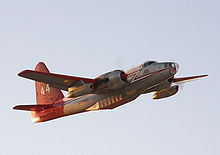 Picture - Neptune Aviation Services' Tanker 44 takes off from Fox Field to fight the California wildfires of October 2007
French Navy

Republic of China Air Force
34th Black Bat Squadron

United Kingdom
Royal Air Force
No. 36 Squadron RAF
No. 203 Squadron RAF
No. 210 Squadron RAF
No. 217 Squadron RAF
No. 236 Operational Conversion Unit RAF

United States
United States Army
United States Navy
Central Intelligence Agency operated 7 RB-69A in USAF colors.

Civilian operators
Aero Union
Minden Air
Neptune Aviation Services

Survivors
There are a few Neptunes that have been restored and are on display in museums and parks.
SP-2E
Historic Aircraft Restoration Projects, Brooklyn, New York; Bureau Number (BuNo)131542* SP-2E is at Floyd Bennett Field Brooklyn, Hangar "B"
United States Army Aviation Museum, Fort Rucker, Alabama; Army serial number 61-31485 / Navy BuNo 131485

SP-2H
Museo Aeronaval (MUAN) of Argentine Naval Aviation: SP-2H serial 2-P-112 is the one which tracked HMS Sheffield
National Museum of Naval Aviation, NAS Pensacola, Florida; BuNo 141234 and BuNo 141561
NAS Jacksonville Memorial Park, NAS Jacksonville, Florida; BuNo 131410
Gate guard, former NAS Brunswick, Maine; BuNo 128392
Gate guard, Moffett Federal Airfield (former NAS Moffett Field), California; BuNo 128393
Gate guard, Marine Corps Base Hawaii (former MCAS Kaneohe Bay), Hawaii; BuNo 150279 (relocated from former NAS Barbers Point, Hawaii)
Gate guard, MVK De Kooy, The Netherlands

P-2H
Mid-Atlantic Air Museum. Reading, Pennsylvania; BuNo 144683
Museum of Aviation Robins AFB, Georgia; BuNo 147954. The P-2 Neptune is painted to represent a USAF/CIA/Taiwan RB-69A.
Pima Air and Space Museum, Tucson, Arizona; aircraft configured as an AP-2H, BuNo 135620

P2V
P2V-1 "Truculent Turtle" aircraft, National Museum of Naval Aviation, NAS Pensacola, Florida; BuNo 89082
Pima Air and Space Museum, Tucson, Arizona; BuNo 147957
Veterans of Foreign Wars Post 3761, Baltimore, Ohio; on display on grounds; BuNo unknown

Specifications
P2V-3
Data from Combat Aircraft since 1945
General characteristics
Crew: 9-11
Length: 77 ft 10 in (23.72 m)
Wingspan: 100 ft 0 in (30.48 m)
Height: 28 ft 4 in (8.56 m)
Wing area: 1,000 ft² (92.9 m²)
Empty weight: 34,875 lb (15,819 kg)
Max takeoff weight: 64,100 lb (29,076 kg)
Powerplant: 2x— Wright R-3350-26W Cyclone-18 radial engine, 3,200 hp (2,386 kW) wet each
Propellers: 3 bladed propeller, 1 per engine

Performance
Maximum speed: 278 kn (313 mp/h) (515 km/h)
Cruise speed: 155 kn (174 mp/h) (286 km/h) (max)
Range: 3,458 nmi (3,903 mi) (6,406 km)

Armament
Rockets: 2.75 in (70 mm) FFAR in removable wing-mounted pods
Bombs: 8,000 lb (3,629 kg) including free-fall bombs, depth charges, and torpedoes

P-2H (P2V-7)
Data from Combat Aircraft since 1945
General characteristics
Crew: 7-9
Length: 91 ft 8 in (27.94 m)
Wingspan: 103 ft 10 in (31.65 m)
Height: 29 ft 4 in (8.94 m)
Wing area: 1,000 ft² (92.9 m²)
Empty weight: 49,935 lb (22,650 kg)
Max takeoff weight: 79,895 lb (35,240 kg)
Powerplant: 2x— Wright R-3350-32W Cyclone Turbo-compound radial engine, 3,700 hp (2,759 kW) wet each
Propellers: 4 bladed propeller, 1 per engine

Performance
Maximum speed: 316 kn (363 mp/h) (586 km/h) (all engines)
Cruise speed: 180 kn (207 mp/h) (333 km/h) (max)
Range: 1,912 nmi (2,157 mi) (3,540 km)
Service ceiling: 22,400 ft ()

Armament
Rockets: 2.75 in (70 mm) FFAR in removable wing-mounted pods
Bombs: 8,000 lb (3,629 kg) including free-fall bombs, depth charges, and torpedoes

Related development
Kawasaki P-2J

Comparable aircraft
Avro Shackleton
Consolidated PB4Y-2 Privateer
Martin P4M Mercator

Bibliography
Donald, David, ed. "Lockheed P2V Neptune". The Complete Encyclopedia of World Aircraft. New York: Barnes & Noble Books, 1997. ISBN 0-7607-0592-5
Eden, Paul. "Lockheed P2V Neptune". Encyclopedia of Modern Military Aircraft. London: Amber Books, 2004. ISBN 1-90468-784-9.
Howard, Peter J. "The Lockheed Neptune in R.A.F. Service: Part 1". Air Pictorial, August 1972, Vol. 34. No. 8, pp. 284-289, 294.
Howard, Peter J. "The Lockheed Neptune in R.A.F. Service: Part 2". Air Pictorial, September 1972, Vol. 34. No. 9, pp. 356-360.
Sullivan, Jim, P2V Neptune in action. Carrollton, TX: Squadron/Signal Publications, 1985. ISBN 978-0897471602.
Wilson, Stewart. Combat Aircraft since 1945. Fyshwick, ACT, Australia: Aerospace Publications Pty Ltd., 2000. ISBN 1-875671-50-1.

Lockheed P-2 Neptune Pictures and Lockheed P-2 Neptune for Sale.
Living Warbirds: The best warbirds DVD series.
Source: WikiPedia