Lockheed X-7 Video - Picture
Lockheed X-7 Aircraft Information
Lockheed X-7
X-7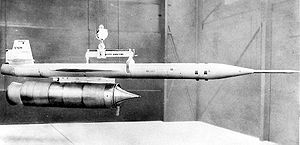 Role: Experimental aircraft
Manufacturer: Lockheed Corporation
First flight: 1951
Retired: 1960
Primary user: United States Air Force
Developed into: AQM-60 Kingfisher

The Lockheed X-7 (dubbed the "Flying Stove Pipe") was an unmanned test bed for ramjet engines and missile guidance technology. It was carried aloft by a B-29 or B-50 Superfortress carrier aircraft. The booster rocket ignited after launch and propelled the vehicle to a speed of 1,000 mph (1,625 km/h). The booster was then jettisoned, and the underslung ramjet took over from that point. The X-7 eventually returned to Earth, its descent slowed by parachute. A maximum speed of 2,881 mph (4640 km/h / Mach 4.31) was attained, setting a record for fastest air-breathing aircraft at the time. A total of 130 X-7 flights were conducted from April 1951 to July 1960.
Specifications (X-7A-1)
General characteristics
Crew: None
Length: 32 ft 9 in (9.98 m)
Wingspan: 12 ft (3.66 m)
Height: 7 ft (2.1 m)
Loaded weight: 8,000 lb (3,600 kg)
Powerplant:
1x— Alleghany Ballistics Laboratories X202-C3 solid-fuel rocket, 105,000 lbf (467 kN)
1x— various Marquardt MA20 ramjets under test, ()

Performance
Maximum speed: Mach 4.31 (2,881 mph, 4,640 km/h)
Service ceiling: 106,000 ft (32,317 m)

Related development
Q-5 Kingfisher

Comparable aircraft
Bomarc

Lockheed X-7 Pictures and Lockheed X-7 for Sale.
Living Warbirds: The best warbirds DVD series.
Source: WikiPedia