Utva Aviation Industry Video - Picture
Utva Aviation Industry Aircraft Information
Utva Aviation Industry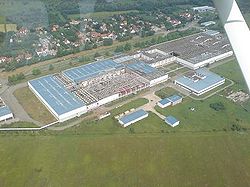 Picture - Utva manufacturing plant
Utva Aviation Industry is an aircraft factory located in Pan─Źevo, Serbia. Founded 1937 in Zemun, known for its light sporting and training aircraft. Previously, the company was named "Utva", but in 1996 it was immersed with Lola another factory from ┼Żeleznik. In 2005 company ownership was re-examined and the company changed its name to Utva Aircraft Industry as it is known today.
During the NATO air strikes against Federal Republic of Yugoslavia in 1999 the factory was severely damaged.
Current projects
Utva G-4M Super Galeb
The G-4M Super Galeb is a prototype version of the generic G-4 Super Galeb. The prototype included, advanced avionics and higher-rated hardpoints complemented by a missile rail at each wingtip.
Lasta 95
New primary training plane. Serbian Air Force ordered 16 planes, Iraq ordered 20 planes so far.
Utva 96
Currently, Utva is trying to replace the Utva 75, which is becoming an excessively aged model. The Utva 96 will be the 75's successor. Currently the 96 is being developed as a prototype.
Types of produced planes
212
213 'Vihor' ('maelstrom')
Aero 3
Trojka
56
60
60-AT1
60-AT2
60-AG (agricultural versions)
60-AM (air ambulance)
60H (float plane)
60 V-51
65
65 'Privrednik' ('Agriculturist')
65 'Privrednik'-IO
65 'SuperPrivrednik'-350
66
66-AM (air ambulance)
66H
66V
66 Super STOL
75
75A21
75A41
75AG11
75 V-53
Lasta 95
Utva 96
Mini UAV Raven
Medium UAV

Utva-75
Utva-65
Utva-66H
Utva-213
Utva Aviation Industry Pictures
More aircraft.
Source: WikiPedia