Macchi M.15 Video - Picture
Macchi M.15 Aircraft Information
Macchi M.15
Macchi M.15

Role: Reconnaissance aircraft, bomber, and trainer
National origin: Italy
Manufacturer: Macchi
Designed by: Ing Tonini and Ing Bergonzi
First flight: 1922
Primary user: Italy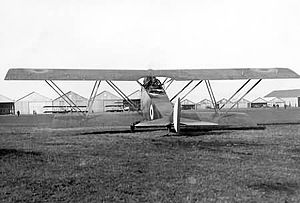 Picture -
The Macchi M.15 was an Italian reconnaissance, bomber, and trainer designed and built by Macchi.
Design and development
The M.15, which first flew in 1922, was a two-seat biplane with wings of unequal span, its upper wing being of wider span than its lower wing. Its interplane struts were inclined in a "V" configuration. Its 238-kilowatt (320-horsepower) Fiat A.12 engine drove a two-bladed propeller in a tractor configuration and gave it a top speed of 185 kilometers per hour (115 miles per hour). It had fixed landing gear.
Operators
Italy
Specifications
General characteristics
Crew: 2
Length: 8.57 m (28 ft 1.4 in)
Wingspan: 13.47 m (44 ft 2.3 in)
Height: 3.37 m (11 ft 0â…" in)
Wing area: 42.00 m² (452.07 ft²)
Empty weight: 1,230 kg (2,712 lb)
Gross weight: 1,743 kg (3,843 lb)
Powerplant: 1 x— Fiat A.12, 238 kW (320 hp)

Performance
Maximum speed: 185 km/h (115 mph)
Range: 600 km (373 miles)
Service ceiling: 6,000 m (19,685 ft)

Armament
2 x 7.65-millimeter (0.312-inch) machine guns

Aerei Italiani Macchi M.15

Macchi M.15 Pictures and Macchi M.15 for Sale.
Living Warbirds: The best warbirds DVD series.
Source: WikiPedia