Macchi M.7 Video - RC Scale Model
Macchi M.7 Aircraft Information
Macchi M.7
Macchi M.7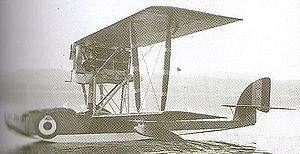 Picture - Macchi M.7 fighter
Role: single-seat fighter flying-boat
National origin: Italy
Manufacturer: Macchi
Designed by: Alesandro Tonini
First flight: 1918
Primary user: Italian Navy Aviation
Number built: 100+


Picture - Macchi M.7bis racer
The Macchi M.7 was an Italian single-seat fighter flying boat designed by Alesandro Tonini and built by Macchi. A modified version the M.7bis won the Schneider Trophy in 1921.
Development
The M.7 was similar to the earlier M.5 but had a modified hull and was powered by a Isotta-Fraschini V.6 engine. Due to the end of World War I, only 17 aircraft were delivered to the Italian Navy. In 1919, two each were sold to Argentina and Sweden, and in 1921, Brazil bought three.
In 1920, Tonini designed the M.7bis a racing version for the Schneider Trophy, it had a lighter structure and reduced-span wings. Five M.7s entered the 1921 competition at Venice, which was won by Giovanni di Briganti flying the M.7bis. At the 1922 competition at Naples, the M.7bis came in fourth.
In 1923, a revised variant the M.7ter appeared, it had redesigned hull, revised wing configuration and new tail unit. Three different versions of the M.7ter were built, including the M.7ter AR, which had folding wings to allow them to operate from the seaplane-carrier Giuseppe Miraglia. In 1924, six Italian naval squadrons had equipped with the M.7ter and over 100 were built. The aircraft was also used as late as 1940 by civilian flying schools.
Operators
Argentina
Argentine Naval Aviation

Brazil Italy Sweden
Specifications (M.7ter)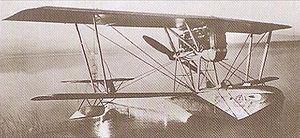 Picture - Macchi M.7ter fighter
Data from
General characteristics
Crew: 1
Length: 8.09 m (26 ft 6½ in)
Wingspan: 9.95 m (32 ft 7¾ in)
Height: 2.97 m (9 ft 9 in)
Wing area: 23.50 m² (252.96 ft²)
Empty weight: 805 kg (1,775 lb)
Gross weight: 1,098 kg (2,421 lb)
Powerplant: 1 x— Isotta-Fraschni V.6 inline piston engine, 194 kW (260 hp)

Performance
Maximum speed: 200 km/h (124 mph)
Endurance: 3 hours 0 min
Service ceiling: 7,000 m (22,965 ft)

Armament
2 x— 7.7 mm (0.303 in) Vickers machine guns (fixed forward firing in bow)

Schneider Trophy

Taylor, Michael J. H. (1989). Jane's Encyclopedia of Aviation. London: Studio Editions.
The Illustrated Encyclopedia of Aircraft (Part Work 1982-1985). Orbis Publishing.

Macchi M.7 Pictures and Macchi M.7 for Sale.
Living Warbirds: The best warbirds DVD series.
Source: WikiPedia