Macchi M.C.94 Video - Picture
Macchi M.C.94 Aircraft Information
Macchi M.C.94
Macchi M.C.94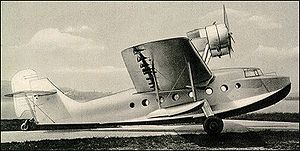 Role: Commercial flying boat
Manufacturer: Macchi
Designed by: Mario Castoldi (1888-1968)
First flight: 1935
Introduced: 1936
Primary users: Ala Littoria (Italy) Corporacix³n Sudamericana de Servicios Aéreos (Argentina)
Number built: 12

The Macchi M.C.94 was a 1930s Italian commercial flying boat built by Macchi.
Development
The M.C.94 was designed by Mario Castoldi (1888-1968) as a commercial passenger transport flying boat to replace the Ala Littoria airline's elderly CANT 10s. Constructed mainly of wood, it was a high-wing cantilver monoplane with a two-step hull and single fin and rudder. The prototype, which was an amphibian with a retractable wheeled undercarriage which swung forward into streamlined casings in the leading edges of the wings, was powered by two 574-kilowatt (770-horsepower) Wright SGR-1820-F Cyclone nine-cylinder air-cooled radial engines mounted above the wing, each driving a tractor propeller. It was followed by 11 production aircraft, which were all pure flying boats. From the seventh aircraft, 570-kilowatt (765-horsepower) Alfa Romeo 126 RC 10 radial engines were fitted. The three-man crew was accommodated in a raised and enclosed cockpit and a main cabin could accommodate 12 passengers.
Ala Littoria purchased the prototype and first five production aircraft in 1936. The Regia Aeronautica (Italian Royal Air Force) declined purchase of the final six production aircraft, which Ala Littoria then also bought.
Operational history
The M.C.94 entered service with Ala Littoria in 1936 on Adriatic routes, and a number were still in service during World War II. In 1939, Ala Italia sold three of its M.C.94s to its Argentinian partner, Corporacix³n Sudamericana de Servicios Aéreos.
The prototype set a number of international world records for flying boats in 1937, including a new altitude record of 6,432 meters (21,102 feet) carrying a payload of 1,000 kilograms (2,205 pounds), a speed record of 248.967 kilometers per hour (154.67 miles per hour) over a 2,000-kilometer (1,242-statute-mile) closed circuit, and a speed record of 257.138 kilometers per hour (159.78 statute miles per hour) carrying a 1,000-kilogram (2,205-pound) payload over a 1,000-kilometer (621-statute-mile) closed circuit.
Variants
M.C.94 prototype Amphibian version with Wright engines M.C.94 - first five production aircraft Pure flying boat version with Wright engines M.C.94 - final six production aircraft Pure flying boat version with Alfa Romeo engines
Operators
ARG Corporacix³n Sudamericana de Servicios Aéreos A.L.F.A. (Aviacix³n del Litoral Fluvial Argentino) ITA Ala Littoria
Specifications
M.C.94 with Wright SGR-1820 Cyclone engines
Data from World Encyclopedia of Civil Aircraft
General characteristics
Crew: 3
Capacity: 12 passengers
Length: 16.17 m (53 ft 0¾ in)
Wingspan: 22.93 m (75 ft 2¾ in)
Height: 5.45 m (17 ft 10 in)
Gross weight: 7,550 kg (16,645 lb)
Powerplant: 2 x— Wright SGR-1820 Cyclone nine-cylinder radial engine, 574 kW (770 hp) each

Performance
Maximum speed: 250 km/h (155 mph)
Range: 1,380 km (857 miles)
Service ceiling: 5,250 m (17,725 ft)

Angelucci, Enzo (1984). World Encyclopedia of Civil Aircraft. London: Willow Books. ISBN 0-00-218148-7.
Taylor, Michael J. H. (1989). Jane's Encyclopedia of Aviation. London: Studio Editions.
The Illustrated Encyclopedia of Aircraft (Part Work 1982-1985). Orbis Publishing. pp. 2398.

Macchi M.C.94 Pictures and Macchi M.C.94 for Sale.
Living Warbirds: The best warbirds DVD series.
Source: WikiPedia