Martin AM Mauler Video - Scale RC Model
Martin AM Mauler Aircraft Information
Martin AM Mauler
AM (BTM) Mauler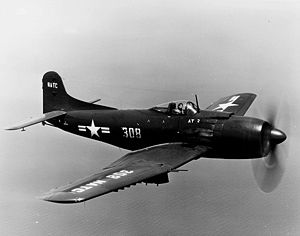 Picture - An AM-1 of the U.S. Naval Test Center
Role: Attack aircraft
National origin: United States
Manufacturer: Glenn L. Martin Company
First flight: 26 August 1944
Introduced: 1947
Retired: 1953
Primary user: United States Navy
Number built: 151 (including conversions)

The Martin AM Mauler (originally BTM) was a shipboard attack aircraft of the United States Navy. Designed during World War II, the aircraft did not enter production until well after the war after a number of problems. A total of 151 aircraft were built, but they did not remain long in Navy service; the smaller and simpler Douglas AD Skyraider proved to be a superior aircraft. Active duty squadrons abandoned the Mauler in 1950, and it lasted through 1953 in reserve units.
Design and development
In the 1930s and very early 1940s, the Navy differentiated between two types of carrier-borne bomber: the torpedo bomber and the dive bomber. In 1943, this distinction was abandoned, and the US Navy invited proposals for a new multi-purpose bomber. Unlike previous aircraft, this was to be a single-seater; no separate bombardier or radio operator was deemed necessary, and the aircraft was intended to be as fast as fighters and thus not need a rear gunner.
In 1944, four new designs were offered as shipborne attack aircraft: the Curtiss XBTC-1/2, Douglas XBT2D-1, Kaiser-Fleetwings XBTK-1 and the Martin XBTM-1. Martin was tasked to provide a back-up to the Curtiss design which had been selected as a replacement to their SB2C Helldiver. Due to the US Navy's concern that the Curtiss design was overly complex and that the company's production record was particularly suspect in the Helldiver development phase, Martin was instructed to create an "unexperimental" design that would be a reliable platform for the Pratt & Whitney R-4360 Wasp Major that powered both aircraft. The R-4360 four-row "corncob" radial engine was the largest piston engine ever to see aircraft service and was so powerful that its torque made the aircraft difficult to fly.
The BTM Mauler was one of the largest single-engine single-seat combat aircraft ever built and had to resolve the engine's tendency to turn the aircraft which was partially offset by mounting the R-4360 2° to the right. Direct controls were not feasible in an aircraft of this size and bulk, instead, a system of hydraulic servos gave the pilot a power assist. All of this meant that the aircraft, originally ordered to assist in the invasion of Japan, was not ready until 1947, causing a rift between Martin and the US Navy, which worried that a protracted development period would jeopardize the program.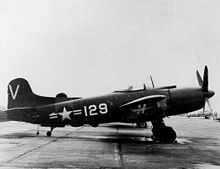 Picture - A Naval Air Reserve AM-1Q.
The first XBTM-1 flew on 26 August 1944, piloted by O.E. "Pat" Tibbs, Martin's Chief Test Pilot. The second prototype soon joined the fight test unit, followed up by 16 pre-production BTM Maulers. In 1946, the aircraft designation was changed to AM-1.
A new series, the AM-1Q was developed to undertake radar countermeasures. Original production as well as converted AM-1s made up the 18 aircraft on order but initial testing proved unsatisfactory, leading to the cancellation of a production series.
Operational history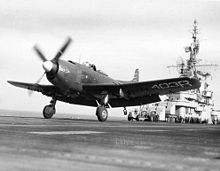 Picture - VA-174 AM-1 taking off from the USS Kearsarge in 1949
Problems with the tail hooks damaging the rear fuselage delayed service entry another year, and it was not until 1948 that they saw operational service. Attack Squadron 17 A was the first to receive AM-1s, taking first delivery on 1 March 1948. They could carry enormous bombloads; a Martin test pilot flew one hauling three 2,200 lb (1,000 kg) torpedoes, 12 500 lb (230 kg) bombs, and a full load of ammunition - a total payload of 12,648 lb (5,737 kg), a record at the time for a single-engine aircraft. Bomb loads in carrier service were smaller, though, and the aircraft gained a mostly-deserved reputation for being hard to land on carrier decks, leading to the nickname of "Awful Monsters". Pilots more favorably impressed by the bombload interpreted AM as "Able Mable".
With the prospect of flying both the similar AD-1 Skyraider and AM-1 in carrier operations, the US Navy assigned the type to Atlantic Fleet squadrons. Although the Skyraider was smaller and could not carry as much of a bombload, it proved much more reliable in service and easier to fly and land, and Navy pilots preferred it. In 1950, the decision was made to use the Mauler only from shore-based units and, later that year, all but Naval Reserve units abandoned the type while reservists flew them until 1953.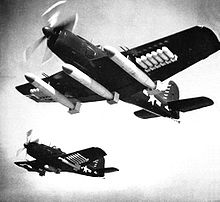 Picture - Two AM-1s during armament tests
Variants
XBTM-1 Two prototypes with company designation of Model 210 built. BTM-1/AM-1 A total of 143 production aircraft, reduced from the original 750 aircraft on order. AM-1Q A total of six conversions from the original AM-1 production stocks.
Operators
United States
United States Navy
VA-84, VA-85 USS Midway, VA-44,45, VA-174 USS Leyte, VA-673, VA-703, VA-735

Survivors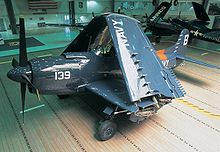 Picture - AM-1 at the National Museum of Naval Aviation.
A number of survivors exist; the AM Mauler that set the payload record is preserved at the National Museum of Naval Aviation in Pensacola, Florida, while a number of less complete examples also survive. One of these, belonging to the Commemorative Air Force (formerly the Confederate Air Force) was kept in flying condition until the 1980s.
AM-1 BuNo 22257 - National Museum of Naval Aviation, Pensacola, Florida
AM-1 Glen L Martin Maryland Museum, Maryland
AM-1 Tillamook Air Museum, Tillamook, Oregon,

Specifications (AM Mauler)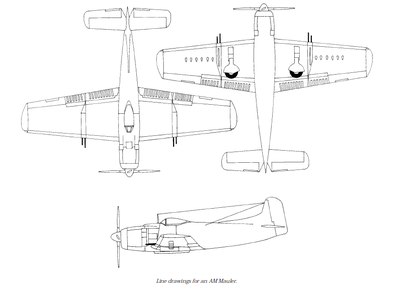 Picture - Line drawings for an AM-1.
Data from United States Navy Aircraft since 1911
General characteristics
Crew: 1
Length: 41 ft 2 in (12.55 m)
Wingspan: 50 ft 0 in (15.24 m)
Height: 16 ft 10 in (5.13 m)
Wing area: 496 ft² (46.1 m²)
Empty weight: 14,500 lb (6,557 kg)
Loaded weight: 23,386 lb (10,608 kg)
Powerplant: 1x— Pratt & Whitney R-4360-4 Wasp Major radial engine, 2,975 hp (2,219 kW)

Performance
Maximum speed: 367 mph (319 knots, 591 km/h)
Range: 1,800 mi (1,565 nmi, 2,898 km)
Service ceiling: 30,500 ft (9,299 m)
Rate of climb: 2,780 ft/min (14.1 m/s)

Armament
Guns: 4 x— 20 mm cannons
Bombs: 4,500 lb (2,045 kg) normal load

Comparable aircraft
A-1 Skyraider
Blackburn Firebrand
Curtiss XBTC
Kaiser-Fleetwings XBTK
TB2D Skypirate
Blackburn Firecrest

Bibliography
Andrews, Hal and Walter Boyne. "The Fable of Able Mable: Flying Fifteen Tons of Midnight Blue Beastie." Airpower, Volume 4, no. 4, July 1974.
Green, William and Gerald Pollinger. The Aircraft of the World. London: Macdonald, 1955.
Kowalski, Bob. Martin AM-1/1-Q Mauler. Simi Valley, CA: Ginter Books, 1995. ISBN 0-942612-24-8.
Swanborough, Gordon and Peter M. Bowers. United States Navy Aircraft since 1911. London:Putnam, Second edition, 1976. ISBN 0 370 10054 9.
Wilson, Stewart. Combat Aircraft Since 1945. Fyshwick, Australia: Aerospace Publications Pty Ltd., 2000. ISBN 1-875671-50-1.

Martin AM Mauler Pictures and Martin AM Mauler for Sale.
Living Warbirds: The best warbirds DVD series.
Source: WikiPedia