Martin B-10 Video - Historical video - Silent
Martin B-10 Video - Pre-War American Bombers
Martin B-10 Aircraft Information
Martin B-10
B-10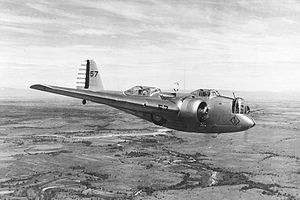 Picture - B-10 being flown during a training session at Maxwell Field
Role: Bomber aircraft
Manufacturer: Glenn L. Martin Company
Designed by: Peyton M. Magruder
First flight: 16 February 1932
Introduced: November 1934
Retired: 1949 Royal Thai Air Force
Primary users: United States Army Air Corps Turkish Air Force Dutch East Indies AF Argentinian Air Force
Produced: 1933-1937
Number built: 121 B-10 32 B-12 342 of all variants including 189 export versions
Unit cost: $52,083
Variants: Martin Model 146

The Martin B-10 was the first all-metal monoplane bomber to go into regular use by the United States Army Air Corps, entering service in June 1934. It was also the first mass-produced bomber whose performance was superior to that of the Army's pursuit aircraft of the time. The B-10 served as the airframe for the B-12, B-13, B-14, A-15 and O-45 designations using Pratt & Whitney engines instead of Wright Cyclones.
The B-10 included several revolutionary features, and won the Collier Trophy in 1932 for the Martin Company, recognizing its landmark design.
Design and development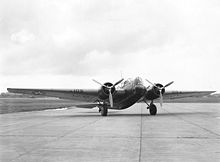 Picture - Martin B-10B airplane
The XB-10 began as the Martin Model 123, a private venture by the Glenn L. Martin Company of Baltimore, Maryland. It had a crew of four: pilot, copilot, nose gunner and fuselage gunner. As in previous bombers, the four crew compartments were open, but it had a number of design innovations as well. The most important of these were the first known example of a powered gun turret in a military aircraft, located in the nose position, deep belly for an internal bomb bay and retractable main landing gear. Its 600 hp (447 kW) Wright SR-1820-E Cyclone engines allowed for significant power. It first flew on 16 February 1932 and was delivered for testing to the U.S. Army on 20 March.
The B-10 began a revolution in bomber design. Its all-metal monoplane build, along with its features of closed cockpits, rotating gun turrets, retractable landing gear, internal bomb bay, and full engine cowlings, would become the standard for decades. It made all existing bombers completely obsolete. In 1932, Martin received the Collier Trophy for designing the XB-10.
The XB-10 delivered to the Army was slightly different from the original aircraft. Where the Model 123 had NACA cowling rings, the XB-10 had full engine cowlings to decrease drag. It also sported a pair of 675 hp (503 kW) Wright R-1820-19 engines, and an eight-foot increase in the wingspan. When the XB-10 flew during trials in June, it recorded a speed of 197 mph (317 km/h) at 6,000 ft (1,830 m). This was an impressive performance for 1932.
Following the success of the XB-10, a number of changes were made, including reduction to a three-man crew, addition of canopies for all crew positions, and an upgrade to 675 hp (503 kW) engines. The Army ordered 48 of these on 17 January 1933. The first 14 aircraft were designated YB-10 and delivered to Wright Field, starting in November 1933. The production model of the XB-10, the YB-10 was very similar to its prototype.
Operational history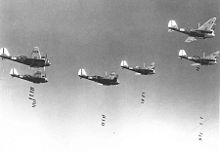 Picture - Martin B-10B during exercises
In 1935, the Army ordered an additional 103 aircraft designated B-10B. These had only minor changes from the YB-10. Shipments began in 1935 July. B-10Bs served with the 2nd Bomb Group at Langley Field, the 9th Bomb Group at Mitchel Field, the 19th Bomb Group at March Field, the 6th Composite Group in the Panama Canal Zone, and the 4th Composite Group in the Philippines. In addition to conventional duties in the bomber role, some modified YB-10s and B-12As were operated for a time on large twin floats for coastal patrol.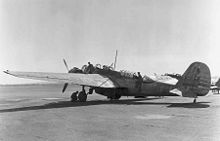 Picture - Martin B-12 at March Field, California, 19 November 1935
The Martin Model 139 was the export version of the Martin B-10. With an advanced performance, the Martin company fully expected that export orders for the B-10 would come flooding in.
The Army owned the rights to the Model 139 design. Once the Army's orders had been filled in 1936, Martin received permission to export Model 139s, and delivered versions to several air forces. For example, six Model 139Ws were sold to Siam in April 1937, powered by Wright R-1820-G3 Cyclone engines; 20 Model 139Ws were sold to Turkey in September 1937, powered by R-1820-G2 engines.
Legacy
At the time of its creation, the B-10B was so advanced that General Henry H. Arnold described it as the air power wonder of its day. It was 1.5 times as fast as any biplane bomber, and faster than any contemporary fighter. The B-10 began a revolution in bomber design; it made all existing bombers completely obsolete. However, the rapid advances in bomber design in the 1930s meant that the B-10 was eclipsed by the B-17 Flying Fortress and B-18 Bolo before the United States entered World War II. The B-10's obsolescence was proved by the quick defeat of B-10B squadrons by Japanese Zeros during the invasions of the Dutch East Indies and China.
An abortive effort to modernize the design, the Martin Model 146 was entered into a USAAC long-distance bomber design competition 1934-1935, lost out to the Douglas B-18 and revolutionary Boeing B-17. The sole prototype was so similar in profile and performance to the Martin B-10 series that the other more modern designs easily "ran away" with the competition.
Variants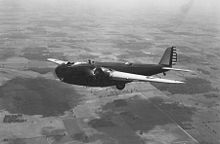 Picture - Martin XB-907
Martin Model 123
Private venture of Martin company, predecessor of the XB-10, served as prototype for the series.
XB-907
US Army designation for the Model 123 in evaluation
XB-907A
Modified XB-907 after Martin returned it to U.S. Army for further operational trials
XB-10
Designation of the XB-907A when purchased by the United States Army Air Corps, Modified Martin Model 123 with full engine cowlings, fully rotating nose glass turret, more powerful engines, and increased wingspan.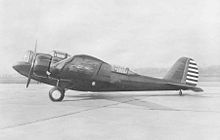 Picture - Martin YB-10
YB-10
Model 139, production version of the XB-10 with crew reduced to three members, canopies for all crew members and better engines (675 hp/503 kW R-1820-25), 14 built, some flown temporarily as float planes.
B-10
Two additional aircraft ordered in 1936.
RB-10MA
One former NEIAF Model 139WH-3A model impressed in July 1942 and flown from Australia to the United States.
YB-10A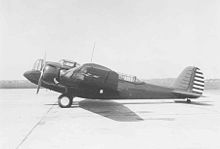 Picture - Martin B-12
The YB-10A was different from a YB-10 only in its engines. It used Wright R-1820-31 turbo-supercharged radials, allowing it to attain speeds of 236 mph (380 km/h). This made it the fastest aircraft of the B-10 series. Despite this advantage, only one was built, as a test aircraft.
B-10B
Main production version with two 775 hp (578 kW) R-1820-33 engines, 103 built.
B-10M
A number of B-10Bs converted as target tugs.
YB-12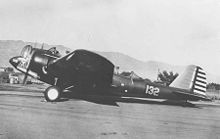 Picture - Martin B-12A
Re-engined version of the YB-10 with Pratt & Whitney R-1690-11 "Hornet" radial engines. These 775 hp (578 kW) engines gave similar performance to those on the B-10B (218 mph/351 km/h), seven built.
B-12A
The production version of the YB-12 with provision for a 365 gal (1,381 l) bomb bay tank, giving the B-12A a combat range of 1,240 mi (1,995 km), 25 built.
YB-13
Re-engined version of the YB-10 powered by two 700 hp (522 kW) Pratt & Whitney R-1860-17 radial engines. Ten were on order but cancelled before production started, not built.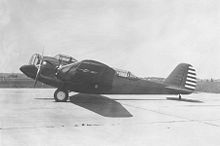 Picture - Martin XB-14
XB-14
The last of the 48 XB-10-airframes ordered by the army was a version of the YB-10 using Pratt & Whitney YR-1830-9 "Twin Wasp" radial engines, one built.
A-15
Proposed attack variant of the YB-10 with two 750 hp (559 kW) R-1820-25 engines, was never built. The contract fell to the A-14 Shrike.
YO-45
One YB-10 temporarily tested in the high-speed observation role.
Martin Model 139
Martin export version of the B-10 bomber, six sold to Siam
Model 139WA
Martin demonstrator for Argentina
Model 139WAA
Export version for Argentine Army, 26 built
Model 139WAN
Export version for the Argentine Navy, 12 built.
Model 139WC
Export version for China, six built.
Model 139WH
Export version to Netherlands for use in the Dutch East Indies. Produced in block series H-1 (13 built), H-2 (26 built) and H-3. The 139WH-3 (also known as the Model 166) had two 900 hp (671 kW) R-1820-G102 and single long dorsal canopy, 39 built. The 139W-3A (also known as the Model 166A) as WH-3 with equipment changes, 39 built. A total of 116 were built for the Dutch.
Model 139WS
Single demonstrator to the Soviet Union.
Model 139WSM
Export version for Siam, 6 built.
Model 139WSP
Proposed licence built version to be built by CASA of Spain, production blocked by U.S. State Department.
Model 139WT
Export version for Turkey, 20 built
Operators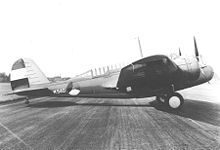 Picture - Side view of Dutch Martin Model 166
Argentina
Argentine Air Force received 27 Model 139W/WAA aircraft.
Argentine Navy - The Argentine Naval Aviation received 13 Model 139WAN aircraft.

China
Chinese Nationalist Air Force

Dutch East Indies
Royal Netherlands East Indies Army Air Force

Indonesia
Indonesian Air Force took over several numbers of B-10, passed to Indonesian guerillas from Netherlands East Indies in 1945.

Philippines
Philippine Army Air Corps

Siam
Royal Thai Air Force received six Model 139W aircraft in April 1937 and used them during the French-Thai War of 1940-41, and during the 1942 invasion of Burma. It was given a further nine ex-Dutch aircraft by the Japanese in 1942. They remained in service until 1949.

Turkey
Turkish Air Force received 20 Model 139W aircraft in September 1937.

Soviet Union
Soviet Air Force bought one aircraft for evaluation.

United States
United States Army Air Corps

Survivors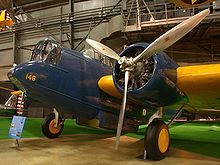 Picture - B-10 on display at the National Museum of the United States Air Force
The only surviving complete B-10 is on display at the National Museum of the United States Air Force at Wright-Patterson Air Force Base near Dayton, Ohio. The aircraft is painted as a B-10 used in the 1934 Alaskan Flight. It was an export version sold to Argentina in 1938. The aircraft survived as a ground crew trainer, and was still being used by the Argentine Air Force for training its ground crews as late as the 1960s. The Air Force Museum conducted an exhaustive search for any surviving B-10 remains, and eventually learned of the aircraft. In 1970, the incomplete airframe was donated by the Government of Argentina to the U.S. Government in a formal ceremony attended by the U.S. ambassador. The aircraft was restored by the 96th Maintenance Squadron (Mobile), Air Force Reserve, at Kelly Air Force Base, Texas, in 1973-1976, and placed on display in 1976.

Various parts of crashed B-10s, such as turrets and wings, were retrieved from the jungle of Borneo and are now on display in the Militaire-Luchtvaartmuseum (Military Aviation Museum) at Soesterberg, the Netherlands.

Specifications (B-10B)
Data from United States Military Aircraft Since 1909
General characteristics
Crew: 3
Length: 44 ft 9 in (13.6 m)
Wingspan: 70 ft 6 in (21.5 m)
Height: 15 ft 5 in (4.7 m)
Wing area: 678 ft² (63 m²)
Empty weight: 9,681 lb (4.391 kg)
Loaded weight: 14,700 lb (6,680 kg)
Max takeoff weight: 16,400 lb (7,440 kg)
Powerplant: 2x— Wright R-1820-33 (G-102) "Cyclone" radials, 775 hp (578 kW) each

Performance
Maximum speed: 213 mph (185 kn, 343 km/h)
Cruise speed: 193 mph (168 kn, 310.6 km/h)
Range: 1,240 mi (1,078 nmi, 1,996 km)
Service ceiling: 24,200 ft (7,380 m)
Rate of climb: 1,380 ft/min (420 m/min)
Wing loading: 21.7 lb/ft² (106 kg/m²)
Power/mass: 0.105 hp/lb (173 W/kg)

Armament
Guns: 3 x— .30 in (7.62 mm) Browning machine guns
Bombs: 2,260 lb (1,030 kg)

Comparable aircraft
Boeing Y1B-9

Bibliography
Bridgwater, H.C. and Peter Scott. Combat Colours Number 4: Pearl Harbor and Beyond, December 1941 to May 1942. Luton, Bedfordshire, UK: Guideline Publications, 2001. ISBN 0-9539040-6-7.
Casius, Gerald. "Batavia's Big Sticks." Air Enthusiast, Issue Twenty-two, August-November 1983. Bromley, Kent, UK: Pilot Press Ltd, 1983. Pages 1-20. ISSN 0413-5450.
Eden, Paul and Soph Moeng, eds. The Complete Encyclopedia of World Aircraft. London: Amber Books Ltd., 2002. ISBN 0-7607-3432-1.
Fitzsimons, Bernard, ed. The Illustrated Encyclopedia of the 20th Century Weapons and Warfare. New York: Purnell & Sons Ltd., 1967/1969. ISBN 0-8393-6175-0.
Jackson, Robert, The Encyclopedia of Military Aircraft, London: Parragon Publishing, 2003. ISBN 1-4054-2465-6.
Núñez Padin, Jorge. Martin 139W en Argentina(in Spanish) Buenos aires, Argentina: n/a, 2007. ISBN n/a.
Swanborough, F. Gordon and Peter M. Bowers. United States Military Aircraft Since 1909. New York: Putnam, 1964. ISBN 0-85177-816-X.
Taylor, John W. R. "Martin B-10". Combat Aircraft of the World from 1909 to the Present. New York: G.P. Putnam's Sons, 1969. ISBN 0-425-03633-2.
Young, Edward M. "France's Forgotten Air War". Air Enthusiast Issue Twenty Five, August-November 1984. Bromley, Kent:Pilot Press. 1984. pp. 22-33. ISSN 0413-5450.

Martin B-10 Pictures and Martin B-10 for Sale.
Living Warbirds: The best warbirds DVD series.
Source: WikiPedia