Martin BM Video - Picture
Martin BM Aircraft Information
Martin BM
Martin BM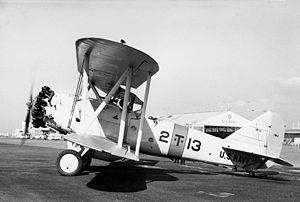 Picture - A BM-2 of VT-2B in the early 1930s
Role: Dive-bomber or Torpedo-bomber
Manufacturer: Martin
First flight: 1930
Introduced: 1931
Primary user: United States Navy
Number built: 32

The Martin BM was a 1930s American torpedo-bomber built by the Glenn L. Martin Company for the United States Navy.
Design and development
To meet the requirement for a special-purpose dive-bomber for the United States Navy and United States Marine Corps the US Navy's Bureau of Aeronautics designed a biplane with fixed tailwheel landing gear. It had room for two crew in tandem. Two prototypes were ordered one from Martin (designated the XT5M-1) and one from the Naval Aircraft Factory (designated the XT2N-1).
The Martin XT5M-1 was powered by a 525hp (391kW) Pratt & Whitney R-1690-22 Hornet radial engine and following test during 1930, the Navy ordered 12 aircraft from Martin with the designation BM-1. The BM-1 had a more powerful R-1690-44 engine. A further order for four was followed by an order for 16 for the BM-2.
Operational history
The first delivery to the United States Navy was in September 1931 with the first squadron VT-1S on board USS Lexington. In 1934 both the BM-1 and BM-2 were used onboard the USS Langley until 1937 when all the aircraft were withdrawn to shore bases.
Variants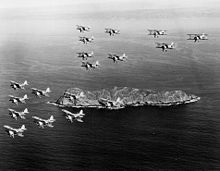 Picture - 18 BM-1s and BM-2s from VT-1S off San Diego.
XT5M-1
Prototype with R-1690-2 engine, one built.
XT2N-1
Protoype built by Naval Aircraft Factory
BM-1
Production aircraft, 16 built.
BM-2
Production aircraft with minor changes, 16 built.
Operators
United States
United States Navy

Specifications (BM-2)
Data from The Illustrated Encyclopedia of Aircraft (Part Work 1982-1985), 1985, Orbis Publishing, Page 2433
General characteristics
Crew: Two
Length: 28 ft 9 in (8.76 m)
Wingspan: 41 ft 0 in (12.5 m)
Height: 12 ft 4 in (3.76 m)
Wing area: 436 ft² (40.5 m²)
Empty weight: 3662 lb (1661 kg)
Gross weight: 6218 lb (2820 kg)
Powerplant: 1 x— Pratt & Whitney R-1690-44 radial engine, 625 hp (466 kW)

Performance
Maximum speed: 146 mph (235 km/h)
Range: 413 miles (665 km)
Service ceiling: 16,800 ft (5120 m)

Armament
2 x 0.3in (7.62mm) machine-guns (one forward-firing, one in rear cockpit)
1 x 1000lb (454kg) Bomb or Torpedo

John Andrade, U.S.Military Aircraft Designations and Serials since 1909, Midland Counties Publications, 1979, ISBN 0 904597 22 9 (Page 171)
The Illustrated Encyclopedia of Aircraft (Part Work 1982-1985), 1985, Orbis Publishing

Martin BM Pictures and Martin BM for Sale.
Living Warbirds: The best warbirds DVD series.
Source: WikiPedia