Martin Maryland Video - Picture
Martin Maryland Aircraft Information
Martin Maryland
Model 167 Maryland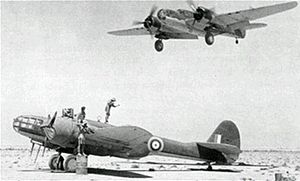 Picture - RAF Marylands c. 1941
Role: Light reconnaissance bomber
Manufacturer: Martin
First flight: 1939
Introduced: 1940
Retired: 1945
Status: Out of service
Primary users: Royal Air Force Fleet Air Arm Armée de l'Air Aeronavale
Number built: 450
Variants: Martin Baltimore

The Martin Model 167 was a US-designed light bomber that first flew in 1939. It saw action in World War II with France and the United Kingdom, where it was called the Maryland.
Design and development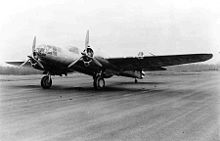 Picture - Martin XA-22, 13 April 1939.
In response to a US Army Air Corps light bomber requirement issued in 1938, the Glenn L. Martin Company produced their Model 167 which was given the official designation XA-22. Martin's design was a twin-engine fully-metallic monoplane, capable of around 310 mph (447 km/h) and carrying a crew of three. The bombardier sat in the nose below the cockpit, and self-defense was provided by a mid-upper twin-machine gun turret, as well as four forward firing light machine guns in the wings.
The XA-22 was not adopted for operational service in the US as the contract was won by Douglas with its A-20. But Martin received foreign orders, and eventually about 450 of these relatively fast, twin engined planes were built.
Operational history
French service
Facing German arms buildup and desperate for modern aircraft, the French Air Force purchased US aircraft of numerous types in the late 1930s. Martin received an order for more than 200 167 Fs which incorporated French-specific equipment such as metric instruments. French officials expected the deliveries to begin in January 1939 but the type, locally designated Glenn Martin 167 A-3 only entered service in early 1940. Notably, because of the U.S. embargo on arms exports after the beginning of World War II, many planes were impounded for two months before being shipped to Europe. When the Germans eventually invaded France there were only four Groupes de bombardement (bomber squadrons) equipped. The Glenns were quickly sent to the frontlines where they performed honorably with their sufficient speed and excellent maneuverability for an airplane in this class, they sometimes had a chance to avoid enemy fighters. In more about 400 sorties versus the Germans, they suffered a loss rate of only 4%, much better than the 16% endured by LeO 451s and their crews above the same targets.
Immediately before the June 1940 Armistice, units flying the Glenn Martin 167 were evacuated to French North Africa to avoid capture by the Germans. One of them landed in Spain and was interned, being tested by the Spanish Air Force.Some examples were transferred to the Aéronautique Navale. During the Vichy rule on the French empire, French Martins occasionally clashed with British Commonwealth forces, most notably during the Syria-Lebanon campaign of 1941. As French North Africa got back in the Allied camp in 1943, M.167s were phased out of service and replaced with more modern Allied types, including the Martin B-26 Marauder.
Approximately 215 Martin 167s were delivered to France.
British service
After the Franco-German Armistice, all remaining planes on the French order were shipped to the United Kingdom where they received the designation Maryland Mk.I. Many of the aircraft were eventually shipped to Egypt and Malta in time for the 1941 fighting there. In the British Fleet Air Arm, at any rate, they seem to have seen little combat, being used for spotting and target towing duties. The RAF used the aircraft to some effect for photo-reconnaissance operations in North And Eastern Africa, sometimes as a bomber, being faster and better armed than the Blenheim, but since it was a "rare bird", its role was mainly reconnaissance missions, often flown over the most important Italian targets. A Maryland bomber was the aircraft sent to gather photographs of the Italian Fleet before and after the Battle of Taranto on 11 November 1940. The pilot of that Maryland was the famous ace Adrian Warburton, who scored his five confirmed kills with the Maryland's forward-firing guns - the only person ever to achieve ace status in a bomber type. The Maryland also brought back the pictures that alerted the British that the German battleship Bismarck had left harbor on 22 May 1941.
Operators
France
Armee de l'Air
Aeronavale

South Africa
South African Air Force

United Kingdom
Royal Air Force
Fleet Air Arm

Specifications (Maryland Mk II)
Data from
General characteristics
Crew: 3
Length: 46 ft 8 in (14.2 m)
Wingspan: 61 ft 4 in (18.7 m)
Height: 16 ft 3 in (5.0 m)
Wing area: 537 ft² (49.9 m²)
Empty weight: 10,586 lb (4,802 kg)
Loaded weight: 15,297 lb (6,939 kg)
Max takeoff weight: lb (kg)
Powerplant: 2x— Pratt & Whitney R-1830 "Twin Wasp" radial engine, 1,200 hp (900 kW) each

Performance
Maximum speed: 316 mph (275 kn, 508 km/h (prototype), 490 km/h (M.167F and Maryland I), 467 km/h (II))
Service ceiling: 31,000 ft (9,500 m)
Rate of climb: 2,400 ft/min (12 m/s)
Wing loading: 28.5 lb/ft² (139.1 kg/m²)
Power/mass: 0.157 hp/lb (259 W/kg)

Armament
Guns: 2 x— .303 in (7.7 mm) machine guns
Bombs: 2,000 lb (Martin 167F, 800 kg)

Related development
Martin Baltimore

Bibliography
Bishop, Chris. The Encyclopedia Of 20th Century Air Warfare. London: Amber Books Ltd, 2004. ISBN 1-90468-726-1.
Cuny, Jean. "Glenn Martin 167 in French service". Journal of American Aviation Historical Society Spring 1965, Volume 10 N°1.
Mondey, David. American Aircraft of World War II (Hamlyn Concise Guide). London: Bounty Books, 2006. ISBN 978-0-7537-1461-4.
Munson, Kenneth. Fighters and Bombers of World War II: 1939-45. London: Blandford Press Ltd, 1969. ISBN 0-96371-104-0.
Shores, Christopher F. "Martin Maryland and Baltimore variants". Aircraft in Profile, Volume 11. Windsor, Berkshire, UK: Profile Publications Ltd., 1972, pp. 217-241.

Martin Maryland Pictures and Martin Maryland for Sale.
Living Warbirds: The best warbirds DVD series.
Source: WikiPedia