MBB/Kawasaki BK 117 Video - Picture
MBB/Kawasaki BK 117 Aircraft Information
MBB/Kawasaki BK 117
BK 117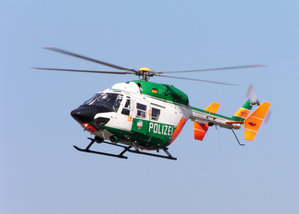 Picture - A BK-117 B2 of the German police in Northrhine-Westphalia
Role: Utility/transport
National origin: Germany / Japan
Manufacturer: Messerschmitt-Bx¶lkow-Blohm (MBB) / Kawasaki Heavy Industries
First flight: 13 June 1979
Introduced: 9 December 1982
Status: Production
Produced: 1979-
Number built: 400+
Developed from: MBB Bo 105
Variants: Eurocopter EC 145

The MBB/Kawasaki BK 117 is a twin-engined medium utility-transport helicopter. It was a joint development between Messerschmitt-Bx¶lkow-Blohm (MBB) of Germany and Kawasaki of Japan. MBB was later purchased by Daimler-Benz and eventually became a part of Eurocopter. The BK 117 is popular for passenger and VIP-transport, seating from seven up to 10 people. It is also used for aerial crane and sling work, law enforcement, and military transport, and is exceptional as an air ambulance and search and rescue platform. Its successor was developed from the BK 117C-1 version. It is produced as the EC 145.
Development
The BK 117 was a joint development between MBB and Kawasaki based on an agreement made on 25 February 1977. The agreement would replace two separate projects for twin-engined general purpose helicopters; the Bo 107 by MBB and the KH-7 from Kawasaki. Costs were shared equally, with MBB developing the rotors (based on the rigid rotor system used on MBB's Bo 105), tailboom, flight controls and hydraulic system and Kawasaki developing the landing gear, airframe, main transmission and other minor components. Each company would have its own assembly line producing aircraft for local markets.
Each company was to build two prototypes, to be completed by 1979; one for flight testing and the others for tie down testing and static testing. MBB's flying prototype made its first flight at Ottobrunn on 13 June 1979, followed by the Kawasaki prototype at Gifu on 10 August 1979. Development was slower than expected, a problem made worse by shortages of skilled manpower available at MBB. Although it was originally planned for airworthiness certification to be achieved before the end of 1980, German certification was not achieved until 9 December 1982, with Japanese certifiation following on 17 December, and the all-important United States FAA certification being obtained on 29 March 1983.
A single BK 117-A3 was leased by the Canadian Forces Air Command for a test program and designated as the CH-143. When the program was over, the aircraft was returned to MBB Canada.
Originally known as the BK 117-C2, the EC 145 combines the original BK 117 design with a much larger cabin, and modern features from the EC 135.
Variants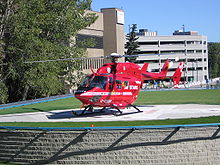 Picture - STARS Air Ambulance at Foothills Medical Centre
BK 117 P-2
German prototype, first flown 13 June 1979.
BK 117 P-3
Japanese prototype, first flown 10 August 1979.
BK 117 A
Initial production version.
BK 117 A-1
Powered by two Lycoming LTS 101-650B-1 engines.
BK 117 A-3
Introduced in 1985, the A-3 has a larger tail rotor with improved blades, and the take-off weight increased to 3,200 kg (7,055 lb).
BK 117 A-4
Introduced in 1986, the A-4 has increased transmission limits at take-off power, improved tail rotor head. German aircraft have provision for extra internal fuel, giving enhanced performance.
BK 117 A-3M
Military version introduced in 1988. The A-3M is fitted with taller skids and can carry 11 troops. A Browning 12.7 mm (0.5 in) machine gun can be mounted under the fuselage in a Lucas turret with 450 rounds and controlled by a helmet-mounted sight. The A-3M also has outrigger pylons can hold up to eight HOT II or TOW antitank missiles or a variety of air-to-air missiles, rocket-pods, or forward-firing cannons. Provisions for a doorway gunner's position with a 12.7 mm (0.5 in) gun can also be installed.
BK 117 B-1
Introduced in 1987, the B-1 is fitted with LTS 101-750B-1 engines to provide increased performance, and a 140 kg (309 lb) increase in payload.
BK 117 B-1C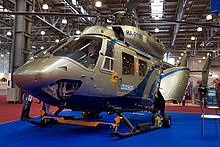 Picture - Russian BK 117
UK-cerified version with reduced range and endurance.
BK 117 B-2
BK 117 C-1
Powered by two Turbomeca Arriel 1E engines. Later models may be upgrated to Arriel 1E2 engines.
BK 117 C-2/EC 145
powered by two Turbomeca Arriel 1E2 engines.
NBK 117
License-built model produced in Indonesia.
BK 117 850D-2
Introduced in 2010, the 850D-2 variant is a STC (Supplementary Type Certificate) development of BK117B-2 incorporating Honeywell LTS 101-850B-2 engines aimed at improving OEI and Category A performance . Development and certification was conducted in New Zealand in conjunction with Honeywell.
Operators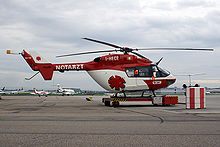 Picture - A German BK 117 air ambulance
Civil operators
The majority of the helicopters are operated by various emergency services although it is also operated by private individuals, companies and executive charter operators.
Australia
New South Wales Police Force
New South Wales Fire Brigades
New South Wales Rural Fire Service
Westpac Life Saver Rescue Helicopter Service
Western Australia Police
Energex Rescue Helicopter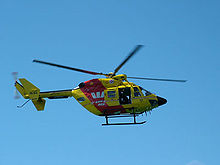 Picture - An Australian BK 117 air ambulance
Canada
Shock Trauma Air Rescue Society

France
Gendarmerie nationale operates 15 EC145 with 6 more on order
Sécurité Civile received 32 EC145 (2 lost by accident) and has 5 more examples on order

New Zealand
Auckland Rescue Helicopter Trust
Northland Emergency Services Trust
Otago Rescue Helicopter Trust
Lifeflight Trust - Wellington
Hawkes Bay Helicopter Rescue Trust

Germany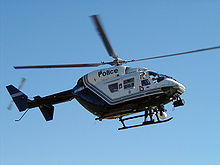 Picture - Western Australia Police BK 117
ADAC
Deutsche Rettungsflugwacht

Greece
Greek Fire Department

Kenya
Everett Aviation

Puerto Rico
Puerto Rico Police Department
Aeromed Air Ambulance Service

South Africa
South African Police Service

United States
Sentara Norfolk General Regional Air Ambulance, in operation since 1996

Military operators
Canada
Canadian Forces Air Command - A single BK 117-A3 was leased by the CF for a test program and designated as the CH-143. When the program was over, the aircraft was returned to MBB Canada.

Chile
Chilean Air Force

Colombia
Colombian National Armada

South Africa
South African Air Force

Venda
Military of Venda

Iraq
Iraqi Air Force

Specifications (BK 117 B-2)
Data from Jane's All The World's Aircraft 1993-94
General characteristics
Crew: 1
Capacity: up to 10 passengers
Length: 9.91 m (32 ft 6 in) (fuselage length)
Height: 3.85 m (12 ft 8 in) (rotors turning)
Empty weight: 1,727 kg (3,807 lb)
Max takeoff weight: 3,350 kg (7,385 lb)
Fuel capacity: 697 L (183 US Gallons, 153 Imp Gallons) internal fuel
Powerplant: 2 x— Textron Lycoming LTS 101-750B-1 turboshaft, 442 kW (593 hp) each
Main rotor diameter: 11.00 m (36 ft 1 in)
Main rotor area: 95.03 m (1,022.9 sq ft)

Performance
Maximum speed: 250 km/h (160 mph; 130 kn) at sea level
Never exceed speed: 278 km/h (173 mph; 150 kn)
Range: 541 km (336 mi; 292 nmi)
Service ceiling: 4,575 m (15,010 ft) (max certified altitude)
Hover Ceiling: 3,565 m (11,700 ft) (in ground effect)
Rate of climb: 11.00 m/s (2,165 ft/min)

Helicopter
Air ambulance

Related development
MBB Bo 105
Eurocopter EC 135
Eurocopter EC 145

"BK 117...a Terrestrial Space Ship". Air International, Vol 36 No 4, April 1989. Bromley, UK:Fine Scroll. ISSN 0306-5634. pp. 163-170.
Lambert, Mark. Jane's All The World's Aircraft 1993-94. Coulsdon, UK:Jane's Data Division, 1993. ISBN 0-7106-1066-1.

MBB/Kawasaki BK 117 Pictures
More aircraft.
Source: WikiPedia