McDonnell Douglas C-9 Video - Sounds of Freedom Airshow
McDonnell Douglas C-9 Video - U.S.Navy McDonnell Douglas C-9B Skytrain II (DC 9-32CF)
McDonnell Douglas C-9 Aircraft Information
McDonnell Douglas C-9
C-9 Nightingale/Skytrain II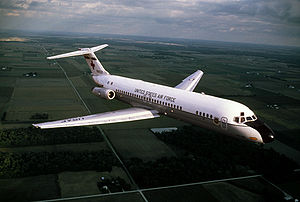 Picture - USAF C-9 Nightingale in 1968
Role: Jet transport
National origin: United States
Manufacturer: McDonnell Douglas
Introduced: 1968
Retired: September 2005 (USAF C-9A)
Status: Retired / Active (C-9B)
Primary users: United States Air Force United States Navy
Number built: 48
Developed from: McDonnell Douglas DC-9

The McDonnell Douglas C-9 is a military version of the DC-9 airliner. It was produced as the C-9A Nightingale for the United States Air Force, and the C-9B Skytrain II for the U.S. Naval Reserve and Marine Corps. The final active-duty flight of the C-9A Nightingale was in September 2005. The Boeing C-40 Clipper is replacing the Navy Reserve's aging C-9B fleet.
Design and development
In 1966 the US Air Force identified a need for an aeromedical transport aircraft. The following year the Air Force ordered C-9A Nightingale aircraft. Deliveries began in 1968. The C-9As were used for medical evacuation (MedEvac), passenger transportation, and special missions from 1968 to 2005.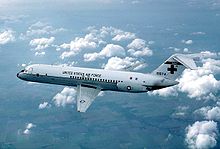 Picture - C-9 Nightingale used for Aeromedical Evacuation
After selecting a modified DC-9 for passenger and cargo transport, the U.S. Navy ordered its first five C-9Bs in April 1972. The C-9B aircraft have provided cargo and passenger transportation as well as forward deployed air logistics support for the Navy and Marine Corps. A C-9B was also chosen by NASA for reduced gravity research, replacing the aging KC-135 Vomit Comet.
Many of the Navy's C-9Bs have a higher maximum gross take-off weight (114,000 lb or 52,000 kg) and are fitted with auxiliary fuel tanks installed in the lower cargo hold to augment the aircraft's range to nearly 2,600 nautical miles (4,200 km) for overseas missions along with tail mounted infra-red (IR) scramblers to counter heat seeking missile threats in hostile environments.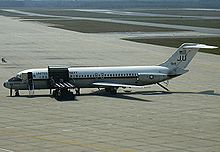 Picture - A C-9 Skytrain II offloading on the ramp at Naval Air Station Brunswick.
The C-9 fleet was located throughout the continental U.S., Europe, and Asia.
Variants
C-9A Nightingale - 23 aeromedical evacuation aircraft for the United States Air Force received from 1968.

C-9B Skytrain II - 24 convertible passenger/transport versions for the United States Navy and Marine Corps delivered from 1973 to 1976. An additional five C-9s were converted from passenger configured DC-9s.

VC-9C - 3 executive transport aircraft for the United States Air Force. Three aircraft (73-1681, 73-1682, 73-1683) were delivered to the US Air Force in late 1976.

C-9K - 2 aircraft for the Kuwait Air Force.

Operators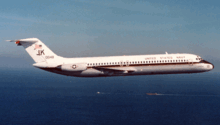 Picture - A US Navy C-9B Skytrain II
Kuwait
Kuwait Air Force

United States
United States Air Force
United States Marine Corps
United States Navy
NASA

Venezuela
Venezuelan Air Force

Specifications (C-9B)
Picture - The cockpit of a C-9 Skytrain
Data from Encyclopedia of World Air Power
General characteristics
Crew: 5 to 8
Length: 119 ft 3 in (36.36 m)
Wingspan: 93 ft 5 in (28.42 m)
Height: 27 ft 6 in (8.38 m)
Wing area: 1,001 ft² (92.97 m²)
Empty weight: 59,700 lb (27,080 kg --;)
Max takeoff weight: 110,000 lb (49,900 kg)
Powerplant: 2x— Pratt & Whitney JT8D-9 turbofan, 14,500 lbf (64.5 kN) each

Performance
Maximum speed: Mach 0.84 (576 mph, 927 km/h)
Cruise speed: 504 mph (485 knots, 811 km/h)
Range: 2,900 mi (4,700 km)
Service ceiling: 37,000 ft (11,000 m)
Rate of climb: 3,000+ ft/min (900+ m/min)

Military Airlift Command

Related development
McDonnell Douglas DC-9

Comparable aircraft
Boeing C-22
Boeing CT-43
C-40 Clipper

Living Warbirds: The best warbirds DVD series.
Source: WikiPedia