McDonnell Douglas CF-188 Hornet Videos
McDonnell Douglas CF-188 Hornet Video
McDonnell Douglas CF-188 Hornet Aircraft Information
McDonnell Douglas CF-18 Hornet
CF-18 Hornet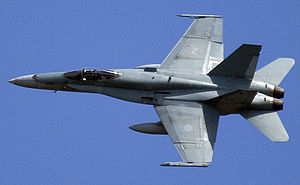 Picture - CF-18 over CFB Bagotville
Role: Multirole fighter
Manufacturer: McDonnell Douglas / Boeing
First flight: 18 November 1978
Introduced: 7 January 1983
Primary user: Canadian Forces
Number built: 138
Unit cost: US$35 million(1977)
Developed from: F/A-18 Hornet

The McDonnell Douglas CF-18 Hornet (official military designation CF-188) is a Canadian Forces aircraft, based on the American F/A-18 Hornet fighter. In 1980, the F/A-18 was selected as the winner of the New Fighter Aircraft competition, and a production order was awarded. The Canadian Forces began receiving the CF-18 in 1982. CF-18s have supported NORAD air sovereignty patrols and participated in combat during the Gulf War of 1991 and Kosovo and Bosnia in the late 1990s.
Development
New Fighter Aircraft program
In 1977, the Canadian government identified the need to replace the NATO-assigned CF-104 Starfighter, the NORAD-assigned CF-101 Voodoo and the CF-116 Freedom Fighter (although the decision was later made to keep the CF-116). Subsequently, the government proceed with the New Fighter Aircraft competition (NFA), with a purchase budget of around C$2.4 billion to purchase 130-150 of the winner of the competition. Candidates included the Grumman F-14 Tomcat, McDonnell-Douglas F-15 Eagle, Panavia Tornado, Dassault Mirage F1 (later replaced by the Mirage 2000), plus the products of the American Lightweight Fighter (LWF) competition, the General Dynamics F-16 Fighting Falcon, the F/A-18 Hornet, and a de-navalized version of the Hornet, the F-18L (similar to the Northrop YF-17 Cobra, the Hornet's predecessor). The government stressed that the winner of the competition be a proven off-the-shelf design and provide substantial industrial benefits as part of the order.
By 1978, the New Fighter Aircraft competitors were short-listed to just three aircraft types: the F-16 and the two F-18 offerings. The F-14, F-15, and the Tornado were rejected due to the high purchase price, while Dassault dropped out of the competition. The F-18L combined the systems and twin-engine layout of the F-18 that Air Command favored with a lighter land-based equipment setup that significantly improved performance. Northrop, the primary contractor for the F-18L version, had not built the aircraft by the time of the NFA program, waiting on successful contracts before doing so. While Northrop offered the best industrial offset package, it would only "pay off" if other F-18L orders were forthcoming, something the Department of National Defence (DND) was not willing to bet on.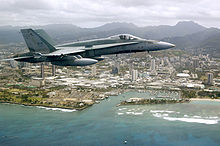 Picture - A Canadian CF-18 flies off the coast of Hawaii
The F-14 almost entered Canadian service through the backdoor due to the Iranian Revolution. In the aftermath of the revolution, the United States cut off all military supplies to Iran, which meant that the Iranians' new fleet of F-14s would be potentially rendered unflyable due to a lack of spares. The Canadians offered to purchase them at a steeply discounted price. Negotiations ended before a deal was reached as it was revealed that Canadian involvement was instrumental for the smuggling of American embassy personnel out of the new Islamic Republic.
In 1980, the McDonnell Douglas F/A-18 Hornet was declared the winner of the New Fighter Aircraft competition. The order included 98 single-seat variants and 40 dual-seat variants, for a total of 138 purchased, plus 20 options (which were not exercised). The F/A-18 Hornet was then dubbed the CF-188 (the name Hornet is not used because the translation in French is Frelon, which is already used by a French military helicopter). In every context except the most official of military documents, the aircraft are referred to as CF-18 Hornets. Reasons for the selection listed by the Canadian Forces were many of its requested features were included for the U.S. Navy; two engines for reliability (considered essential for conducting Arctic sovereignty and over-the-water patrols), an excellent radar set, while being considerably more affordable than the F-14 and the F-15. The CF-18 was procured from 1982 to 1988.
CF-18 design changes
The most visible difference between a CF-18 and a US F-18 is the 0.6 Mcd night identification light. This spotlight is mounted in the gun loading door on the port side of the aircraft. Some CF-18s have the light temporarily removed, but the window is always in place. Also, the underside of the CF-18 features a painted "dummy canopy". This is intended to disorient and confuse an enemy in air-to-air combat. Subsequently, the U.S. Marine Corps Aviation and the Spanish Air Force F/A-18 also adopted this "dummy canopy."
Many features that made the F/A-18 suitable for naval carrier operations were also retained by the Canadian Forces, such as the robust landing gear, the arrestor hook, and wing folding mechanisms, which proved useful when operating the fighters from smaller airfields such as those found in the Arctic.
Upgrades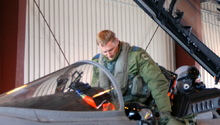 Picture - Lt. Col. Sean Penney exits his CF-18 in 2009
The need to upgrade the CF-18 was demonstrated during the Gulf War I deployment and during the 1998 Kosovo conflict as advances in technology had rendered some of the avionics on board the CF-18 obsolete and incompatible with NATO allies. In 2000, CF-18 upgrades became possible when the government increased the defence budget.
In 2001 the Incremental Modernization Project (IMP) was initiated. The project was broken into two phases over a period of eight years and was designed to improve air-to-air and air-to-ground combat capabilities, upgrade sensors and the defensive suite, and replace the datalinks and communications systems on board the CF-18 from the old F/A-18A and F/A-18B standard to the current F/A-18C and D standard. Boeing (merged with McDonnell Douglas) the primary contractor and L-3 Communications the primary subcontractor, was issued a contract for the modernization project starting in 2002. A total of 80 CF-18s, consisting of 62 single-seat and 18 dual-seat models were selected from the fleet for the upgrade program. The project is supposed to extend the life of the CF-18 until around 2017 to 2020.
Incremental Modernization Project Phase I
Replacing the AN/APG-65 radar with the new AN/APG-73 radar, which has triple the processing speed and memory capacity, while also incorporating Terrain Following and Terrain Avoidance modes for low level ground attack missions. Furthermore, the new AN/APG-73 radar is also capable of guiding the modern AIM-120 AMRAAM medium range missile.
Addition of the AN/APX-111 Combined Interrogator and Transponder, otherwise known as an IFF (Identification Friend or Foe). The new IFF brings the CF-18 up to current NATO standards for combat identification.
Replacement of the radios with the new AN/ARC-210 RT-1556/ARC VHF/UHF Radio. This radio, capable of line-of-sight communications on VHF/UHF frequencies as well as HAVE QUICK, HAVE QUICK II, and SINCGARS waveforms resolved the issues of compatibility with allied forces, and are more resistant to jamming.
Replacement of the mission computers with the General Dynamics Advanced Information Systems AN/AYK-14 XN-8 mission computer with increased memory and processing capabilities.
Replacement of the Stores Management System with the Smiths Aerospace AN/AYQ-9 Stores Management System. This makes the CF-18 more compatible with the latest of precision guided munitions (PGMs) and furthermore adds the MIL-STD-1760 interface for use of the AIM-120 AMRAAM missile and the JDAM family of GPS-guided bombs.
Furthermore, a Global Positioning System/Inertial Navigation System (GPS/INS) capability was installed on the CF-18, which enhances its navigational capabilities.
Within the same time frame, other non-IMP upgrades include:
A new infrared sensor pod was installed on the aircraft.
The old cathode ray tube cockpit instrument panels were replaced with new flat paneled, full colour LCD displays from Litton Systems Canada (now Northrop Grumman Canada).
A new night vision imaging system was added to the aircraft.
Purchase of the AIM-120 AMRAAM medium range missiles and other advanced air to air and air to ground munitions.
A landing gear "get well" program to reduce corrosion and improve gear retraction.
An Advanced Distributed Combat Training System.

The first completed "Phase I" CF-18 was delivered to the Canadian Forces on time in May 2003. Final delivery of all "Phase I" CF-18s was done at a ceremony on 31 August 2006 at L-3 Communications in Mirabel, Quebec.
Incremental Modernization Project Phase II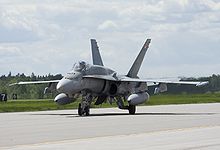 Picture - A 425 Squadron CF-188 Hornet which has undergone Phase II of the Incremental Modernization Project, distinguishable because of the IFF antenna on its nose.
Phase II of the CF-18 Incremental Modernization Project was awarded to Boeing on 22 February 2005. It consists of the following upgrades:
The addition of a Link 16 data net system to the aircraft, enhancing interoperability with major NATO allies.
The integration of the Joint Helmet Mounted Cueing System from Boeing, BAE Systems, DRDC and L-3 Communications MAS.
A crash survivable flight data recorder.
An upgraded electronic warfare suite.

Within the same time frame, other non-IMP upgrades include:
A fuselage Centre Barrel Replacement Project (for 40 of the upgraded aircraft).
An Air Combat Manoeuvring Instrumentation System.
An Integrated Electronic Warfare Support Station.
An Electronic Warfare Test Equipment Project.

The first completed "Phase II" CF-18 was delivered to the Canadian Forces on 20 August 2007, at a ceremony in Montreal. The total cost of the entire CF-18 Incremental Modernization Project and concurrent Hornet upgrades was expected to be around C$2.6 billion. The final upgraded aircraft was delivered in March 2010.
Operational history
Introduction into Canadian service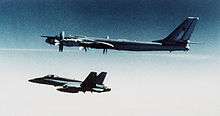 Picture - A Soviet Tu-95 Bear-H bomber being escorted by a Canadian Forces CF-188 Hornet in 1985.
The first two CF-18s were formally handed over to 410 (Operational Training Unit) Squadron at CFB Cold Lake, Alberta on 25 October 1982. Further deliveries equipped 409, 439, and 421 Squadrons at Baden-Soellingen in then West Germany, the 410 Operation Training Unit, 416, and 441 Squadrons at Cold Lake, and 425 Squadron at Bagotville, Quebec. Introduction into Canadian service was initially problematic due to early issues with structural fatigue which delayed initial deployment. As the initial bugs were worked out, the CF-18 started filling the NORAD interception and NATO roles as intended.
Combat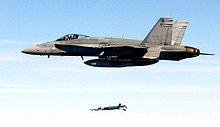 Picture - A Canadian CF-18A Hornet from the 409th Squadron at Cold Lake, Alberta, Canada, releases a laser-guided bomb at Eglin Air Force Base, Florida, USA, in December 2006.
In 1991, Canada committed 26 CF-18s to the Gulf War on Operation Friction. (The US portion of the Gulf War was called Desert Shield/Desert Storm.) The CF-18s were based in Doha, Qatar. During the Gulf War, Canadian pilots flew more than 5700 hours, including 2700 combat air patrol missions. These aircraft were taken from Canada's airbase in Germany, CFB Baden-Soellingen (now a civilian airport). In the beginning the CF-18s began sweep and escort combat missions to support ground-attack strikes by Allied air forces. During the 100-hour Allied ground invasion in late February, CF-18s also flew 56 bombing sorties, mainly dropping 500 lb (230 kg) conventional ("dumb") bombs on Iraqi artillery positions, supply dumps, and marshaling areas behind the lines. At the time the Canadian Hornets were unable to deploy precision guided munitions. This was the first time since the Korean War that the Canadian military had participated in combat operations.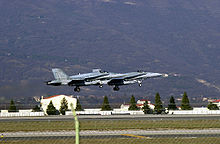 Picture - Canadian CF-18 Hornets depart Aviano Air Base, Italy, after contributing 2600 combat flying hours in support of NATO Operation ALLIED FORCE
Continuing violence in the former Yugoslavia brought CF-18s into theatre twice: first for a three-month deployment (Operation Mirador, August-November 1997) for air patrols supporting NATO peacekeepers in Bosnia and Herzegovina, and again from late June 1998 until late December 2000 (Operation Echo).
In June 1999, with 18 CF-18s already deployed to Aviano, Italy, Canada participated in both the air-to-ground and air-to-air roles. Canadian aircraft conducted 10 percent of the NATO strike sorties despite deploying a much smaller percentage of the overall forces. Canadian pilots flew 678 combat sorties: 120 defensive counter-air escorts for Allied strike packages and 558 bombing strikes during 2577 combat flying hours. CF-18s dropped a total of 397 PGMs and 171 free-fall iron bombs on a wide variety of targets including surface-to-air missile sites, airfields, bridges and fuel storage areas.
Picture - A CF-18 Hornet in the 2009 Century of Canadian Flight colour scheme in Bagotville, Quebec
Since 2001, CF-18s have responded to nearly 3,000 possibles threats to Canada and United States. A task group of CF-18s and CH-146 Griffons were deployed during "Operation Grizzly" to Kananaskis. The CF-18s were deployed to secure the airspace during the 28th G8 summit. In 2007, an unknown number of CF-18s were deployed to Alaska. They were deployed during two weeks to defend United States airspace. They were also deployed during "Operation Podium" to secure the 2010 Winter Olympics and 2010 Winter Paralympics games.
Replacing the fleet
A number of different fighter aircraft have been considered by the Canadian Forces as replacements for the CF-18 with the F-35 Lightning II, Eurofighter Typhoon, SAAB JAS 39 Gripen, and the Boeing F/A-18E/F Super Hornet all having been promoted as contenders by their respective manufacturers. According to Le Devoir, project costs without considering maintenance, training and spare parts, are estimated at $4 to $8 billion. Boeing has indicated the F/A-18E/F Super Hornet, a derivative of the F/A-18 Hornet, is a less expensive alternative at an estimated total cost of $4 billion. One of the manufacturers in contention: Boeing, BAE Systems and Saab Aerospace, has promised to assemble the entire aircraft in Canada although the name was not publicly disclosed.
In July 2010 the Canadian government announced the replacement for the CF-18 will be the F-35 Lightning II. The Canadian government has been a partner in the Joint Strike Fighter Program from 1997 and a Tier 3 partner for the F-35 Lightning II since 2002. The Canadian Forces plan to buy 65 F-35 with deliveries starting in 2016. The contract is estimated to be worth C$9 billion including aircraft and associated weapons, infrastructure, initial spares, training simulators, contingency funds and project operating costs. Critics said 65 fighters is not enough to fill three complete squadrons and that the F-35 is not suited for arctic patrol since it has a single engine.
Variants
CF-18A: Single-seat fighter and ground attack aircraft. Canadian Forces designation is CF-188A.
CF-18B: Two-seat training version. Canadian Forces designation is CF-188B.

Operators
Picture - Two CF-18B Hornets flying over the Utah Test and Training Range (USA) for planned engagements during the "Tiger Meet of the Americas" on 9 August 2001
Picture - A CF-18 Hornet during a "Combat Archer" mission
Canada
Canadian Forces Air Command had 72 CF-18As and 31 CF-18Bs in inventory as of November 2008. 80 in operational use.
3 Wing CFB Bagotville, Quebec
No. 425 Alouette Tactical Fighter Squadron
4 Wing CFB Cold Lake, Alberta
No. 409 Nighthawks Tactical Fighter Squadron
No. 410 Cougars Tactical Fighter (Operational Training) Squadron
AETE (Aerospace Engineering Test Establishment)

Rotations from Cold Lake occur from 4 Wing to CFB Comox, British Columbia and from 3 Wing Bagotville to CFB Goose Bay and CFB Gander, Newfoundland and Labrador, CFB Greenwood, Nova Scotia, and various forward operating bases in the Canadian Arctic. There are normally a few aircraft at CFB Trenton, Ontario as well, though not a permanent squadron.
Accidents and incidents
As of 23 July 2010, Canada has lost 17 CF-18s, incurring nine pilot deaths.
Notable losses
14 August 1996: Aircraft crashes on takeoff from Iqaluit, Northwest Territories. Pilot safely ejects.
26 May 2003: CF-18 crashes on the Cold Lake Air Weapons Range during the annual international training exercise MAPLE FLAG; pilot (Captain Kevin Naismith) killed.
19 June 2004: Aircraft from CFB Cold Lake lost when it was unable to stop while at Yellowknife, Northwest Territories. Aircraft was salvaged and is back in service. Pilot ejected but was injured.
16 August 2005: Aircraft crashes during a training exercise near CFB Bagotville. Pilot safely ejects.
23 July 2010: A CF-18 (#188738) crashed while practicing an airshow routine at the Lethbridge County Airport. The pilot, Captain Brian Bews safely ejected.

Specifications (CF-18)
Data from CF-18 Specifications
General characteristics
Crew: 1 or 2
Length: 56 ft 0 in (17.07 m)
Wingspan: 40 ft 0 in with Sidewinders (12.31 m)
Height: 15 ft 4 in (4.66 m)
Wing area: 400 ft (37.16 m)
Airfoil: NACA 65A005 mod root, 65A003.5 mod tip
Empty weight: 23049 lb (10455 kg)
Loaded weight: 37150 lb (16850 kg)
Max takeoff weight: 51550 lb (23400 kg)
Powerplant: 2x— General Electric F404-GE-400 turbofans, 16000 lbf (71.2 kN) each

Performance
Maximum speed: Mach 1.8 (1127 mph, 1814 km/h) at 36100 ft (11000 m)
Combat radius: 330 mi (290 nmi, 537 km) on hi-lo-lo-hi mission
Ferry range: 2070 mi (1800 nmi, 3330 km) (range without ordnance)
Service ceiling: 50000 ft (15000 m)
Rate of climb: 50000 ft/min (254 m/s)
Thrust/weight: 0.89

Armament
Nine Weapon/ Store Stations (5 pylons: 1 Under Fuselage and 4 Wing Stations) (2 LAU 116 located on sides of fuselage: deploys AIM 7 Sparrow and AMRAAM Missiles)(2 LAU 7 located on the wing tips: Deploys AIM 9 Sidewinder Missile), carrying up to 13700 lb (6215 kg) of missiles, rockets, bombs, fuel tanks, and pods
1 x— 20 mm M61A1 Vulcan internal gatling gun with 578 rounds, with a firing rate of 4000 or 6000 shots per minute
Missiles:

Air-to-air: AIM-9 Sidewinder, AIM-120 AMRAAM, AIM-7 Sparrow
Air-to-ground: AGM-65 Maverick, CRV7 rockets

Bombs: Paveway, Mk 82, Mk 83, Mk 84, GBU-10, -12, -16 and -24 laser guided bombs.

Avionics
Raytheon AN/APG-73 radar
BAE Systems AN/APX-111 IFF
Rockwell Collins AN/ARC-210 RT-1556/ARC VHF/UHF Radio
General Dynamics Advanced Information Systems AN/AYK-14 XN-8 mission computer
Smiths Aerospace AN/AYQ-9 Stores Management System

Notable appearances in media
The documentary television show, Jetstream which aired on Discovery Channel Canada, followed eight pilots training with the Canadian air force to fly the CF-18 at CFB Cold Lake. They trained in 410 Tactical Fighter Training Squadron.
Related development
YF-17 Cobra
F/A-18 Hornet
F/A-18E/F Super Hornet

Comparable aircraft
F-16 Fighting Falcon
Mikoyan MiG-29
Mirage 2000
Shenyang J-8
JAS 39 Gripen

Related lists
List of Canadian Air Force Equipment
List of active Canadian military aircraft

Bibliography
Drendel, Lou. F/A-18 Hornet in action (Aircraft Number 136). Carrollton, Texas: Squadron/Signal Publications, 1993. ISBN 0-89747-300-0.
Elward, Brad. Boeing F/A-18 Hornet (WarbirdTech, Vol. 31). North Branch, Minnesota: Specialty Press, 2001. ISBN 1-58007-041-8.
Gunston, Bill. F/A-18 Hornet (Modern Combat Aircraft 22). St. Paul, Minnesota: Motorbooks International, 1985. ISBN 0-71101-485-X.
Jenkins, Dennis R. F/A-18 Hornet: A Navy Success Story. New York: McGraw-Hill, 2000. ISBN 0-07-134696-1.
Miller, Jay. McDonnell Douglas F/A-18 Hornet (Aerofax Minigraph 25). Arlington, Texas: Aerofax Inc., 1988. ISBN 0-942548-39-6.
Peacock, Lindsay. F/A-18 Hornet (Osprey Combat Aircraft Series). London: Osprey Publishing, 1986. ISBN 0-85045-707-6.
Senior, Tim. "F/A-18 Hornet". AirForces Monthly, 2003. ISBN 0-946219-69-9.
Spick, Mike. McDonnell Douglas F/A-18 Hornet (Classic Warplanes). London: Salamander Books, 1991. ISBN 0-8317-1412-3.

Living Warbirds: The best warbirds DVD series.
Source: WikiPedia