Messerschmitt Me 329 Video - Drawings and pictures
Messerschmitt Me 329 Aircraft Information
Messerschmitt Me 329
Me 329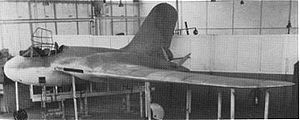 Role: Zerstorer
Manufacturer: Messerschmitt
Status: Mock up only
Primary user: Luftwaffe
Number built: 0
Developed from: Messerschmitt Me 265

The Messerschmitt Me 329 was a design project for a heavy fighter and ground-attack aircraft developed towards the end of World War II. It was a competitor and possible successor to the Me 410.
Like the Me 265, the Me 329 used an advanced flying wing design. Other advanced touches included the pilot and navigator sitting tandem in a broad bubble canopy, and a remote-controlled rear gun in the tail.
In spite of the futuristic design, the improvement in performance over the Me 410 was marginal. Development received a low priority, and while a full-scale glider mock-up was tested in the winter of 1944/5, work on the project was cancelled shortly after the beginning of 1945.
Specifications
Data from
General characteristics
Crew: 2
Length: 7.715 m (25.312 ft)
Wingspan: 17.50 m (57.41)
Height: 4.74 m (15.55)
Wing area: 55.00 m² (592 ft²)
Empty weight: 6,950 kg (15,322 lb)
Loaded weight: 12,150 kg (26,786 lb)
Powerplant: 2x— Daimler-Benz DB 603, 2,610 kW (3,500 hp) each

Performance
Maximum speed: 685 km/h at 7,000 m (426 mph at 22,966 ft)
Range: 2,520 km (1,566 mi)
Service ceiling: 12,500 m (41,000 ft)

Armament
Guns: 2 x— 20 mm MG 151/20 cannons,
4 x— 30 mm (1.18 in) MK 108 cannons,
1 x— MK 114 forward firing in fuselage nose
1 x— 20 mm MG 151/20 rearward-firing
Bombs: internal bomb load of up to 1,000 kg (2,205 lb)

Related development
Messerschmitt Me 265

Comparable aircraft
Messerschmitt Me 210
Messerschmitt Me 410

Luftwaffe Secret Projects - Ground Attack & Special Purpose Aircraft, D. Herwig & H. Rode, ISBN 1-85780-150-4
www.luft46.com on Me 329

Messerschmitt Me 329 Pictures
Living Warbirds: The best warbirds DVD series.
Source: WikiPedia