MiG Skat Video - Overview - Russian video
MiG Skat Video - Pictures, drawings, video
MiG Skat Aircraft Information
MiG Skat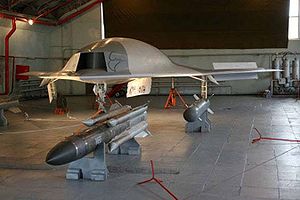 Picture - Russian UCAV MiG «Skat»
Designed by the Russian firm Mikoyan, the Skat (Russian: Скат - "Manta Ray") is one of two concept strike UCAV currently being developed for the Russian Defense Ministry. It is a low-observable, subsonic craft meant to carry weapons in two ventral weapons bays large enough for missiles such as the Kh-31. The SKAT is to be powered by a single Klimov RD-5000B turbofan engine, a variant of the RD-93.
Possible roles include the suppression and attack of enemy air defenses. The first version of Skat to fly is planned to be piloted in order to meet Russian flight regulations. A number of aerodynamic configurations have been wind-tunnel tested, including with small twin fins. MiG has settled on a tail-less configuration.
The single-engine subsonic design has an 11.5 meter wingspan, and it is 10.25 meters long. The UCAV has a maximum take-off weight of 10 tons, with a maximum speed of 800 kilometers per hour (497 mph) at low altitude. It is intended to carry a combat load of up to two tons, with a combat radius of 2,000 km.
Specifications (Projected)
General characteristics
Crew: 0
Length: 10.25 m (33.6 ft in)
Wingspan: 11.5 m (37.7 ft in)
Powerplant: 1 x— Klimov RD-5000B, ? kN (? lbf) thrust

Performance
Maximum speed: 800 km/h (497 mph)
Service ceiling: 12000 m ( ft)

Armament
Up to 2 tons of weapons in internal bays

Comparable aircraft
Boeing X-45
Northrop Grumman X-47
Lockheed Martin Polecat
Dassault nEUROn
BAE Taranis
Phantom Ray

MiG Skat Pictures and MiG Skat for Sale.
Living Warbirds: The best warbirds DVD series.
Source: WikiPedia