Mikoyan-Gurevich I-270 Video - World War II video
Mikoyan-Gurevich I-270 Aircraft Information
Mikoyan-Gurevich I-270
I-270 Zh-1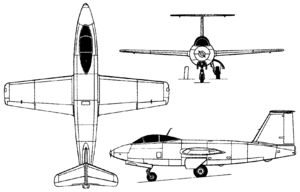 Role: Interceptor
Manufacturer: Mikoyan-Gurevich
First flight: December 1946 (unpowered)
Status: Cancelled
Primary user: Soviet Air Force
Number built: 2
Developed from: Messerschmitt Me 263

The Mikoyan-Gurevich I-270 (Design Ж ("Zh") under Mikoyan-Gurevich's in-house designation sequence, USAF designation "Type 12") was a response to a Soviet Air Force requirement in 1945 for a rocket-powered interceptor aircraft for the point-defence role. In concept and basic configuration, it was strongly reminiscent of the German Messerschmitt Me 263, and is generally regarded as a further development of that design. Only two prototypes were built, both of which were destroyed in crashes, leading to the cancellation of the project.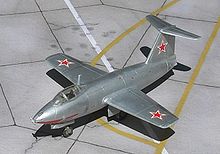 Picture - Model of I-270
In the closing stages of World War II, a complete prototype Me 263 (at that time designated Junkers Ju 248), plus technical staff and design documentation had fallen into Soviet hands when the Junkers factory was captured. The I-270 shared the Me 263's simple, tapered fuselage, bubble canopy, undercarriage design, and dual-chambered bipropellant rocket motor. On the other hand, it was considerably larger than the Me 263 and featured straight wings and a T-tail in place of the Me 263's advanced swept wings that did away with the need for a horizontal stabiliser. While there seems little doubt that the Me 263 influenced the design of the I-270, the latter appears far from a direct copy of the former. Some sources suggest that the I-270 may also have been influenced by the Junkers EF 126 Lilli rocket fighter project, materials for which were captured by the Soviets at the same time as the Me 263.
While performance specs were probably influenced by the Me 263, the Soviets had a tradition of rocket plane development that predated the Germans. The RD-2M engine, designed by Leonid Dushkin was dual-combustion-chamber version of the engine used for the 1941 BI-1 rocket plane. That in turn had followed from a tradition dating back to Sergey Korolev's work on project "06" in the early 1930s and the RP-318 rocket plane designed in 1936.
The first gliding trials commenced in December 1946, with the first prototype towed into the air behind a Tupolev Tu-2, ballast loaded in place of an engine. The second prototype began powered tests early in 1947, but was damaged beyond repair making a hard landing. Shortly afterwards, the first prototype was also destroyed in a landing accident. By this stage, turbojet technology was at a far more advanced stage than it had been at the outset of the project, and surface-to-air missiles had replaced the need for point-defence interceptors. Under these circumstances, the Air Force decided to cancel the project.
Operators
Soviet Union
Soviet Air Force

Specifications (I-270)
Data from MiG:50 Years of Secret Aircraft Design
General characteristics
Crew: one, pilot
Length: 8.92 m (29 ft 3 in)
Wingspan: 7.75 m (25 ft 5 in)
Height: 3.08 m (10 ft 1â…" in)
Wing area: 12 m² (129 ft²)
Empty weight: 1,546 kg (3,407 lb)
Loaded weight: 4,120 kg (9,080 lb)
Powerplant: 1x— Dushkin-Glushko RD-2 M-3V rocket, 14.2 kN (3,190 lbf) 14.2 kN

Performance
Maximum speed: 505 knots, 581 mph (936 km/h) at 15,000 m (49,200 ft)
Service ceiling: 17,000 m (55,760 ft)
Climb to 15,000 m (49,200 ft): 3.03 min

Armament
Guns: 2 x— 23 mm (0.90 in) Nudelman NS-23 cannon

Comparable aircraft Bereznyak-Isayev BI-1 (1932-1945 project)
Belyakov, R. A. and J. Marmain. MiG: Fifty Years of Secret Aircraft Design. Shrewsbury, UK:Airlife Publishing, 1994. ISBN 1 85310 488 4.

Living Warbirds: The best warbirds DVD series.
Source: WikiPedia