Mikoyan-Gurevich MiG-8 Video - Picture
Mikoyan-Gurevich MiG-8 Aircraft Information
Mikoyan-Gurevich MiG-8
MiG-8 Utka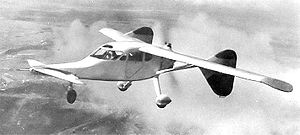 Picture - A MiG-8 in flight
Role: Experimental/liaison aircraft
Manufacturer: Mikoyan-Gurevich
First flight: August 13, 1945
Status: Retired
Number built: 1

The Mikoyan-Gurevich MiG-8 was a Soviet experimental aircraft of 1945.
Design and development
Nicknamed Utka ("duck"), as the word canard (referring to its small forward wings) is French for "Duck", the MiG-8 was an experimental aircraft designed and funded exclusively by MiG OKB for testing a fixed-wing aircraft with a smaller forward surface and a main lifting surface aftwards on the fuselage. This design has benefits in a jet-powered aircraft as it leaves the rear of the fuselage clear of interference from the jet's exhausts. To test the concept the MiG-8 was powered by a Shvetsov M-11 five cylinder radial engine, with a pusher propeller.
The aircraft was used as a testbed in developing the swept wing of the MiG-15, and afterwards continued to fly as communications/utility aircraft for the OKB.
Being made of wood and fabric, it was very light and reportedly a favorite among MiG OKB test pilots for its docile, slow-speed handling characteristics.
Specifications
Data from Gunston, The Osprey Encyclopaedia of Russian Aircraft 1875-1995
General characteristics
Crew: 1
Capacity: 2
Length: 6.995 m (22 ft 11.4 in)
Wingspan: 9.5 m (31 ft 2 in)
Wing area: 15 m (160 sq ft)
Airfoil: Clark YH
Empty weight: 642 kg (1,415 lb)
Gross weight: 1,150 kg (2,535 lb)
Fuel capacity: 195 litres (43 imp gal; 52 US gal)
Powerplant: 1 x— de-rated Shvetsov M-11FM five cylinder air-cooled radial engine, 82 kW (110 hp)
Propellers: 2-bladed, 2.36 m (7 ft 9 in) diameter

Performance
Maximum speed: 205 km/h (127 mph; 111 kn)
Range: 500 km (311 mi; 270 nmi)

Mikoyan-Gurevich MiG-15

Bibliography
Gordon, Yefim and Komissarov, Dmitry. OKB Mikoyan: A History of the Design Bureau and its Aircraft. Hinckley, England: Midland Publishing, 2009 ISBN 1-85780-307-5
Gunston, Bill. The Osprey Encyclopaedia of Russian Aircraft 1875-1995. London, Osprey, 1995 ISBN 1-85532-405-9

Living Warbirds: The best warbirds DVD series.
Source: WikiPedia