Mikoyan MiG-29K Video - Mig 29K/KUB tests aboard the Kuznetsov
Mikoyan MiG-29K Aircraft Information
Mikoyan MiG-29K
MiG-29K

Picture - MiG-29K
Role: Carrier-based Multirole fighter
National origin: Russia
Manufacturer: Mikoyan
First flight: 23 July 1988
Status: In production
Primary user: Indian Navy
Produced: 2005-present
Number built: 10
Unit cost: US$46.25 million including spares and support
Developed from: Mikoyan MiG-29M

The Mikoyan MiG-29K is an all-weather carrier-based multirole fighter aircraft developed in Russia. Developed in the late 1980s by the Mikoyan design bureau from the MiG-29M, the MiG-29K's NATO reporting name is Fulcrum-D.
The MiG-29K production model differs from the 1991-built MiG-29K by featuring a new multi-function radar, dubbed Zhuk-ME; a cabin with multifunctional color displays and use of the HOTAS (hands-on-throttle-and-stick) principle; the RVV-AE air-to-air active homing missiles; R-27ER/ET; antiship and antiradar missiles; as well as air-to-ground precision-guided weapons.
MiG-29K was not ordered into production and only two prototypes were originally built as the Russian Navy preferred the Su-27K in early 1990s. The Mikoyan Design Bureau did not stop its work on the MiG-29K aircraft despite the lack of financing since 1992. The programme got a boost in the late 1990s to meet an Indian requirement for a ship-borne fighter following the purchase of a former Soviet aircraft Carrier. It was first received by the Indian Navy in 2009.
Development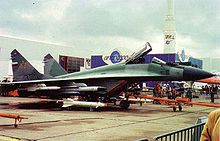 Picture - A MiG-29M. It was decided to make a naval version of MiG-29M with the new model designated the MiG-29K.
The MiG-29K project was initiated in the early 1980s when the Soviet Navy developed a requirement for a supersonic carrier based fighter. As a first step to meet this requirement, the MiG OKB designed a "proof of concept" version of the MiG-29 fitted with a stronger undercarriage and a reinforced tail section with an arrestor hook, the MiG-29KVP (Korotkii Vzlet i Posadka - short take off and landing). The KVP first flew on 21 August 1982, and was subject to extensive trials which demonstrated the need for more power and greater wing area. It was decided to base the definitive naval version on the advanced MiG-29M (Product 9.15) that was already under development, further modified with new undercarriage and folding wings of greater area, with the new model designated the MiG-29K (Korabelniy - ship based) or Project 9-31). The MiG-29K differed considerably from the MiG-29 production model, featuring a new multi-function radar, dubbed Zhuk; a cockpit with monochrome display and use of the HOTAS (hands-on-throttle-and-stick) principle; the RVV-AE air-to-air active homing missiles; antiship and antiradar missiles; as well as air-to-ground precision-guided weapons. To protect the engine from FOD, the engine inlets were fitted with retractable grills which replaced the more complex arrangement of land based MiG-29s.
The MiG-29Ks first flight was performed on 23 July 1988 at Saky by test pilot T.Aubakirov. On 1 November 1989, in the same day as the Sukhoi Su-27K, Aubakirov executed the first landing of MiG-29K on the deck of the aircraft-carrying cruiser Tbilisi (now known as Admiral Kuznetsov), the first take-off from the carrier's deck was successfully performed the same day. From 1989-1991 the MiG-29K underwent further tests aboard the Admiral Kuznetsov. The project was left uncompleted with the collapse of the Soviet Union, and it remained on indefinite hold for many years afterwards.
Revival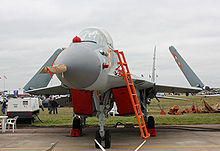 Picture - MiG-29K in Indian Navy colors at MAKS Airshow
The MiG-29K program was revived in response to the decision of the Indian Navy to acquire the former Soviet Navy aircraft carrier Admiral Gorshkov. This called for the provision of the ship with a multi-role carrier-based arrested-landing fighter of the MiG-29K's size. The ship's combat group is likely to include 12 MiG-29K planes. The aircraft has a remote control system, large-area (42 m² vs 38 m²) folding wing, adjustable center-line air intakes with retractable screens protecting the engines during operation from ground airfields, reinforced landing gear, hook, corrosion- protected reinforced fuselage made specifically for deck-based aircraft.
On 20 January 2004, it was announced that India and Russia had signed a $1.6 billion deal finalizing the sale of Admiral Gorshkov to India. According to the deal, half of the money would spent at the Northern machine-building factory in Severodvinsk, to refurbish the carrier with the other half being spent on MiG-29K fighter jets and anti-submarine helicopters. When the ship was part of the Soviet fleet, it was a 'hybrid' carrier/cruiser using vertical take-off aircraft. Now it will use MiG-29Ks, and the deck must be refurbished to accommodate the installation of a landing strip and a take-off ramp. The rest of the money would go the acquisition of 16 MiG-29K fighter jets, and up to 10 helicopters that can fit onto the ship. The MiG-29K might also be chosen to equip light carriers that India intends to develop and build locally.
Modification was made for Indian Navy requirement; now standard for all current production, featured Zhuk-ME radar, RD-33MK engine, combat payload up to 5,500 kg, 13 hardpoints (inclusive of the multi-lock bomb carriers), additional fuel tanks situated in dorsal spine fairing and wing LERXs, increased total fuel capacity by 50% comparing to first variant of MiG-29 and updated 4-channel digital fly-by-wire flight control system. Current production MiG-29K and MiG-29KUB also share a full-sized two-seater style canopy. With special coatings MiG-29K radar reflecting surface is 4-5 times smaller than of basic MiG-29. Cockpit displays consist of wide HUD and three (seven on MiG-29KUB) colour LCD MFDs and French Sigma-95 satellite GPS module and Topsight E helmet-mounted targeting system. Compatible with the full range of weapons carried by the MiG-29M and MiG-29SMT. The first MiG-29KUB developed for the Indian Navy made its maiden flight at the Russian Zhukovsky aircraft test centre on 22 January 2007.
In an ā€œindividual basisā€ the problem of lack of aircraft-carrier based AWACS platform may be tackled at least partially by appropriate development of dual-seat MiG-29KUB platform. The present contract also provides another 30 aircraft with delivery till 2015, to arm the Indian Navy Indigenous Aircraft Carrier (IAC) under construction in the Cochin Shipyard Limited (CSL). It is theoretically possible to develop the MiG-29KUB platform with even more powerful radar alongside encrypted TKS-2/R-098 Intra-Flight Data Link (IFDL) to permit networking of multiple MiG-29KUB platforms effectively providing AEW coverage of respective sectors alongside vectoring appropriate fighters in pursuit. Exercising a significant proportion of MiG-29KUB option will also enhance operational capabilities in sphere of electronic warfare and long-range interdiction.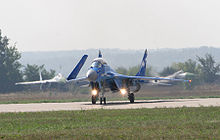 Picture - MiG-29K jet at Zhukovskiy LII air field
MiG-29K for the "Admiral Kuznetsov"
Russian Navy expects to buy MiG-29K for a single aircraft carrier Admiral Kuznetsov. The newspaper Bulletin Reports reported in 2009 that an informed source in the Defense Ministry of Russia noted that the contract may be concluded in 2011. Information was confirmed by the general designer of one of the defense enterprises, which produces aggregates for these aircraft, while the Mikoyan corporation refrained from comment.
According to a companion publication to the Ministry of Defense, the Navy has a fleet of 19 carrier-based fighters Su-33, a resource which will expire by 2015. Production of new Su-33s is possible but not cost-effective for small volumes. At the same time, the MiG-29K in this respect are more convenient, because the Indian Navy has already ordered the aircraft. Konstantin Makienko noted it cheapens the series and saves on development. India has paid $730 million for the development and delivery of 16 fighters, while 24 planes for Russia's fleet would cost about $1 billion.
Design
Features
The MiG-29K multirole carrier-based fighter is designed to air cover the ship grouping, gain air superiority and destroy sea surface and ground targets with guided high-precision weapons, day and night, in any weather. The aircraft is optimized for deployment on carriers of medium water displacement.
The MiG-29KUB two-seat carrier-based fighter is intended for pilot training as well as fulfillment of combat missions identical to those of the MiG-29K single-seat fighter.
During its tests aboard the Admiral Kuznetsov aircraft-carrying cruiser, the aircraft had a springboard-assisted takeoff from strips 195 m and 95 m long. According to the results of the tests, the landing accuracy proved to be very high, which made it possible at a later stage to switch over to a three-cable arrester system on the Admiral Gorshkov.The landing accuracy is additionally enhanced through the employment of an autothrottle system. The takeoff characteristics make it possible to perform 90 percent of flights under tropical conditions when the carrier ship speed is 10 knots.
Airframe changes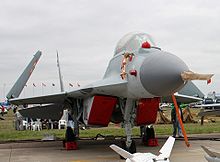 Picture - Folding wings MiG-29K for carrier operations
Having similarities with the basic version of MiG-29 airframe layout, this family actually represent new aircraft. The new engine features 7% higher power in comparison to the baseline RD-33 model due to the use of modern materials on the cooled blades. The MiG-29K was drastically modified from the Mikoyan MiG-29M while retaining the same basic configuration. For carrier operations, the airframe, undercarriage, and arrestor hook were strengthened, folding wings and catapult attachments were added, and the landing gear widened.
The enhanced-thrust engine has an emergency rating for takeoff from the deck. The internal fuel load was increased to 4,560 kg vs 3,340 kg of the series-produced MiG-29 largely due to the removal of the upper air intake inlets. The payload was also increased. The maximum weight of the aircraft grew from 19.5 to 22.4 t. Composite materials were widely used to manufacture its structural elements. Advanced alloys were also used, but to a lesser extent.
Range and fuel system
The combat radius of MiG-29K is 850 km (531 mi) and ferry range is 3000 km (1,860 mi) with 3 drop tanks. The internal fuel capacity of the MiG-29K is 4,560 kg. The aircraft has a limited range, in line with the original Soviet requirements for a point-defense fighter. For longer flights, range can be increased to 3,000 kilometer with 3 underwing fuel drop tanks. MiG-29K and MiG-29KUB are also equipped with an in-flight refueling system.
Cockpit
The aircraft is equipped with 3 multifunctional color displays and 7 on MiG-29KUB, four-channel digital fly-by-wire flight control system, passive anti-radar missile homing system from Russia; France's Sigma-95 GPS receiver and TopSight helmet-mounted targeting system (the same developed for Dassault Rafale); Electronic Countermeasures (ECM) from Israel; and the Indian Industry supplies the communications equipment. HOTAS-like controls are used in MiG-29K.
An on-board oxygen generating system is provided to eliminate the need for multiple oxygen canisters.
The 2002-built MiG-29K features better cockpit avionics with versatile liquid-crystal color displays. The cockpit was tested by Russian Air Force pilots on the MiG-29SMT fighters and was approved by them. The Indian Air Force pilots also flew the MiG-29SMTs and they also greatly appreciated the information-control field facilities of the cockpit.
The potential of the aircraft's navigational systems will be markedly increased through the installation of a satellite navigation system which has also successfully passed tests aboard the MiG-29SMT aircraft. The capabilities of airborne computers and weapons control systems will be enhanced as well.
Radar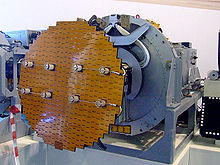 Picture - Zhuk-ME Antenna at MAKS
The Zhuk-ME is an advanced variant of the original N010 Zhuk radar introducing advanced air to surface functions like mapping and terrain following. The radar forms part of the MiG-29K specific equipment. The radar features improved signal processing and has a detection range of up to 120 km vs a 5 m RCS target for the export variant, and up to 10 targets tracked and up to 4 attacked at once in air to air mode. The tracking range is 0.83 - 0.85 of the detection range. In air to surface mode the radar can detect a tank from up to 25 km away and a bridge from 120 km away, a naval destroyer could be detected up to 300 km away and up to two surface targets can be tracked at once. The radar has a weight of 220 kg and a scanning area of +/- 85 degrees in azimuth and +56/-40 in elevation. The antenna is an electronically scanned slotted planar array and has a diameter of 624 mm.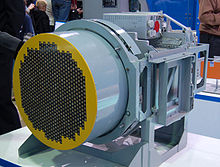 Picture - Zhuk-AE AESA radar
The Zhuk-AE radar was developed with modular approach, enabling upgrade of existing Zhuk ME radars deployed in MiG-29 platforms into the active electronic scanned array (AESA) Zhuk-AE standard. India is already operating the BAR phased array radar on its Su-30MKI and has specified AESA as a critical element of the MRCA platform. The MiG-35 is a contender with the Eurofighter Typhoon, F/A-18E/F Super Hornet, Dassault Rafale, JAS 39 Gripen and F-16 Falcon for the bid of more than 126 multirole combat aircraft to be procured by the Indian Air Force in Indian MRCA competition. There were some reports that the optional Mig 29K/KUB for India are offered with Zhuk AE. It is also uknown if the Russian Navy may deploy the Zhuk-AE 'AESA' instead of Zhuk-ME radar for its own use.
Avionics
MiG-29K and MiG-29KUB Fire-Control System is intended for:
airborne multimode radar system;
optronic (IR search and track) system;
helmet-mounted target designation system;
fire control and target designation equipment for passive radar seeker missiles.

The Mig-29K is available with a new IRST system integrated with optical and laser systems, and it poses a significant challenge even to the enemy aircraft. This system is unique in the amount of tasks it can perform when compared to older IRST systems. It can provide targeting solutions for ground and air targets at up to 15 km. It can detect missiles thanks only to the warmth generated by air resistance on their nose and can provide the pilot with a detailed trajectory and it can do all these tasks across the full 360 degrees of the battlefield compared to its predecessors that usually only provided a certain amount of coverage in front of the pilot.
Tanker role
MiG-29K and MiG-29KUB can perform aerial refueling if they are furnished with UPAZ refueling unit. The MiG-29K, unlike the previous MiG-29, is designed so it can be equipped with an aerial refueling system (ARS) or "buddy store" for the refueling of other aircraft.
Powerplant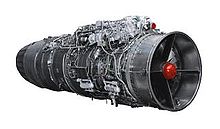 Picture - Klimov RD-33MK turbofan engine
The two 1980s prototypes were each fitted with two RD-33K turbofan engines, each with afterburner thrust of 86.3 kN (19,400 lb) and a possible take-off thrust of 92.2 kN (20,723 lbf) for shipborne operations.
The MiG-29K has two widely spaced RD-33MK "Morskaya Osa" (Russian: ŠœŠ¾Ń€ŃŠŗŠ°Ń ŠžŃŠ°: "Sea Wasp") which is the latest model of the family. Developed in 2001, it is intended to power the MiG-29K and MiG-29KUB shipborne fighters, however it is has also been adopted for the MiG-35. The new engine features a 7% higher power in comparison to the baseline model due to the usage of modern materials on the cooled blades. It retains the length and maximum diameter while increasing afterburner thrust to 9,000 kgf and dry weight to 1,145 kg. It also contains systems that reduce its infrared and optical visibility. Service life has been increased to 4,000 hours. New modifications ensure shipborne fighters to take off from aircraft carrier deck unassisted, retain performance in hot climate environment and of course, a boost in combat efficiency of the latest variant of MiG-29 fighter family.
Radar signature reduction measures
The MiG-29K's design relies on a combination of low-observable technology, advanced electronic-warfare capabilities, reduced ballistic vulnerability, and the use of standoff weapons to enhance the fighter's survivability. It has a reduced radar signature according to Mikoyan from the extensive use of radar-absorbent materials. Special coatings reduce the MiG-29K's radar signature 4-5 times over the basic MiG-29. Electronic Countermeasures (ECM) is provided by Israel. The alignment of the leading edges of the engine inlets is designed to scatter radiation to the sides. RD-33MK turbofan engine contains systems that reduce its infrared and optical visibility.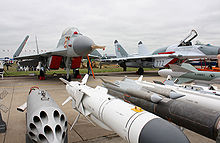 Picture - A MiG-29K and its armaments at MAKS
Armament
Armament for the MiG-29K includes a single GSh-30-1 30 mm cannon in the port wing root. This originally had a 150-round magazine, which was reduced to 100 rounds in later variants. It has provisions for laser-guided and electro-optical bombs, as well as air-to-surface missiles like Kh-25ML/25MP, Kh-29T, Kh-31G/31A, Kh-35U, rockets, bombs (including guided), KAB-500KR guided bombs and with an optional sight pod installed, laser weapons. Kh-31P passive radar seeker missiles is used as anti-radiation missile. Kh-35, Kh-31A antiship missiles are used for Anti-ship roles. For aerial combat Air-to-air missile like RVV-AE, R-27ER/ET and R-73E are used. On customers demand the aircraft can be adapted for using weapons of foreign origin.
The range of combat missions can be increased by adding optronic sight pods as well as radar, infrared imaging and reconnaissance equipment.
Missions performed
The MiG-29K variant is intended for missions such as day/night strikes with precision-guided weapons, air-to-air combat, fighter escort, close air support, suppression of enemy air defenses, maritime strike, reconnaissance, forward air control (airborne), aerial refueling.
MiG-29KUB two-seat variant is intended for pilot training piloting and can perform same combat missions as the MiG-29K.
Operational history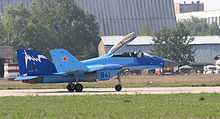 Picture - The MiG-29K at MAKS-2007
Russia
A contract on purchase of 24 MiG-29K fighter jets for Kuznetsov could be concluded by 2011, a source in the Ministry of Defence told news paper Vedomosti. Deliveries of the carrier-based multirole fighters would start in 2010. Take off and landing drills with the planes on the ā€œAdmiral Kuznetsovā€ has already completed.
In October 2009, an unnamed Defense Ministry official said "Russia's Navy will buy at least 24 MiG-29K (Fulcrum-D) fighters to be deployed on the Admiral Kuznetsov aircraft carrier".
India
India has ordered MiG-29K single-seat and MiG-29KUB two-seat fighters. In 2004, India ordered 16 aircraft (4 two-seat trainers and 12 single-seaters). The MiG-29K is to provide air-to-air and standoff air-to-surface precision attack capabilities. Deliveries of these fighters began in December 2009 and are to be completed in 2012. In January 2010, India and Russia signed a US$1.2 billion worth deal for the Indian Navy to receive an additional 29 MiG-29Ks. The MiG-29K entered operational service with India in February 2010.
Variants
MiG-29K Single seat variant. MiG-29KUB Tandem two-seat operational trainer variant.
Operators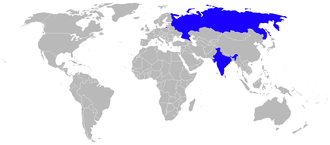 Picture - MiG-29K operators in 2010
India
Indian Navy - Naval Air Arm has 45 MiG-29K/KUB aircraft on order as of March 2010. The naval air arm had 6 in inventory as of July 2010.
INAS 303 Squadron "Black Panthers"

Russia
Russian Navy - Russian Naval Aviation has 24 on order as of January 2010.

Specifications (MiG-29K)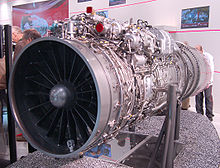 Picture - Klimov RD-33MK at MAKS 2009
Data from Russian Aircraft Corporation MiG data, Gordon and Davidson, Deagel.com
General characteristics
Crew: One
Length: 17.3 m (57.76 ft)
Wingspan: 11.99 m (39.34 ft)
Height: 4.40 m (14.44 ft)
Wing area: 43 m² (462 ft²)
Loaded weight: 18,550 kg (40,900 lb)
Max takeoff weight: 24,500 kg (54,000 lb)
Powerplant: 2x— Klimov RD-33MK afterburning turbofans, 9,000 kgf (88.3 kN, 19,800 lbf) each

Performance
Maximum speed: Mach 2+ (2,200 km/h, 1,370 mph) / At low altitude: Mach 1.2 (1,400 km/h, 870 mph)
Ferry range: 2,000 km (1,240 mi) / 3,000 km (1,860 mi) with 3 drop tanks
Service ceiling: 17,500 m (57,400 ft)
Rate of climb: initial 330 m/s, average 109 m/s 0-6000 m (65,000 ft/min)
Wing loading: 442 kg/m² (90.5 lb/ft²)
Thrust/weight: 0.97

Armament
1 x 30 mm GSh-30-1 cannon with 100 rounds
9 hardpoints: 8 x under-wing, 1 x centerline for up to 5,500 kg (12,125 lb) of weapons and fuel tanks including

Air to air missiles
Eight air-to-air missiles - a mix of infrared homing, semi-active radar homing (SARH) and Active radar homing.
AA-11 "Archer" infrared-guided short range AAM
AA-10 "Alamo" semi-active radar homing medium range AAM, Infrared homing medium range AAM,
AA-12 "Adder" active radar homing medium range AAM

Air to surface missiles
Kh-25ML semi-active laser guidance with tandem warhead,
Kh-29T TV-guided air-to-surface missile,
Kh-35U long-range active radar air-to-surface missile

Anti-radiation missile
Kh-25MP modular anti-radiation variant,
Kh-31P passive seeker Anti-radiation missile (ARM)

Anti-ship missile
Kh-31A medium range sea-skimming Anti ship missile,
Kh-35 long-range active radar homing head Anti ship missile

Bombs
RBK-250
RBK-500
RBK-750
FAB 500-M62 General-purpose bomb,
FAB-1000, (1,500 kg / 3,300 lb),
KAB-500KR electro-optical TV-guided fire and forget bomb

Others
Flares/Infrared decoys dispenser pod and chaff pod or
Electronic countermeasures (ECM) pod or
Targeting pods or
Drop tanks for ferry flight or extended range/loitering time or
UPAZ refueling unit for aerial refueling system (ARS).

Avionics
Zhuk -ME radar
Infrared search and track system
SPO-15 Beryoza RWR (Radar warning receiver)

Related development
Mikoyan MiG-29
Mikoyan MiG-29M
Mikoyan MiG-35

Comparable aircraft
F/A-18E/F Super Hornet
Dassault Rafale M
Sukhoi Su-33

Bibliography
Belyakov, R.A. and Marmain, J. MiG: Fifty Years of Secret Aircraft Design. Shrewsbury, UK:Airlife, 1994. ISBN 1-85310-488-4.
Day, Jerry. "Hot Hot Hot!" Air Classics, Volume 45, Issue 4, April 2009.
Gordon, Yefim and Peter Davison. Mikoyan Gurevich MiG-29 Fulcrum. Specialty Press, 2005. ISBN 1-58007-085-X.
Lake, Jon. Jane's How to Fly and Fight in the Mikoyan MiG-29. New York: HarperCollins, 1997. ISBN 0-00472144-6.

Living Warbirds: The best warbirds DVD series.
Source: WikiPedia