Mikoyan MiG-29M Video - Promo video
Mikoyan MiG-29M Aircraft Information
Mikoyan MiG-29M
MiG-29M / M2 MiG-29SMT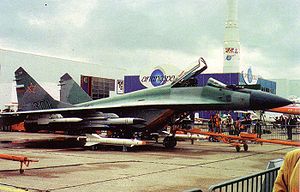 Picture - MiG-29M at Paris Air Show in 1993
Role: Multirole Fighter
National origin: Russia
Manufacturer: Mikoyan
Primary user: Russian Air Force
Developed from: Mikoyan MiG-29
Variants: Mikoyan MiG-29K Mikoyan MiG-35

The Mikoyan MiG-29M (NATO reporting name "Fulcrum-E") is a mature development of the MiG-29M/M2 and MiG-29K/KUB technology. Formerly known as the "MiG-33", it was developed from the Mikoyan MiG-29 (NATO: "Fulcrum") fighter jet during mid-1980s. The MiG-29M is sometimes called the Super Fulcrum.
Development
In the mid-1980s, a development of the original MiG-29 was proposed to meet the Soviet western front line requirement. It was required to be a multi-role fighter for the front line defensive air force to gain offensive strike ability. This development resulted in a single seat and a double seat variant. The proposal was then grounded as a result of shift in military strategy. The model was named "MiG-33" and later received the MiG-29ME designation for export market in the mid-1990s. A twin seat model of the standard, commonly known as the MiG-29MRCA, was the MAPO-MiG's primary contender for many international fighter aircraft bids, later evolved into the Mikoyan MiG-35. Six of these models were built before 1990. They were constantly upgraded with various components and one received experimental vector thrust engines which eventually became the MiG-29OVT. The model was again renamed as MiG-29M. The MiG-29M/M2 now belongs to the "new unified family" instead of the "MiG-29 fighters family" which comprise the older variants.
RAC MiG engineers have continually upgraded the model for better performance, seeking a possible sale of the aircraft. The innovations focused on aerodynamics improvements, fly-by-wire technology, stealth features, increased fuel capacity and in-flight refueling solutions, more weight load, and well established open architecture for application of foreign equipment. Together with the MiG-29K/KUB and MiG-35, the MiG-29M/M2 also took advantage of new technologies, such as the new enhanced thrust smokeless engines. New reliability measures resulted in a decrease of flight hour cost and the capability of on-condition maintenance. These new technologies gave the aircraft contemporary features and true multi-role capability.
Design
Facts based on
Features
The MiG-29M/M2 aircraft is a revision of the basic MiG-29. It achieved a more robust multi-role capability with enhanced use of air-to-air and air-to-ground high-precision weapons. It also featured considerably increased combat range owing to an increase in its internal fuel capacity. Along with a better pilot-to-aircraft interface in the cockpit, a digital three-channel fourfold redundant fly-by-wire system, improved navigation, radio communications, electronic countermeasures, monitoring and recording systems, and optronic and reconnaissance pods, have improved overall aircraft performance considerably.
Airframe evolutions
A few changes took place during the development of the MiG-33. The redesigned airframe was constructed from a lightweight aluminum-lithium alloy to increase thrust-to-weight ratio. Air intakes' geometry was revised, the upper intake louvers removed to make way for more fuel in the LERXs, mesh screens introduced to prevent foreign object damage (FOD) and enlarged inlet dimensions for higher airflow. The back of the aircraft featured an enlarged spine for more fuel capacity and a dorsal air brake. Radome and canopy were redesigned to give space for avionic upgrades. Aerodynamics were also revised. The wings increased span and aileron, while the tail fins revised trailing edges.
Powerplant
The RD-33MK, the latest revision of the RD-33, has 7% more power in comparison to the baseline model due to the usage of modern materials on the cooled blades, it provide a thrust of 9,000 kgf. In response to long time criticism, the new engines are smokeless and contain improvements that reduce its infrared visibility. Thrust vectoring nozzles are now offered upon customer's request.
Range and fuel system
The aircraft is built with an in-flight-refueling (IFR) probe and is able to carry three fuel drop tanks. The redesigned airframe also significantly increased internal fuel capacity in the dorsal spine and LERXs fuel tanks. These give the aircraft of single seat an operation range of 2,000 km with internal fuel, 3,200 km with three fuel drop tanks, and 6,000 km with three drop tanks and in-flight-refueling.
Cockpit
The cockpit has been redesigned to incorporate contemporary features. While some analogue instruments have been retained, two monochrome liquid crystal (LCD) multi-function displays (MFD) have been introduced and new weapon controls have been incorporated in a HOTAS concept. Other new features include the Zhuk-ME radar, an infra-red search and track (IRST) system and a helmet-mounted target designation system (early HMD).
Sensors
Main upgrades consists the Zhuk-ME pulse-Doppler airbone radar, along with revised IRST systems, helmet-mounted target designation system and electronic countermeasures. New radar capable of detecting air targets at ranges up to 120 km, track-while-scan of ten targets and attack of four targets at a time. In scanning surface targets, the radar detection range of destroyer-type targets is 250 km and that of missile launcher-type targets is 150 km. Hence beyond visual range (BVR) engage is greatly enhanced.
Armament
The aircraft can carry the RVV-AE (R-77), R-27ER1, R-27ET1, R-27R1, R-27T1, R-73E air-to-air missiles, the Kh-29T, Kh-29L, Kh-31A, Kh-31P, Kh-35E air-to-surface missiles, the KAB-500KR (OD), KAB-500L guided bombs, as well as rockets and free-fall bombs. The aircraft retains the GSh-301 built-in gun.
Variants
MiG-29M / MiG-33 (Product 9.15)
Advanced single-seat multi-role variant, with a redesigned airframe, mechanical flight controls replaced by a fly-by-wire system and powered by enhanced RD-33 ser.3M engines. NATO reporting code is 'Fulcrum-E'.
MiG-29UBM (Product 9.61)
Two-seat training variant of the MiG-29M. Never built. Effectively continued under the designation 'MiG-29M2'.
MiG-29SMT (Product 9.17)
In 1998 a decision was made by the Defense Ministry to launch a quantity-modernization program of the MiG-29 fighters. Extensive modernization was planned only for the aircraft produced through the previous decade. The modernization program started in September 1998 by the Kubinka military aircraft-repair plant and the MAPO MiG. The first batch of 10 to 15 MiG-29SMTs was delivered before the end of the year. In 1999, a total of 20 to 30 MiG-29 fighters were modernized into the MiG-29SMT configuration. Starting from the year 2000, the program's annual modernization rate was expected to reach 40 MiG-29SMTs. The overall plan provides for modernization of 150 to 180 MiG-29s to the MiG-29SMT status and 120 more to the MiG-29UBT (2 seater) status, with the remainder of the older aircraft to be withdrawn from service.
An upgrade package of the first-generation MiG-29s (9.12 to 9.13) containing many enhancements intended for the MiG-29M. Additional fuel tanks in a further enlarged spine provide a maximum flight range of 2,100 km (on internal fuel). The cockpit has an enhanced HOTAS design, two 152 x— 203 mm (6 x— 8 inch) colour liquid crystal MFDs and two smaller monochrome LCDs. The upgraded Zhuk-ME radar provides similar features to the MiG-29M. The power plant are upgraded RD-33 ser.3 engines with afterburning thrust rated the same at 8,300 kgf (81.4 kN) each. The weapons load was increased to 4,500 kg on six underwing and one ventral hardpoints, with similar weapon choices as for the MiG-29M variant. The upgraded aircraft has also a painted path for non-Russian origin avionics and weapons.
MiG-29UBT (Product 9.51T)
SMT standard upgrade for the MiG-29UB. Namely users, Algeria and Yemen.
MiG-29M2 / MiG-29MRCA
Two-seat version of MiG-29M. Identical characteristics to MiG-29M, with a slightly reduced ferry range of 1,800 km. RAC MiG presented in various air shows, to name a few, Fifth China International Aviation and Aerospace Exhibition (CIAAE 2004), AERO INDIA 2005, MAKS 2005. It was once given designation MiG-29MRCA for marketing purpose and has evolved into the MiG-35.
Operators
Russia
Russian Air Force

India
Indian Air Force all MiG-29s will be upgraded to MiG-29SMT level with latest avionics, engine, Zhuk-ME radar, weapon control systems by 2013.

Syria
Syrian Air Force ordered MiG-29M/M2s.

Specifications (MiG-29M/M2)
Data from MiG-29M data, Warfare.ru, GlobalSecurity.org
General characteristics
Crew: 1 or 2
Length: 17.37 m (57 ft)
Wingspan: 11.4 m (37 ft 3 in)
Height: 4.73 m (15 ft 6 in)
Wing area: 38 m² (409 ft²)
Empty weight: 13,380 kg (29,498 lb)
Loaded weight: 17,500 kg (38,581 lb)
Max takeoff weight: 22,400 kg (49,383.54 lb)
Powerplant: 2x— Klimov RD-33MK afterburning turbofans, 9,000 kgf (88.26 kN, 19,840 lbf) each

Performance
Maximum speed:
High altitude: Mach 2.25 (2,400 km/h, 1,491 mph)
Low altitude: Mach 1.4 (1,500 km/h, 932 mph)
Ferry range: 2,000 km, 1,800 km (twin seat) (1,243 mi, 1,118 mi (twin seat))
Service ceiling: 17,500 m (57,500 ft)
Rate of climb: 330 m/s (65,000 ft/min)
Wing loading: 442 kg/m² (90.5 lb/ft²)
Thrust/weight: 1.02

Armament
1 x— 30 mm GSh-30-1 cannon with 150 rounds
8 under wing, weapons hardpoints plus a centerline hardpoint for up to 5,500 kg (12,125 lb) of external fuel and ordnance
Air-air missiles: 8 x— R-73E, 8 x— R-77 (RVV-AE), 4 x— R-27
Air-surface missiles: 4 x— Kh-29T(TE), 4 x— Kh-31A, 4 x— Kh-31P, Kh-35E
Guided bombs: 4 x— KAB-500Kr
Cluster bombs: 4 x— RBK-250, 4 x— RBK-500, 4 x— RBK-750
Unguded Pods: 4 x— S-8 rocket pod, 6 x— S-25 rockets

Avionics
Phazotron Zhuk-ME radar

Related development
Mikoyan MiG-29
Mikoyan MiG-29K
Mikoyan MiG-35

Comparable aircraft
Chengdu J-10
Dassault Rafale
Eurofighter Typhoon
F/A-18E/F Super Hornet
JAS 39 Gripen
JF-17 Thunder

Gordon, Yefim and Peter Davison. Mikoyan Gurevich MiG-29 Fulcrum. Specialty Press, 2005. ISBN 978-1-58007-085-1.

Living Warbirds: The best warbirds DVD series.
Source: WikiPedia