Mikoyan MiG-AT Video - Great air-to-air, etc
Mikoyan MiG-AT Video - Damaged MiG-AT
Mikoyan MiG-AT Aircraft Information
Mikoyan MiG-AT
MiG-AT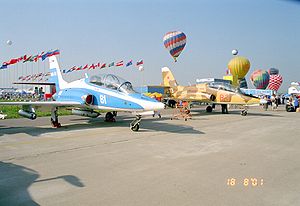 Picture - MiG-AT "81" and "83"
Role: Advanced trainer / light attack
Manufacturer: Mikoyan
First flight: March 16, 1996
Status: Under development

The Mikoyan MiG-AT is a Russian trainer aircraft that first flew in 1996, designed to replace Aero L-29 and L-39 for the Russian Air Force.
Design
The MiG-AT is more conventional than the competing Yak-130. It has a low-set, straight wing, engines mounted on either side of the fuselage and a mid-mounted tail. Two prototypes have been built. The first flight took place between March 16 and 22 1996 in Zhukovsky and lasted seven minutes.
Specifications
Data from Jane's All The World's Aircraft 2003-2004
General characteristics
Crew: 2
Length: 12.01 m (39 ft 5 in)
Wingspan: 10.16 m (33 ft 4 in)
Height: 4.42 m (14 ft 6 in)
Wing area: 17.67 m (190.2 sq ft)
Aspect ratio: 5.7:1
Gross weight: 4,610 kg (10,163 lb) (training)
Max takeoff weight: 7,800 kg (17,196 lb) (combat)
Fuel capacity: 2,390 L (632 US Gallons)
Powerplant: 2 x— SNECMA Larzac 04-R-20 turbofan, 14.12 kN (3,170 lbf) thrust each

Performance
Maximum speed: 1,000 km/h (620 mph; 540 kn) at 2,500 m (8,200 ft)
Range: 1,200 km (746 mi; 648 nmi)
Ferry range: 2,000 km (1,243 mi; 1,080 nmi)
Service ceiling: 14,000 m (45,932 ft)
G limits: +8.0, -2.0
Rate of climb: 81.7 m/s (16,080 ft/min)

Armament
Hardpoints: 7 with a capacity of 2,000 kg (4,400 lb) total,

Comparable aircraft
Yakovlev Yak-130
EADS Mako/HEAT
Hongdu L-15

Jackson, Paul. Jane's All The World's Aircraft 2003-2004. Coulsdon, UK: Jane's Information Group, 2003. ISBN 0-7106-2537-5.

The initial version of this article was based on material from aviation.ru. It has been released under the GFDL by the copyright holder.
Living Warbirds: The best warbirds DVD series.
Source: WikiPedia