Mil Mi-10 Video - Overview
Mil Mi-10 Aircraft Information
Mil Mi-10
Mi-10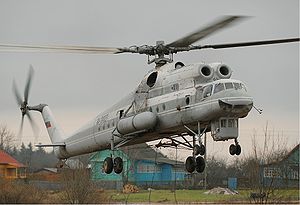 Picture - Mil Mi-10K of Vzlet in 2006.
Role: Skycrane
National origin: Russia
Manufacturer: Mil Moscow Helicopter Plant
First flight: 15 June 1960
Introduction: 1963
Number built: 55+
Developed from: Mil Mi-6

The Mil Mi-10 (NATO reporting name "Harke") was a Soviet military transport helicopter of flying crane configuration, developed in 1962 from the Mi-6. It entered service in 1963.
Also known as "Product 60" by Rostov-upon-Don helicopter facility.
It was built as the short-legged ("Mi-10K") version, and the long-legged ("Mi-10R") version. It is powered by two 5,500 shp (4,100 kW) Soloviev D-25 turboshafts. The Mi-10 uses a closed circuit camera system that scans forward from under the rear fuselage and downward through the sling hatch to watch the payload and landing gear and for touchdown.
Variants
V-10 - Prototype of the Mil Mi-10 helicopter.
Mi-10K (NATO - Harke-B) - Short-legged flying crane helicopter, with a narrower-tracked undercarriage, and equipped with a ventral gondola. (see bg:Ми-10).
Mi-10R (NATO - Hark-A) - Standard production model, long-legged flying-crane helicopter. Record setting.
Mi-10PP - ECM (Postanovschik Pomekh)

Specifications (Mi-10)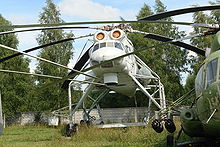 Picture - Mil Mi-10 at Monino Central Air Force Museum (Moscow)
Data from Jane's All The World's Aircraft 1975-76
General characteristics
Crew: 3 (pilot, copilot, flight engineer)
Capacity:
28 passengers or
up to 15,000 kg (33,070 lb) payload on platform or
8,000 kg (17,635 lb) max slung payload
Length: 32.86 m (107 ft 9 in)
Rotor diameter: 35.00 m (114 ft 10 in)
Height: 9.80 m (32 ft 2 in)
Disc area: 962 m² (10,350 ft²)
Empty weight: 27,300 kg (60,185 lb)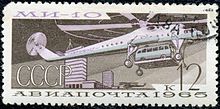 Picture - Mi-10 Stamp
Loaded weight: 38,000 kg (83,775 lb)
Max takeoff weight: 43,700 kg (96,340 lb)
Powerplant: 2x— Soloviev D-25V turboshafts, 4,100 kW (5,500 shp) each
Ground clearance under fuselage: 3.75 m (12 ft 3 in)
Performance
Maximum speed: 200 km/h (108 kt)
Cruise speed: 180 km/h (97 kt)
Range: 250 km (155 mi)
Service ceiling: 3,000 m (9,850 ft)

Related development
Mil Mi-6

Comparable aircraft
CH-54 Tarhe / S-64 Skycrane
CH-47 Chinook

Mil Mi-10 Pictures
Living Warbirds: The best warbirds DVD series.
Source: WikiPedia