Mil Mi-14 Video - Dropping torpedo
Mil Mi-14 Video - Various video
Mil Mi-14 Aircraft Information
Mil Mi-14
Mi-14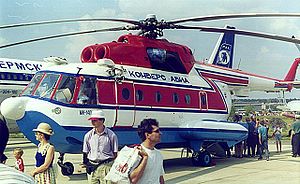 Picture - Mil Mi-14P
Role: Anti-submarine helicopter
Manufacturer: Mil Moscow Helicopter Plant
First flight: September 1969
Introduced: 1975
Status: Active service
Primary users: Soviet Naval Aviation Russian Naval Aviation Libyan Air Force
Developed from: Mil Mi-8

The Mil Mi-14 (NATO reporting name "Haze") is a Soviet anti-submarine helicopter which is derived from the earlier Mi-8.
Design and development
The Mil Mi-14 is built in antisubmarine, mine countermeasures, and search and rescue versions. Its features include two Klimov TV3-117MT turboshaft engines, a boat-like hull similar to the Sea King, rear fuselage sponsons, and a retractable wheeled undercarriage. In all probability, the naval Mi-14 can be used for over-the-horizon target designation, guidance of surface-to-surface missiles and for search and rescue. It may have a bomb bay for antisubmarine torpedoes, depth charges and other weapons used against naval units. It was first flown in September 1969 and entered service in 1975 with the Soviet Air Force.
Variants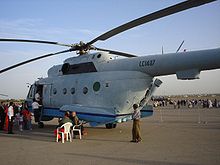 Picture - Libyan Air Force Mi-14
V-14
Prototype of the Mi-14 helicopter.
Mi-14PL (NATO - Haze-A)
Anti-submarine warfare helicopter, equipped with towed APM-60 MAD, OKA-2 sonobuoys and a retractable Type 12-M search radar, armed with a single AT-1 or APR-2 torpedo, one Skat nuclear depth bomb, eight depth charges.
Mi-14PL Strike
Armed version of the Mi-14PL, equipped to carry and fire AS-7 Kerry air-to-surface missiles.
Mi-14PLM
Improved anti-submarine warfare version.
Mi-14PŁ
Polish designation of the Mi-14PL. Also known as the Mi-14PW.
Mi-14BT (NATO - Haze-B)
Mine sweeping helicopter.
Mi-14PS (NATO - Haze-C)
Search and rescue version with search lights and sliding doors with hoist.
Mi-14PX
Search and rescue training helicopter for the Polish navy. One Polish Mi-17PL helicopter was converted into the Mi-17PX, after it had all its ASW equipment removed.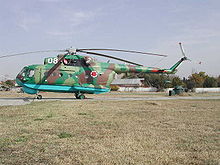 Picture - Georgian Mi-14
Mi-14PZh
Amphibious firebuster version of Mi-14BT. Conversion price about USD1M.
Mi-14PZh Eliminator III
Mi-14BT helicopters converted into fire fighting aircraft.
Mi-14GP
Civilian version.
Mi-14P
24-seat civilian transport helicopter.
Mi-14 operators
Specifications (Mi-14PL)
Data from Jane's All The World's Aircraft 1992-93
General characteristics
Crew: 4
Length: 18.38 m (60 ft 3 in)
Rotor diameter: 21.29 m (69 ft 10 in)
Height: 6.93 m (22 ft 9 in)
Disc area: 356 m² (3,832 ft²)
Empty weight: 11,750 kg (25,900 lb)
Max takeoff weight: 14,000 kg (30,865 lb)
Powerplant: 2x— Klimov TV3-117MT turboshafts, 1,454 kW (1,950 shp) each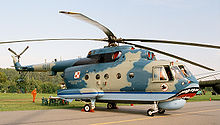 Picture - Polish Navy's Mi-14PŁ on display at Radom Air Show 2005
Performance
Maximum speed: 230 km/h (124 kt)
Ferry range: 1,135 km (705 mi)
Service ceiling: 3,500 m (11,500 ft)
Endurance with max fuel: 5 h 56 min

Armament
torpedoes, bombs and depth charges

Related development
Mil Mi-8

Comparable aircraft
Sikorsky S-61R

Mil Mi-14 Pictures
Living Warbirds: The best warbirds DVD series.
Source: WikiPedia