Mil Mi-2 Video - Overview
Mil Mi-2 Aircraft Information
Mil Mi-2
Mi-2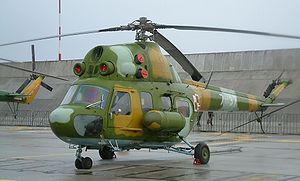 Picture - Polish Air Force Mi-2 at Krzesiny AFB
Role: Helicopter
Manufacturer: MHP in Russia
First flight: September 1961
Introduced: 1965
Primary users: Soviet Air Force Polish Military Aeroflot
Produced: 1965-1985
Number built: About 7,200
Variants: PZL Kania

The Mil Mi-2 (NATO reporting name is "Hoplite") is a small, lightly armored transport helicopter that could also provide close air support when armed with 57 mm rockets and a 23 mm cannon.
Design and development
The Mi-2 was produced exclusively in Poland, in the WSK "PZL-Świdnik" factory in Świdnik. Production ended in 1985 after about 7,200 were made.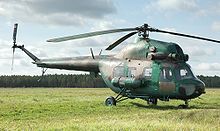 Picture - Mi-2 in Borki, Tver region, Russia
The first production helicopter in the Soviet Union was the Mil Mi-1, modelled along the lines of the S-51 and Bristol Sycamore and flown by Mikhail Mil's bureau in September 1948. During the 1950s it became evident, and confirmed by American and French development, that helicopters could be greatly improved with turbine engines. S. P. Isotov developed the GTD-350 engine and Mil used two of these in the far superior Mi-2. After initial development at the Mil bureau (Soviet designation V-2) this was transferred to Poland in 1964, after the first Swidnik-built example had flown. WSK-Świdnik has since delivered many hundreds, possibly one-third of them to military customers, and developed plastic rotor blades and the wide-body Mi-2M seating 10 passengers instead of eight. Most typical role kits include four stretchers, as air ambulance, or aerospraying or cropdusting device.
In Poland, there were also developed several specialized military variants, first of all support or reconnaissance ones, with 23 mm autocannon, machine guns and/or two 57 mm rocket pods, four 9K11 Malyutka anti-tank missiles or Strela-2 AA missiles.
Operational history
It was first introduced into the Soviet Air Force in 1965. The Mi-2 is used by mainly former Soviet and Eastern Bloc countries, although it is used by Mexico and Myanmar as well.
Most of armed Mi-2 variants were used by Poland. Some were also used by the East Germany (with machine gun and unguided rocket armament only).
North Korea still maintains a large active fleet of Mi-2s. In the event of a war with the ROK, the primary mission of the 200+ aircraft would be the insertion of nK SOF forces behind enemy lines. These SOF forces would be tasked with opening the "second front" against the allied forces, in order to disrupt their ability to counter the nK invasion. The life-expectancy for the Mi-2s would be short, and many would likely not return from their initial mission.
Variants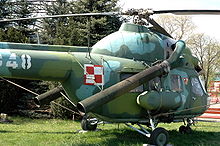 Picture - Mi-2Ch exhibited in Polish Aviation Museum
V-2
First prototype.
V-2V
Armament prototype.
Mi-2 Platan
Aerial minelayer version.
Mi-2A
Mi-2B
Upgraded export version for the Middle East, fitted with improved systems and navigational aids.
Mi-2Ch Chekla
Chemical reconnaissance / smokescreen layer version.
Mi-2D Przetacznik
Aerial command post equipped with R-111 radio.
Mi-2FM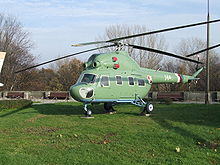 Picture - Mi-2P exhibited in Polish Army Museum in Warsaw. Helicopter in markings of the 42 eskadra lotnicza MSWiA based at Warszawa-Bemowo airfield.
Survey version.
Mi-2P
Passenger / cargo version, with accommodation for 6 passengers.
Mi-2R
Agricultural version.
Mi-2RL
Land rescue/ambulance version.
Mi-2RM
Sea rescue version equipped with electric winch for two people and dropped rafts.
Mi-2Ro
Reconnaissance version equipped with cameras.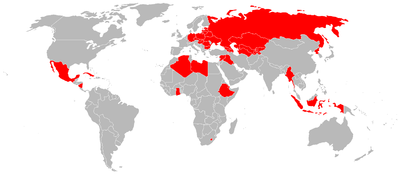 Picture - Mi-2 operators
UMi-2Ro
Reconnaissance trainer version.
Mi-2RS Padalec
Chemical and biohazard reconnaissance version.
Mi-2S
Air ambulance version, equipped to carry four litters, plus an attendant.
Mi-2Sz
Dual-control training version.
Mi-2T
Cargo/utility version.
Mi-2U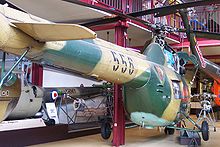 Picture - Ex-East German Air Force Mi-2 in Hubschrauber Museum, Bx¼ckeburg
Dual-control training version.
Mi-2US
Armed version fitted with a fixed 23mm NS-23 cannon, 4 x 7,62mm PKT machine gun pods and optional cabin PK machine gun.
Mi-2URN Żmija ('Viper')
Armed reconnaissance variant armed with a fixed 23mm NS-23 gun and two 16x57mm S-5 unguided rocket pods Mars-2. Optional 7,62mm PK machine gun window-mounted.
Mi-2URP Salamandra ('Salamander')
Gunship and anti-tank variant, armed with 23mm NS-23 gun, optional window-mounted 7,62mm PK machine gun, and 4x AT-3 Sagger (9M14M Malutka) wire-guided missiles on external weapons racks and 4x additional missiles in the cargo compartment.
Mi-2URP-G Gniewosz
Mi-2URP with additional 4x AA missiles Strzała-2 (Strela 2) in two Gad rocket launchers.
Mi-2 Plus
Upgraded Mi-2 with uprated GTD-350W2 engines, all-composite rotor blades, new avionics and some other modifications.
Mi-3
Planned Mi-2 derivative that lacked suitable engines for the program to continue.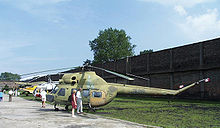 Picture - Ex-Luftwaffe Mi-2 in Peenemx¼nde museum, summer 2001
Indonesia
Indonesian Air Force acquired their Mi-2s in 1961 and used during the Operation Trikora in 1962 in Western New Guinea. The Mi-2s were largely grounded in 1969 and were subsequently removed from service in 1970 (one of these helicopters was given to the Museum "Satria Mandala", Jakarta)
Indonesian Navy (TNI-AL) bought 16 Mi-2s in 2003. But only 3 helicopters remain operational (though none are airworthy) and 13 others haven't arrived due to problems with Indonesian Navy's logistics.
Indonesian Police (Polisi Lintas Udara) also operates Mi-2 helicopters. All of the helicopters are old variants of Mi-2. .

United States
Cold War Air Museum (CWAM) operates 4 Mi-2s from its Museum at Lancaster Airport (Texas) just south of Dallas, Texas.
U.S. Army is said to have a few Mi2 Hoplites for training purposes located at Fort Bliss, Texas. The Hoplite is used to train pilots in Soviet aircraft before moving to larger Soviet helicopters such as the Mi24.
U.S. FAA registry lists 13 privately owned Mi-2s operated by civilians. Only 4 of the 13 have Airworthiness Certificates.

Specifications (Mi-2T)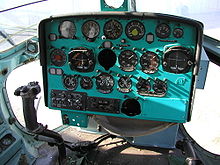 Picture - Cockpit of Mi-2 exhibited in Aviation Museum, Košice, Slovakia
General characteristics
Crew: One
Capacity: 8 passengers or 700 kg (1,540 lb) internal, 800 kg (1,760 lb) external cargo
Length: 11.9 m (39 ft 4 in)
Rotor diameter: 14.6 m (47 ft 11 in)
Height: 3.7 m (12 ft 2 in)
Disc area: 167 m² (1,797 ft²)
Empty weight: 2,372 kg (5,218 lb)
Loaded weight: 3,550 kg (7,810 lb)
Max takeoff weight: 3,700 kg (8,140 lb)
Powerplant: 2x— PZL GTD-350 turboshafts, 298 kW (400 shp) each

Performance
Maximum speed: 220 km/h (138 mph)
Range: 340 km (212 mi)
Service ceiling: 4,000 m (13,120 ft)
Rate of climb: 4.5 m/s (886 ft/min)
Disc loading: 21 kg/m² (4.3 lb/ft²)
Power/mass: 170 W/kg (0.10 hp/lb)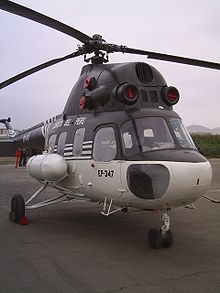 Picture - Peruvian Army Mi-2 on display at Las Palmas Airbase, 2006
Related development
PZL Kania

Comparable aircraft
Bell 204/205

Mi-2 DataBase
Mi-2 Photo Gallery

Mil Mi-2 Pictures
Living Warbirds: The best warbirds DVD series.
Source: WikiPedia