Mil Mi-34 Video - Helicopter Aerobatics
Mil Mi-34 Video - Helicopter aerobatics
Mil Mi-34 Aircraft Information
Mil Mi-34
Mi-34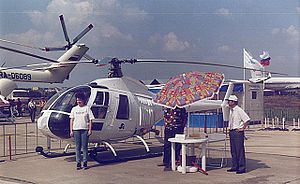 Picture - An Mil Mi-34
Role: Helicopter
National origin: Soviet Union / Russia
Manufacturer: Mil Helicopters
First flight: 1986
Introduction: 1993
Status: in production
Produced: 1994-
Unit cost: US$350,000 (Mi-34S, 1993) US $1 million (Mi-34S2, 2011)

The Mil Mi-34 (NATO reporting name: Hermit) is a light helicopter designed by the Mil Moscow Helicopter Plant in either a two or four seat configuration for utility and training. It was first flown in 1986 and introduced to the world at the Paris Air Show in 1987. The Mi-34 entered production in 1993, and is capable of performing aerobatic maneuvers, including rolls and loops.
Variants
Mi-34S - four seat production model powered by a 239 kW (325 hp) Vedeneyev (VOKBM) M-14V-26V nine-cylinder, air-cooled, radial engine mounted sideways in the fuselage, and equipped with modern avionics. A few aircraft were purchased by the Moscow police.
Mi-34S2 "Sapsan" - turbine version of the Mi-34. It will be able to accommodate up to 4 passengers and the first deliveries are planned by the end of 2011. It will be powered by Turbomeca Arrius-2F
Mi-34L - proposed version powered by a 261 kW (350 hp) Textron Lycoming TIO-540J piston engine. None built.
Mi-34P Patrulnyi (English: patrol) - Police patrol version for Moscow Mayor Office.
Mi-34A - Luxury version, intended to be powered by an Allison 250-C20R turboshaft engine. None built.
Mi-34M1 and Mi-34M2 - Proposed twin-turbine, six-passenger versions.
Mi-34UT - trainer with dual control.
Mi-34V or Mi-34VAZ or Mi-234 - proposed version powered by two VAZ-4265 rotary piston engines.
Mi-44 - proposed development with TV-O-100 engine and refined aerodynamics. A mockup was built in 1987.

Specifications (Mil Mi-34)
Data from Jane's All The World's Aircraft 2003-2004
General characteristics
Crew: 1 or 2 pilots
Capacity: 2 passengers
Length: 11.415 m (37 ft 5½ in)
Rotor diameter: 10.00 m (32 ft 9¾ in)
Height: 2.75 m (9 ft 0¼ in)
Disc area: 78.70 m² (847.1 ft²)
Empty weight: 950 kg (2,094 lb)
Max takeoff weight: 1,450 kg (3,196 lb)
Powerplant: 1x— Vedeneyev M-14V-26V nine-cylinder air-cooled radial engine, 239 kW (320 hp)

Performance
Maximum speed: 210 km/h (113 knots, 130 mph)
Cruise speed: 170 km/h (92 knots, 106 mph)
Range: 356 km (192 nmi, 221 miles)
Service ceiling: 4,000 m (13,120 ft)

Comparable aircraft
Enstrom 280
Robinson R44
Bell Helicopter 206
MD Helicopters MD 500
PZL SW-4
Kazan Ansat

Jackson, Mark. Jane's All The World's Aircraft 2003-2004. Coulsdon, UK: Jane's Information Group, 2003. ISBN 0-7106-2537-5.

Mil Mi-34 Pictures
Living Warbirds: The best warbirds DVD series.
Source: WikiPedia