Mil Mi-4 Video - Overview
Mil Mi-4 Video - Overview - Russian
Mil Mi-4 Aircraft Information
Mil Mi-4
Mi-4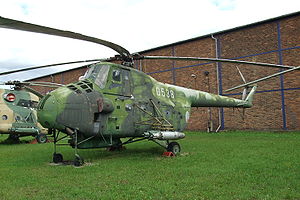 Picture - Mil Mi-4 at Prague Aviation Museum
Role: Transport helicopter
Manufacturer: Mil Moscow Helicopter Plant
First flight: 3 June 1952
Introduced: 1953
Status: Retired
Primary users: Soviet Air Force Polish Air Force
Produced: 1951-1969
Number built: over 4,500 including Z-5s
Variants: Harbin Z-5

The Mil Mi-4 (USAF/DoD reporting name "Type 36", NATO reporting name "Hound".) was a Soviet transport helicopter that served in both military and civilian roles.
Design and development
The Mi-4 was designed in response to the American H-19 Chickasaw and the deployment of U.S. helicopters during the Korean War. While the Mi-4 superficially resembles the H-19 Chickasaw, it is a larger helicopter and is able to lift more weight. The first model entered service in 1952, and replaced the Mi-1. The helicopter was first displayed to the outside world in 1952 at the Soviet Aviation Day in Tushino.
One Mi-4 was built with a jettisonable rotor. It served as an experimental vehicle for future pilot safety and ejection designs.
Operational history
The Mi-4 transport helicopter laid the beginning of the Soviet Army Aviation, it was widely used both in the armed forces and in the national economy and for several decades remained the main type of helicopter in the inventory of the Soviet Armed Forces and of the Civil Air Fleet. The Mi-4 went out of service with the development of the Mi-8. It is not used by the Russian Air Force anymore, though it remained in service in some countries as a utility helicopter or as a military transport a while longer. Albania was thought to be the final country using the helicopter and by 2005 all were out of service. The Mi-4 played a very important role in Bangladesh liberation war of 1971. The Mi-4 was the workhorse of the Indian Army at the time. A highly successful heli-borne operation using Mi-4s helped the Indian Army's 57 Mountain Division clear the Meghna River. The helilift of a battalion of Indian troops to the outskirts of Sylhet was the first heli-borne operation of the Indian army.
Much like the UH-1 Huey, after it was gradually phased out of military service, it was used in various domestic roles: search and resque, firefighting, polar expeditioning, construction site cargo helicopter, commercial flights and many others.
Variants
V-12
Prototype. Designation reused for the Mi-12.
Mi-4 (NATO - Hound-A)
Basic production version.
Mi-4A
Assault transport helicopter.
Mi-4L Lyukes
Six-seat VIP transport version, sometimes converted into an air ambulance helicopter.
Mi-4M (NATO - Hound-C)
Armed close-support helicopter, fitted with a gun turret.
Mi-4P
Civil transport helicopter, with accommodation for between 8 and 11 passengers, plus eight stretchers and a medical attendant for air ambulance duties.
Mi-4PL (NATO - Hound-B)
Anti-submarine warfare helicopter.
Mi-4S Salon
VIP transport helicopter.
Mi-4Skh
Multi-role agricultural helicopter, with a large chemical container in the main cabin. Also used as a fire-fighting helicopter.
Mi-4T
Major military production version, equipped with a large diameter main rotor and bulged windows.
Harbin Z-5
Chinese military transport helicopter. Chinese production version.
Harbin Z-6
Prototype turbine powered version of the Z-5, no production undertaken.
Xuanfeng
Chinese civil transport helicopter. Chinese production version.
Operators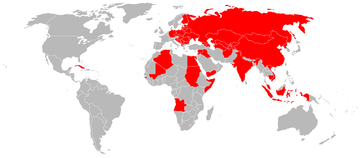 Picture - Mi-4 operators
Military operators
Afghanistan
18 acquired by the Royal Afghan Air Force from 1963, withdrawing the last from service in 1997.
Albania
59 total examples acquired by the Albanian Air Force from 1957, including 37 Z-5 versions from 1967. These were reported in service as late as 2004.
Algeria
Algerian Air Force
Angola
People's Air and Air Defence Force of Angola
Bulgaria
Bulgarian Air Force
[[Bulgarian Navy]

Burkina Faso
4 in service 1985-1989
Cambodia
Cambodian Air Force
Cameroon
Cameroon Air Force operated 1.
China
People's Liberation Army
People's Liberation Army Air Force
People's Liberation Army Navy Air Force

Cuba
One example, of the FAR (Fuerza Aérea Revolucionaria) is displayed at the Museo del Aire (Cuba)
Czechoslovakia
Czechoslovakian Air Force
East Germany
East German Air Force
Volksmarine

Egypt
Egyptian Air Force

Finland
3 units were in service with the Finnish Air Force from 1962-1979.
Guinea-Bissau
Hungary
Hungarian Air Force
India
Indian Air Force
Indonesia
Indonesian Air Force
Iraq
Iraqi Air Force
Kyrgyzstan
Mali
Mongolia
Mongolian People's Air Force
North Korea
North Korean Air Force
Poland
Polish Air Force
Polish Navy

Romania
Romanian Air Force
Romanian Navy

Sierra Leone Somalia Somali Air Corps South Yemen Soviet Union
Soviet Air Force
Soviet Army Aviation
Soviet Naval Aviation

Tajikistan
Syria
Syrian Air Force
Sudan
Sudanese Air Force
Vietnam
Vietnam People's Air Force
Yemen
Yemen Air Force
Yugoslavia
Yugoslav Air Force operated 25, withdrawn in 1970s.
Civil Operators
China
Civil Aviation Administration of China

Czechoslovakia
Slov-Air

Mongolia
MIAT Mongolian Airlines

Romania
TAROM - 3 used for high voltage powerlines construction

Soviet Union
Aeroflot

Specifications (Mi-4A)
General characteristics
Crew: One or two pilots
Capacity: 16 troops or up to 1,600 kg (3,520 lb) of cargo
Length: 26.80 m (87 ft 11 in)
Rotor diameter: 21.00 m (68 ft 11 in)
Height: 4.40 m (14 ft 5 in)
Disc area: 346.4 m² (3,727 ft²)
Empty weight: 5,100 kg (11,220 lb)
Loaded weight: 7,150 kg (15,730 lb)
Max takeoff weight: 7,550 kg (16,610 lb)

Performance
Maximum speed: 185 km/h (116 mph)
Range: 500 km (313 mi)
Service ceiling: 5,500 m (18,040 ft)
Rate of climb: m/s (ft/min)
Disc loading: 41 kg/m² (8 lb/ft²)

Related development
Harbin Z-5

Comparable aircraft
Sikorsky H-19
Sikorsky H-34

Ogden, Bob (2008). Aviation Museums and Collections of The Rest of the World. UK: Air-Britain. ISBN 978-0-85130-394-9

Mil Mi-4 Pictures
Living Warbirds: The best warbirds DVD series.
Source: WikiPedia