Miles Aerovan Video - Picture
Miles Aerovan Aircraft Information
Miles Aerovan
M.57 Aerovan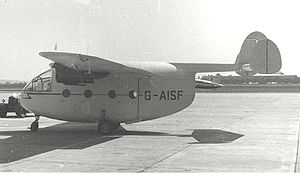 Picture - Aerovan 4 of Channel Islands Air Freight at Manchester (Ringway) Airport in May 1955
Role: Short haul transport
National origin: United Kingdom
Manufacturer: Miles Aircraft
Designed by: G.H. Miles
First flight: 26 January 1945
Number built: 52
Variants: Miles M.68

The Miles M.57 Aerovan was a British twin engine short-range low-cost transport designed and built by Miles Aircraft. It was used for freight, joy-riding and passenger services. It also was used by many commercial operators and for some military purposes.
Design and development
It was a twin engine high wing monoplane of plastic bonded plywood construction with some spruce and metal parts. It had fixed tricycle undercarriage, three vertical tail and rudder units (one central and two as tailplane endplates, reminiscent of the Miles Messenger; but a large fin area was required by the deep sided forward fuselage), and a pod and boom fuselage. Two pilots were seated beneath a large clear perspex canopy which formed the front dorsal part of the pod, four or five circular windows providing a view for passengers on either side. The Aerovan was capable of lifting a family car, loaded through clamshell rear doors. Designed in 1944, the prototype was built at Miles factory at Woodley, Berkshire and was first flown there by Tommy Rose on 26 January 1945.
Aerovan production started in 1946 primarily for civil use, although examples were used briefly by the military of Israel and New Zealand. Production ended late in 1947. A licence was granted to manufacture the type in France but no production resulted. Two RNZAF machines were converted, unsuccessfully, for aerial fertiliser spreading. One Mark 6 was used for research with Hurel-Dubois high aspect ratio wing in 1957 and was then known as the HDM.105. The prototype retroactively named the Mark 1 was later fitted with a 5/6th replica of the Armstrong Siddeley Mamba turboprop nacelle for the Miles Marathon.
The last known surviving Aerovan was a Mk 6 operating in Italy in 1968.
Service
Most Aerovans Mks 3 and 4 were employed on passenger and freight services, charter work and joyriding in the U.K and in the Near East. Meridian Air Maps operated Aerovan 4 G-AISF on aerial survey work from October 1955 until it crashed on take-off from Manchester (Ringway) on 29 April 1957.
The RNZAF evaluated two Aerovan 4s during 1950.
The newly formed Israeli Air Force acquired a single Aerovan G-AJWI from the UK which entered service in June 1948. Able to use very short landing strips it was flown into settlements and Jerusalem airport in the face of defensive rifle fire. On 17 July 1948 it made a forced landing south of Tel Aviv and was destroyed by Palestinians.
Variants
Aerovan 1 First prototype G-AGOZ. The short fuselage prototype had 4 square windows. Like the Aerovan 2, 3 and 4 it was powered by two 150 hp (112 kW) Blackburn Cirrus Major III piston engines. Aerovan 2 Second prototype G-AGWO had a lower empty weight (by 410 lb) and an 18 in longer fuselage with 5 round windows. The outer fin balance was modified. Aerovan 3 Essentially identical to the Mk 2. Seven built, with six registered in the UK at one time or another, the other going to Belgium. Aerovan 4 Mark 3 with detailed improvements; the main production variant distinguished by four circular windows. 43 built, including one originally built as a Mk 3. 40 of these were registered in the U.K.. Two were later converted in to the Mk 5 and HDM. 105. Three further machines were built, one going to Iraq and two to the RNZAF (later sold on the civil market). Aerovan 5 Powered by two 145 hp (108-kW) de Havilland Gipsy Major 10 piston engines. One built. Aerovan 6 Powered by two 195 hp (145 kW) Avco Lycoming O-435-A piston engines. One built with enlarged outer fins taken from scrapped Miles M.68. HDM.105 Aerovan fitted with high-aspect ratio (20.5:1) wing (75 ft 4 in span) of almost the same area as earlier marks, designed by Hurel-Dubois; influenced the design of the Shorts Skyvan. Former Mark 4 first flew in the later form in March 1957 with similar performance to earlier marks. Damaged and then dismantled in June 1958.
Operators
Civil Operators
Angola Belgium
Belgian Air Service

France
Compagnie General de T.S.F

Iraq Italy
Societe Transporti Aerei Mediterranei

Kenya
Airwork (East Africa)

Netherlands New Zealand Spain
Aerotechnica
Compax±x­a Auxilar de Navegacix³n Aérea

Switzerland Turkey
Turkish State Airlines
Hurkus Hava Yollari

United Kingdom
Air Contractors
Airwork
Arab Contracting and Trading Company
Air Transport (Charter)
British Nederland Airservices
Channel Islands Air Freight
Culliford Airlines
East Anglian Flying Services
Island Air Charters
Kenning Aviation Ltd
Lockwoods Flying Services
Meridan Air Maps
North Sea Air Transport
North West Airlines
Patrick-Duval Aviation
Sivewright Airways
Skyfreight
Skytravel
Ulster Aviation
Universal Flying Services

Military Operators
Israel
Israeli Air Force

New Zealand
Royal New Zealand Air Force
Research and Development Flight of No. 41 Squadron RNZAF

Specifications (Aerovan Marks 2, 3, 4)
Data from British Civil Aircraft since 1919
General characteristics
Crew: 2
Capacity: 10
Length: 36 ft (10.97 m)
Wingspan: 50 ft (15.24 m)
Height: 13 ft 6 inches (4.1 m)
Wing area: 390 square feet. (36.2 m²)
Empty weight: 3,000 lb (1,360 kg)
Loaded weight: 5,800 lb (2,630 kg)
Powerplant: 2x— Blackburn Cirrus Major IIA inline piston engine, 150 hp (112 kW) each

Performance
Maximum speed: 127 mph (204 km/h)
Cruise speed: 112 (180 km/h)
Range: 400 miles. (645 km)
Service ceiling: 13,250 (4,040 m)
Rate of climb: 620 ft/min (3.1 m/s)
Landing speed: 40 mph.

Related development
Miles M.68 "Boxcar" - 4 engined development of Aerovan, same span. One only.
Miles M.71 Merchantman - bigger all-metal design with similar layout and 4 x 250 h.p. DH Gipsy Queen 30. One only.
Short Skyvan

Bibliography
Amos, Peter. and Brown, Don Lambert. Miles Aircraft Since 1925, Volume 1. London: Putnam Aeronautical, 2000. ISBN 0-85177-787-0.
Brown, Don Lambert. Miles Aircraft Since 1925. London: Putnam & Company Ltd., 1970. ISBN 0-37000-127-3.
Dor, Amos. "Short-Lived 'Duck'". Air Enthusiast, No. 109, January/February 2004. Stamford, Lincs, UK: Key Publishing, pp. 26-28.
Jackson, A.J., British Civil Aircraft 1919-1959, vol 2. London: Putnam & Company Ltd., 1960.
Jane's all the world's aircraft 1956-7.London: Jane's PublishingCo. Ltd.
A.J. Jackson, British Civil Aircraft since 1919 Volume 3, 1974, Putnam, London, ISBN 0 370 10014 X,
"Miles Aerovan (M.57)". Flight. 7 June 1945. http://www.flightglobal.com/pdfarchive/view/1945/1945%20-%201106.html.

Miles Aerovan Pictures and Miles Aerovan for Sale.
Living Warbirds: The best warbirds DVD series.
Source: WikiPedia