Miles Libellula Video - RC Model - LMA Rufforth Model Airshow
Miles Libellula Video - RC Model - View from "cockpit" - M39b Libellula
Miles Libellula Aircraft Information
Miles Libellula
Libellula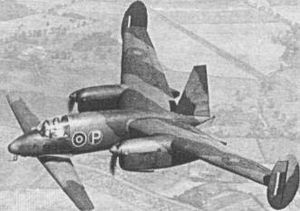 Picture - Miles M.39B in flight
Role: Fighter
Manufacturer: Phillips & Powis/Miles Aircraft
Designed by: Miles

The Miles M.35 and M.39 Libellula (from Libellulidae, the taxonomic name for dragonflies) were a pair of tandem wing aircraft built by Miles Aircraft. The first was a fighter-sized aircraft, and the latter a scaled version of a proposed bomber type.
Development
There were two designs, the smaller fighter-sized M.35 and the larger M.39. In the end, only the prototype M.35 and a reduced-scale M.39B were built and tested. Both designs used one wing at the rear of the fuselage and a smaller one at the front in a tandem wing arrangement; the configuration was like that on canard aircraft designs, but with the front wing contributing lift rather than solely acting as a control. The wings were set at different heights - the front at the top of the fuselage and the rear at the bottom on the M.35, and the other way around for the M.39B.
The Miles M.39 was a proposal by Miles to meet Air Ministry specification B.11/41 for a fast bomber. Miles had already schemed an idea for an aircraft with exceptional forward visibility in the light of losses of carrier-based aircraft during landing. The M.35 was designed and built as a private venture, and after proving the idea's validity Miles suggested it as the basis for a naval fighter. Miles felt the idea had a lot of merit and put forward a larger design, the M.39, to the Ministry of Aircraft Production.

Picture - The Miles Libellula M.35
M.35
The M.35, drawn up in 1941 was powered by a single pusher engine, the pilot sat at the front with the fore wing just behind and level with his head giving a clear view in most directions. The wings and oval section fuselage were of all-wood construction, and the design featured a fixed tricycle landing gear. Elevators and flaps were hinged at the trailing edge of the front wings; and the rear wings carried ailerons and flaps, as well as a fin with a rudder on each wing tip. A flying example was built with typical Miles speed, in six weeks. The first flight was on 1 May 1942.

Picture - The Miles Libellula M.39B.
M.39
Though it had some problems, the M.35 proved sufficient to show the idea had merits, and the larger M.39 was drawn up. This would be a twin-engined design. A scale version at 5/8ths, the M.39B, was built, flying in mid-1943. Miles continued testing privately, but passed this aircraft over to the Royal Aircraft Establishment at Farnborough in 1944, where it carried the serial SR392. It was damaged in two accidents and repaired each time, but was later broken up with the project's cancellation.
Specifications (M.35)
Data from Mondey 2002
General characteristics
Crew: 1
Length: 20 ft 4 in (6.20 m)
Wingspan: 20 ft 5 in (6.22 m)
Height: 6 ft 9 in (2.06 m)
Wing area: 45 ft² front and 90 ft² rear (4 m², 8.3 m²)
Empty weight: 1,460 1b (662 kg)
Loaded weight: 1,850 lb (839 kg)
Powerplant: 1x— de Havilland Gipsy Major inline piston engine, 130 hp (97 KW)

Performance
Specifications (M.39B)
Data from Mondey 2002
General characteristics
Crew: 1
Length: 22 ft 2 in (6.76 m)
Wingspan: * Front 25 ft
Rear: 37 ft 6 in (7.6 m and 11.43 m)
Height: 9 ft 3 in (2.82 m)
Wing area: 61.7 ft² and 187.5 ft² (6.64 m² and 20.16 m²)
Empty weight: 2,405 lb (1,091 kg)
Loaded weight: 2,800 lb (1,270 kg)
Powerplant: 2x— de Havilland Gipsy Major IC inline piston, 140 hp (104 KW) each

Performance
Maximum speed: 164 mph (264 km/h)
Stall speed: 60 mph (97 km/h)
Rate of climb: 1,100 ft/min (5.59 m/s)

Comparable aircraft
Kyūshū J7W
XP-55 Ascender

Bibliography
Amos, Peter. and Don Lambert Brown. Miles Aircraft Since 1925, Volume 1. London: Putnam Aeronautical, 2000. ISBN 0-85177-787-0.
Bridgman, Leonard. (ed.) (1998) Jane's fighting aircraft of World War II. Crescent. ISBN 0-517-67964-7
Brown, Don Lambert. Miles Aircraft Since 1925. London: Putnam & Company Ltd., 1970. ISBN 0-37000-127-3.
Brown, Eric. "The Lovelorn Libellula." AirEnthusiast Five November 1977-February 1978. Bromley, Kent, UK: Pilot Press Ltd., 1977.
Mondey, David. The Hamlyn Concise Guide to British Aircraft of World War II. London: Chancellor Press, 2002. ISBN 1-85152-668-4.
"The Miles 'Dragonflies'". Aeroplane Monthly, June 1973.

Miles Libellula Pictures and Miles Libellula for Sale.
Living Warbirds: The best warbirds DVD series.
Source: WikiPedia