Miles M.20 Aircraft Information
Miles M.20
M.20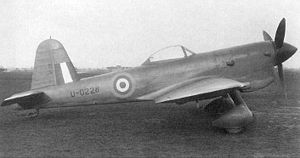 Picture - Second prototype of the Miles M.20
Role: Lightweight fighter
Manufacturer: Miles Aircraft
Designed by: Walter G. Capley
First flight: 15 September 1940
Primary users: Royal Air Force (intended) Fleet Air Arm (intended)
Number built: 2 prototypes
Developed from: Miles Master

The Miles M.20 was a Second World War fighter developed by Miles Aircraft in 1940. Designed and built as a simple and cheap alternative to the Royal Air Force's Spitfires and Hurricanes, its design was overtaken by events.
Design and development
During the Battle of Britain, the Royal Air Force was faced with a potential shortage of fighters. To meet the Luftwaffe threat, the Air Ministry commissioned Miles to design the M.20; nine weeks and two days later the first prototype flew.
To reduce production times the M.20 was of an all-wood construction, used many parts from the earlier Miles Master trainer, lacked hydraulics, and had streamlined fixed landing gear. The engine was a complete Rolls-Royce Merlin XX "power egg", and was identical to those used on the Avro Lancaster and some Bristol Beaufighter marks. The design also featured a bubble canopy for improved pilot visibility, one of the first fighters to do so.
Testing and evaluation
The first prototype, with the B-class serial U-9 first flew on 15 September 1940, and was tested at the A & AEE under the military serial number AX834 against Specification F.19/40. Armed with the same eight .303 Browning machine guns as the Hawker Hurricane, the M.20 prototype was faster than the Hurricane and slower than the Spitfire types then in production, but carried more ammunition and had greater range than either. As the Luftwaffe was defeated over Britain, the need for the M.20 vanished and the design was abandoned without entering production. The first prototype was later scrapped at Woodley.
A second prototype, U-0228 and later serialed as DR616, was built to Specification N.1/41 for a Fleet Air Arm shipboard fighter, equipped with an arrestor hook and catapult launch points. It first flew on 8 April 1941. This variant was also fitted with jettisonable undercarriage so it could be used from catapults on Catapult Aircraft Merchantmen, however these ships had no flight decks so the aircraft had to be ditched into the sea after just one mission. Old Hawker Hurricanes took on this role, relegating the M.20 as superfluous and consequently leading to the scrapping of the shipboard variant.
Specifications (M.20, as tested)
Data from British Aircraft of World War II and Military.cz
General characteristics
Crew: One pilot
Length: 30 ft 8 in (9.35 m)
Wingspan: 34 ft 7 in (10.54 m)
Height: 12 ft 6 in (3.81 m)
Wing area: 234 ft² (21.74 m²)
Empty weight: 5,870 lb (2,663 kg)
Max takeoff weight: 8,000 lb (3,629 kg)
Powerplant: 1x— Rolls-Royce Merlin XX V12 inline engine, 1,390 hp (1,036 kW)

Performance
Maximum speed: 333 mph (536 km/h)
Range: 1,200 mi (1,930 km)
Service ceiling: 32,800 ft (10,000 m)
Rate of climb: 2,300 ft/min (11.7 m/s)
Time to climb: 9.6 min to 20,400 ft (6,218 m)

Armament
8x— .303 inch Browning machine guns

Related development
Miles Master

Comparable aircraft
Bell XP-77
Caudron C.714
Douglas XP-48
Hawker Hurricane
Martin-Baker M.B.2
Tucker XP-57

Bibliography
Amos, Peter and Don Lambert Brown. Miles Aircraft Since 1925, Volume 1. London: Putnam Aeronautical, 2000. ISBN 0-85177-787-0.
Brown, Don Lambert. Miles Aircraft Since 1925. London: Putnam & Company Ltd., 1970. ISBN 0-37000-127-3.
Green, William. Warplanes of the Second World War, Fighters, Vol. 2. London: Macdonald, 1961.
Jarrett, Philip. "Nothing Ventured..." Part 21. Aeroplane Monthly, January 1992, Volume 20 No, 1, Issue 225. London:IPC. ISSN 0143-7240. pp. 54-60.
Mondey, David. The Hamlyn Concise Guide to British Aircraft of World War II. London: Chancellor Press, 2002. ISBN 1-85152-668-4.
Swanborough, Gordon. British Aircraft at War, 1939-1945. East Sussex, UK: HPC Publishing, 1997. ISBN 0-9531421-0-8.

Miles M.20 Pictures and Miles M.20 for Sale.
Living Warbirds: The best warbirds DVD series.
Source: WikiPedia