Miles Magister Video - Takeoff from grass field, great angles and sound
Miles Magister Aircraft Information
Miles Magister
M.14 Magister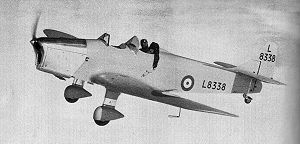 Role: Trainer
Manufacturer: Miles Aircraft
Designed by: G.H. Miles
First flight: 1937
Primary users: Royal Air Force Fleet Air Arm
Number built: 1,303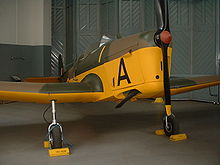 Picture - Miles Magister at the Imperial War Museum, Duxford
The Miles M.14 Magister was a British two-seat monoplane basic trainer aircraft built by the Miles Aircraft for the Royal Air Force and Fleet Air Arm. Affectionately known as the Maggie, the Magister was based on Miles' civilian Hawk Major and Hawk Trainer and was the first monoplane designed specifically as a trainer for the RAF. As a low-wing monoplane, it was an ideal introduction to the Spitfire and Hurricane for new pilots.
Design and development
The Magister was designed to meet Air Ministry Specification T.40/36P and first flew in March 1937. The design was based on an open-cockpit, low wing cantilever monoplane of spruce structure covered in plywood. The wing centre section has no dihedral and is of constant section with outer sections having dihedral and tapering towards the tip. Split flaps were fitted as standard. The initial M.14 was followed by the definitive Miles M.14A Magister I with a taller rudder and, eventually, anti-spin strakes on rear fuselage.
Notwithstanding the relatively large number built, contemporary glues used to assemble the wooden aircraft have not stood the test of time and seemingly only one remains airworthy on the British register in 2007 with a few others designated Hawk Trainers.
Operational history
Production began in October 1937 and by the start of the Second World War over 700 Magisters had entered service with RAF Elementary Flying Training Schools, eventually equipping 16 such schools as well as the Central Flying School. Large numbers of civilian Hawk Majors were also pressed into service as trainers. Production of the Magister continued until 1941 by which time 1,203 had been built by Miles and an additional 100 were built under licence in Turkey.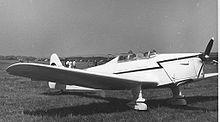 Picture - Hawk Trainer Coupe G-AJRT at Leeds (Yeadon) Airport in May 1955
After the war many Magisters were converted for civilian uses and redesignated as the Hawk Trainer III. The 1950 Kings Cup Air Race, in which eight Hawk Trainer IIIs competed, was won by E. Day in a modified cabin version G-AKRV at 138.5 mph. At least two other aircraft were thus modified.. In 2009, 10 Hawk Trainer IIIs were registered in the United Kingdom, of which several were airworthy.
Variants
Miles M.14 Magister / Hawk Trainer III
Initial production version.
Miles M.14A Magister I / Hawk Trainer III
Improved variant.
Miles M.14B Magister II / Hawk Trainer II
Improved variant with a 135hp Blackburn Cirrus II engine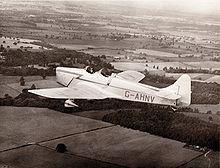 Picture - Hawk Trainer III
Operators
Australia
Royal Australian Air Force - One aircraft.

Canada Royal Canadian Air Force Egypt
Egyptian Army Air Force
Royal Egyptian Air Force - 42 aircraft.

Belgium
Belgian Air Force - One aircraft operated from 1946 to 1948.

Estonia
Estonian Air Force - One aircraft

Ireland
Irish Air Corps - 27 aircraft from 1939 to 1952.

Latvia
Latvian Aviation Regiment

Malaya
Malayan Volunteer Air Force

New Zealand
Royal New Zealand Air Force - Two aircraft.
No. 1 Squadron RNZAF
No. 42 Squadron RNZAF

Portugal
Portuguese Air Force - Ten aircraft.

South Africa
South African Air Force

Turkey Thailand
Thai Air Force
Thai Navy

United Kingdom
Fleet Air Arm
Royal Air Force
No. 24 Squadron RAF
No. 81 Squadron RAF
No. 173 Squadron RAF
No. 267 Squadron RAF

Specifications (Miles M.14A)
General characteristics
Crew: 2 (instructor and student)
Length: 24 ft 7 in (7.51 m)
Wingspan: 33 ft 10 in (10.31 m)
Height: 9 ft 1 in (2.77 m)
Wing area: 176 ft² (16.3 m²)
Empty weight: 1,260 lb (570 kg)
Loaded weight: 1,863 lb (845 kg)
Powerplant: 1x— de Havilland Gipsy Major I inverted inline piston, 130 hp (97 kW)

Performance
Maximum speed: 132 mph at 1,000 ft (212 km/h)
Range: 380 miles (610 km)
Service ceiling: 18,000 ft (5,500 m)
Rate of climb: 850 ft/min (260 m/min)
Wing loading: 10.6 lb/ft² (51.8 kg/m²)
Power/mass: 0.07 hp/lb (0.11 kW/kg)

Related development
Miles Hawk Major

Comparable aircraft
de Havilland Moth Minor
Fairchild PT-19
Ikarus Aero 2
Valmet Tuuli
Yakovlev UT-2
PTO-4

Bibliography
Amos, Peter. Miles Aircraft = The early years. Tonbridge: Air-Britain, 2009. ISBN 978 0 85130 410 6
Amos, Peter and Don Lambert Brown. Miles Aircraft Since 1925, Volume 1. London: Putnam Aeronautical, 2000. ISBN 0-85177-787-0.
Brown, Don Lambert. Miles Aircraft Since 1925. London: Putnam & Company Ltd., 1970. ISBN 0-37000-127-3.
Green, William and Gerald Pollinger. The Aircraft of the World. London: Macdonald, 1955.
Lukins, A.H. and D.A. Russell. The Book of Miles Aircraft. Leicester, UK: The Harborough Publishing Company Ltd., 1946.
Ovčx"čx­k, Michal and Karel Susa. Miles Magister: M.14, M14A, M14B. Prague, Czechia: Mark I Ltd., 2001. ISBN 80-902559-4-9.
Swanborough, Gordon. British Aircraft at War, 1939-1945. East Sussex, UK: HPC Publishing, 1997. ISBN 0-9531421-0-8.
MacCarron, Donal. Wings Over Ireland'. Leicester: Midland Publishing, 1996. ISBN 1-85780-057-5.

Miles Magister Pictures and Miles Magister for Sale.
Living Warbirds: The best warbirds DVD series.
Source: WikiPedia