Miles Master Video - Museum of Berkshire Aviation Film Archive
Miles Master Aircraft Information
Miles Master
Master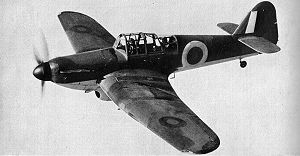 Role: advanced trainer
Manufacturer: Phillips and Powis Aircraft Ltd
Designed by: F. G. Miles
First flight: 31 March 1939
Introduced: 1939
Status: retired
Primary users: Royal Air Force Egypt, South African Air Force, Turkey
Number built: 3,250
Variants: Miles M.25 Martinet Miles M,37 Martinet Trainer Miles M.50 Queen Martinet

Miles M.25 Martinet
Miles M,37 Martinet Trainer
Miles M.50 Queen Martinet

The Miles M.9 Master was a British 2-seat monoplane advanced trainer built by Miles Aircraft Ltd for the Royal Air Force and Fleet Air Arm during the Second World War. It went through a number of variants according to engine availability and was even modified as an emergency fighter during the Battle of Britain. It was a fast, strong and fully aerobatic aircraft and served as an excellent introduction to the high performance British fighter aircraft of the day; the Spitfire and Hurricane.
Design and development
The M.9A Master I was based on the M.9 Kestrel trainer that was first demonstrated at the Hendon Airshow in July 1937, although it never entered production. The M.9 Kestrel, powered by the 745 hp (555 kW) Rolls-Royce Kestrel XVI V-12 engine, could reach 295 mph (475 km/h). The production Master I, which first flew on 31 March 1939, used the lower powered 715 hp (535 kW) Rolls-Royce Kestrel XXX engine, reducing the maximum speed. Nonetheless it remained one of the fastest and most maneuverable trainers of its day. The Master entered service just before the start of the war, and eventually 900 Mk. I and Mk. IA Masters were built. This total included 26 built as the M.24 Master Fighter which were modified to a single-seat configuration, and armed with six .303 in machine guns for use as an emergency fighter, but did not see combat.
When production of the Kestrel engine ceased, a new variant of the Master was designed to use the 870 hp (650 kW) air-cooled radial Bristol Mercury XX engine. The first M.19 Master II prototype flew on 30 October 1939 and 1,748 were eventually built. When the Lend-Lease programme began to supply engines from the United States, a third variant of the Master, the M.27 Master III was designed, powered by the American 825 hp (615 kW) Pratt & Whitney Twin Wasp Junior two-row radial engine. A total of 602 Master IIIs were built before production of the Miles Martinet took over in 1942.
In trainer form, the Master was equipped to carry eight practice bombs, plus one .303 in Vickers machine gun mounted in the front fuselage. In 1942, all variants had their wings clipped by three feet (one metre) to reduce stress on the wings and increase maneuverability.
Production
All the 3,227 Masters produced were built by Phillips and Powis Aircraft Limited at Woodley, Berkshire, the largest number produced of any Miles aircraft type.
Operational history
Service use primarily revolved around (Pilot) Advanced Flying Units, while several hundred Miles Master IIs were converted, or delivered new, for the glider-towing role, with the bottom of the rudder cut away to allow fitting of a towing hook. Miles Masters were extensively used from 1942 as tugs for Hotspur gliders at Glider Training Schools. Used at FTS, few aircraft thus entered squadron service. Known deployments were to No. 287 Squadron RAF between February and August 1942 and to No. 286 Squadron RAF from November 1944 to February 1945.
Diversions from RAF stocks included 426 to the South African Air Force, 52 to the Fleet Air Arm, nine to the USAAF in rgw UK, 23 to the Royal Egyptian Air Force and, early in 1945, 23 to Turkey. Fourteen also went to the Irish Air Corps and two to Portugal.
Variants
Miles M.9 Kestrel Trainer - prototype fighter-trainer with Kestrel engine.
Miles M.9A Master I - Initial production of the Master with Kestrel engine.
Miles M.19 Master II - Production with Bristol Mercury engines.
Miles M.24 Master Fighter - Proposed stop-gap fighter version of Master I with rear seat removed and six 0.303 Browning machine-guns in the wings.
Miles M.27 Master III - Much improved Master II.

Military operators
Egypt
Royal Egyptian Air Force

Ireland
Irish Air Corps

Portugal
Portuguese Air Force

South Africa
South African Air Force

Turkey United Kingdom
Royal Air Force


No. 4 Squadron RAF
No. 16 Squadron RAF
No. 26 Squadron RAF
No. 85 Squadron RAF
No. 105 Squadron RAF
No. 152 Squadron RAF
No. 168 Squadron RAF
No. 219 Squadron RAF
No. 222 Squadron RAF
No. 225 Squadron RAF
No. 238 Squadron RAF
No. 239 Squadron RAF
No. 242 Squadron RAF
No. 245 Squadron RAF


No. 249 Squadron RAF
No. 253 Squadron RAF
No. 257 Squadron RAF
No. 264 Squadron RAF
No. 266 Squadron RAF
No. 286 Squadron RAF
No. 287 Squadron RAF
No. 414 Squadron RCAF
No. 460 Squadron RAAF
No. 505 Squadron RAF
No. 521 Squadron RAF
No. 607 Squadron RAF
No. 610 Squadron RAF
No. 615 Squadron RAF
No. 616 Squadron RAF

United States
United States Army Air Force

Specifications (Mk II)
Data from
General characteristics
Crew: Two (instructor and student)
Length: 29 ft 6 in (8.99 m)
Wingspan: 39 ft 0 in (11.89 m)
Height: 9 ft 3 in (2.82 m)
Wing area: 217 ft² (20.16 m²)
Airfoil: NACA 230
Empty weight: 4,293 lb (1,947 kg)
Max takeoff weight: 5,573 lb (2,528 kg)
Powerplant: 1x— Bristol Mercury XX 9-cylinder supercharged air-cooled radial engine, 870 hp (623 kW)

Performance
Maximum speed: 260 mph (416 km/h) at 5,000 ft (1,500 m)
Cruise speed: 230 mph (368 km/h) at 5,000 ft (1,500 m)
Range: 341 nm (393 mi, 632 km)
Service ceiling: 28,000 ft (8,500 m)
Wing loading: 23.7 lb/ft² (116 kg/m²)
Power/mass: 0.156 hp/lb (0.255 kW/kg)

Armament
Guns: 1 x— .303 in Vickers K machine gun

Related development
Miles Kestrel
Miles Martinet

Comparable aircraft
North American Harvard

Bibliography
Amos, Peter and Don Lambert Brown. Miles Aircraft Since 1925, Volume 1. London: Putnam Aeronautical, 2000. ISBN 0-85177-787-0.
Brown, Don Lambert. Miles Aircraft Since 1925. London: Putnam & Company Ltd., 1970. ISBN 0-37000-127-3.
Jane, Fred T. Jane's All the World's Aircraft 1945/6. London: Sampson Low Marston, 1946. ISBN 0-7153-5109-6.
Jefford, Wing Commander C.G., MBE,BA,RAF (Retd). RAF Squadrons, a Comprehensive Record of the Movement and Equipment of all RAF Squadrons and their Antecedents since 1912. Shrewsbury, Shropshire, UK: Airlife Publishing, 2001. ISBN 1-84037-141-2.
Lukins, A.H. and D.A. Russell. The Book of Miles Aircraft. Leicester, UK: The Harborough Publishing Company Ltd., 1946.
Mondey, David. The Hamlyn Concise Guide to British Aircraft of World War II. London: Chancellor Press, 1994. ISBN 1-85152-668-4.
Temple, Julian C. Wings Over Woodley - The Story of Miles Aircraft and the Adwest Group. Bourne End, Bucks, UK: Aston Publications, 1987. ISBN 0-946627-12-6.

Miles Master Pictures and Miles Master for Sale.
Living Warbirds: The best warbirds DVD series.
Source: WikiPedia