Miles Mohawk Video - Scale RC model
Miles Mohawk Aircraft Information
Miles Mohawk
M.12 Mohawk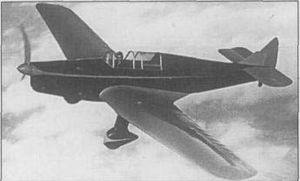 Picture - Miles M.12 Mohawk flown by Charles Lindbergh
Role: Civil touring aircraft, trainer
Manufacturer: Miles Aircraft
Designed by: G.H. Miles
First flight: 22 August 1936
Primary users: Charles Lindbergh Royal Air Force
Number built: 1

The Miles M.12 Mohawk was a 1930s British two-seat, tandem cabin monoplane built by Miles Aircraft to the order of Charles Lindbergh in 1936. After being used by Lindbergh in Europe it was impressed into service with Royal Air Force as a communications aircraft in 1941.
Design and development
In 1936, when Lindbergh was on an extended mission to Europe, he asked George Miles to build a fast, long-range machine for use between the various capitals. Coming from such an expert, this was no small compliment to the Miles organisation and as a result of close co-operation between the pilot and designer, a first-class design was produced.
The M.12 Mohawk followed earlier Miles Nighthawk and Miles Hawcon designs and practice in having a low wing cantilever monoplane design of spruce structure covered in plywood. The centre section had no dihedral and of constant section, with outer sections having dihedral and taper towards the tip. The fuselage was similarly a spruce structure with plywood covering. The M.12 was a conventional taildragger with fixed main wheels, each encased in an aerodynamic fairing beneath the wing and featuring a tail wheel. In incorporating an American 200 hp Menasco Buccaneer B6S engine to the classic Miles low-wing configuration, the M.12 was distinctly an Anglo-American machine. A second set of Miles M.12 wings were used in the M.7A hybrid.
Operational history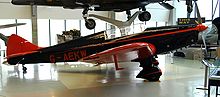 Picture - The Miles Mohawk at the Royal Air Force Museum, London.
The M.12 as G-AEKW first flew on 22 August 1936, and received its certificate of airworthiness on 28 January 1937. After use by Lindbergh, the aircraft was impressed for RAF service as HM503 in November 1941. However the M.12 was little used, other than by the Maintenance Command Communications and Ferry Squadron (September 1943-January 1944), because of difficulties with the Menasco Buccaneer engine.
G-AEKW survived the war and after extensive restoration is now on display at the 'Milestones of Flight' exhibition at the RAF Museum Hendon.
Operators
United Kingdom
Royal Air Force

Specifications
Length: 25 ft 6 in (7.77 m)
Span: 35 ft 0 in (10.67 m)
Gross weight: 2,620 Ib (1,188 kg)
Max. speed: 185 mph (298 km/h)
Cruise speed: 170 mph (275 km/h)
Range: 1400 miles (2,250 km)

Charles Lindbergh

Related development
Miles Kestrel
Miles Martinet

Comparable aircraft
Percival Gull

Bibliography
Amos, Peter. and Brown, Don Lambert. Miles Aircraft Since 1925, Volume 1. London: Putnam Aeronautical, 2000. ISBN 0-85177-787-0.
Brown, Don Lambert. Miles Aircraft Since 1925. London: Putnam & Company Ltd., 1970. ISBN 0-37000-127-3.
Temple, Julian C. Wings Over Woodley - The Story of Miles Aircraft and the Adwest Group. Bourne End, Bucks, UK: Aston Publications, 1987. ISBN 0-946627-12-6.

Miles Mohawk Pictures and Miles Mohawk for Sale.
Living Warbirds: The best warbirds DVD series.
Source: WikiPedia