Miles Monarch Video - Picture
Miles Monarch Aircraft Information
Miles Monarch
M.17 Monarch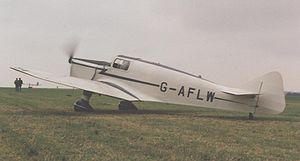 Picture - Miles M.17 Monarch operational at Wroughton, Wiltshire, in July 1992
Role: Light civil touring aeroplane
Manufacturer: Phillips and Powis Aircraft Ltd
Designed by: Frederick George Miles
First flight: 21 February 1938
Introduced: 1938
Primary user: Royal Air Force
Produced: 1938-1939
Number built: 11

The Miles M.17 Monarch was a British, light, touring aeroplane of the 1930s. It was a single-engine, three-seat, cabin monoplane with a fixed, tailwheel undercarriage.
Development
The last civil type produced by Phillips and Powis before the war, the Monarch was a development of their earlier Whitney Straight. Compared to its sibling. the Monarch had an enlarged fuselage, allowing provision of a third seat in part of what had been the luggage space.
Operational history
Eleven aircraft were built between 1938 and 1939, six of these to British customers, the rest going to export.
On the outbreak of war five of the British-registered machines were impressed by the Air Ministry; one machine belonging to Rolls-Royce acquired camouflage paint but remained in its owner's service. All but one of these survived the war, though a Dutch-registered aeroplane (PH-ATP) was destroyed in the Luftwaffe raid on Schiphol on 10 May 1940. One aircraft, OY-DIO, was on the Danish register until Sept. 9, 1939 and owned by a Dane named Hagedorn.
In the 1950s, one Monarch (G-AIDE) enjoyed some success as a racer in the hands of W.P. Bowles
For the most part, the remaining Monarchs led uneventful but useful careers; a number survived into the Sixties and the last one was grounded for preservation in the mid-Nineties.
Sporting successes (G-AIDE)
1st - Goodyear Trophy (1957)
3rd - King's Cup Race (1957)
1st - Norton Griffiths Trophy (1958)
2nd - Osram Cup Race (1958)

Operators
United Kingdom
Royal Air Force

Specifications (M.17)
Data from British Civil Aircraft since 1919, Volume 3
General characteristics
Crew: 1
Capacity: 2 passengers
Length: 25 ft 11.75 in ()
Wingspan: 35 ft 7 in ()
Height: 8 ft 9.25 in ()
Wing area: 180 ft² ()
Empty weight: 1,390 lb ()
Loaded weight: 2,200 lb ()
Powerplant: 1x— De Havilland Gipsy Major I inline, 130 hp ()

Performance
Maximum speed: 145 mph
Cruise speed: 130 mph
Range: 600 miles ()
Service ceiling: 17,400 ft ()
Rate of climb: 850 ft/min ()

Related development
Miles Whitney Straight

Comparable aircraft
Percival Gull

Bibliography
Amos, Peter. and Brown, Don Lambert. Miles Aircraft Since 1925, Volume 1. London: Putnam Aeronautical, 2000. ISBN 0-85177-787-0.
Brown, Don Lambert. Miles Aircraft Since 1925. London: Putnam & Company Ltd., 1970. ISBN 0-370-00127-3.
Jackson, A.J. British Civil Aircraft since 1919, Volume 3. London: Putnam & Company Ltd., 1974. ISBN

Miles Monarch Pictures and Miles Monarch for Sale.
Living Warbirds: The best warbirds DVD series.
Source: WikiPedia