Mitsubishi A5M Video - With A6M - Movie clip - Part 1
Mitsubishi A5M Video - With A6M - Movie clip - Part 2
Mitsubishi A5M Aircraft Information
Mitsubishi A5M
A5M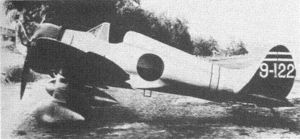 Picture - An A5M4 with arrestor hook and drop tank
Role: Carrier-based fighter
Manufacturer: Mitsubishi
First flight: 4 February 1935
Introduced: 1936
Retired: 1945
Primary user: Imperial Japanese Navy Air Service
Number built: 1,094
Variants: Mitsubishi Ki-18 Mitsubishi Ki-33

The Mitsubishi A5M, Japanese Navy designation was "Type 96 carrier-based fighter" (九六式艦上戦闘機) was a Japanese carrier-based fighter aircraft. It was the world's first monoplane shipboard fighter and the direct ancestor of the famous Mitsubishi A6M 'Zero'. The Allied reporting name was Claude.
Design and development
In 1934, the Imperial Japanese Navy prepared a specification for an advanced fighter, requiring a maximum speed of 350 km/h (220 mph) at 3,000 m (9,840 ft) and able to climb to 5,000 m (16,400 ft) in 6.5 minutes. This 9-shi (1934) specification produced designs from both Mitsubishi and Nakajima.
Mitsubishi assigned the task of designing the new fighter to a team lead by Jiro Horikoshi (later responsible for the famous A6M Zero). The resulting design, designated Ka-14 by Mitsubishi, was an all-metal low-wing fighter, with a thin elliptical inverted Gull wing and a fixed undercarriage, which was chosen as the increase in performance (estimated as 10% in drag, but only a mere 3% increase in maximum speed) arising from use of a retractable undercarriage was not felt to justify the extra weight. The first prototype, powered by a 447 kW (600 hp) Nakajima Kotobuki 5 radial engine, flew on 4 February 1935. The aircraft far exceeded the requirements of the specification, with a maximum speed of 450 km/h (279 mph) being reached. The second prototype was fitted with a revised, ungulled wing, and after various changes to maximize maneuverability and reduce drag, was ordered into production as the A5M.
With the Ka-14 demonstrating excellent performance, the Imperial Japanese Army Air Force ordered a single modified prototype for evaluation as the Ki-18. While this demonstrated similar performance to the Navy aircraft and hence was far faster than the IJAAF's current fighter, the Kawasaki Ki-10 biplane, the type was rejected by the army owing to its reduced maneuverability. The Army then produced a specification for an improved advanced fighter to replace the Ki-10. Mitsubishi, busy turning the Ka-14 into the A5M, submitted a minimally changed aircraft as the Ki-33, this being defeated by Nakajima's competing aircraft, which was ordered into service as the Ki-27.
Operational history
The aircraft entered service in early 1937, soon seeing action in pitched aerial battles at the start of the Second Sino-Japanese War, including air-to-air battles with the Chinese Air Force's Boeing P-26C Model 281 "Peashooters" in what was the world's first-ever aerial dogfighting and kills between monoplane fighters built of mostly metal.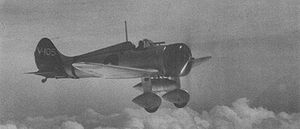 Picture - An A5M from the aircraft carrier Akagi in flight in 1938 or 1939.
There, they proved themselves the better of every aircraft they encountered, though the Mitsubishi team continued to improve the A5M, working through versions until the final A5M4, which added a ventral drop-tank for extended range. Even though only armed with a pair of 7.7 mm machine-guns, the new Mitsubishi fighter proved effective and damage tolerant, with excellent maneuverability and a very robust construction. The most dangerous foe was the Polikarpov I-16, fast and well armed, often manned by Soviet aircrews. A5M's escorted the then-modern but vulnerable Mitsubishi G3M bombers in their raids, almost ending opposition by Nationalist air force. Fierce battles were fought, especially on 18 February 1938 and 29 April, among the large air battles fought to that time. The battle of 29 April saw 67 Polikarpov fighters against 18 G3Ms escorted by 27 A5Ms. Both parties claimed victory. The Chinese/Soviet side claimed 21 Japanese aircraft (11 fighters and 10 bombers) with 50 air crew killed; the Japanese admitted only two G3Ms and two A5Ms shot down, and in turn claimed no less than forty kills, so the real outcome is unclear..
A trainer version, the A5M4-K was also built (103 examples). This had a two-seater cockpit and continued in use for fighter training long after the regular A5M left front-line service.
Almost all A5Ms had open cockpits; a closed cockpit was tried, but found little favor among Navy aviators. All had fixed, non-retractable undercarriage with (except for the trainers) wheel spats.
The Flying Tigers encountered the Type 96, although not officially, and one was shot down at Mingaladon airfield, Burma on 29 January 1942.
Some A5Ms were still in service at the beginning of World War II in the Pacific. United States intelligence sources believed the A5M was still the primary Navy fighter, but they had already been replaced by the A6M 'Zero' on first-line aircraft carriers and with the Tainan Air Group. Other Japanese carriers and air groups continued to use the A5M until production of the 'Zero' caught up with demand. The last combat actions with the A5M as a fighter took place at the Battle of the Coral Sea on 7 May 1942, when two A5Ms and four A6Ms of the Japanese carrier Shōhō fought against the US planes that sank their carrier.
Most remaining airframes were used for kamikaze attacks in the closing months of the war.
Versions
Data from
Ka-14
Six prototypes with various engines and design modifications.
A5M1
Navy carrier-based fighter, Model 1 : first production model with 633 kW (850 hp) Kotobuki 2 KAI I engine.
A5M2/2a
Model 21: More powerful engine.
A5M2b
Model 22: First production examples with NACA cowling and 477 kW (640 hp) Kotobuki 3 engine.
A5M3a
Prototypes with 448 kW (601 hp) Hispano-Suiza 12 Xcrs engine.
A5M4
Model 24 (ex-Model 4): The A5M2b with different engine, closed cockpit, additional detachable fuel tank. The last production models (Model 34) with Kotobuki 41 KAI engine.
A5M1-A5M4
780 constructed by Mitsubishi. 39 constructed by Watanabe, 161 manufactured by Naval Ohmura Arsenal.
A5M4-K
Two seat trainer version of A5M4, 103 constructed by Naval Ohmura Arsenal.
Ki-18
Main article: Mitsubishi Ki-18
Single prototype land-based version for IJAAF, based on the A5M. 410 kW (550 hp) Kotobuki 5 engine.
Ki-33
Main article: Mitsubishi Ki-33
Two prototypes, a development of Ki-18 with a different engine, and closed cockpit.
Total Production (all versions): 1,094
Operators
Data from
Japan
Imperial Japanese Navy Air Service
Aircraft carrier Akagi
Aircraft carrier Hōshō
Aircraft carrier Kaga
Aircraft carrier Ryūjō
Aircraft carrier Shōhō
Aircraft carrier Sōryū
Aircraft carrier Zuihō
Chitose Kokutai
Oita Kokutai
Ōminato Kokutai
Omura Kokutai
Sasebo Kokutai
Tainan Kokutai
Yokosuka Kokutai
12 Air Corps
13 Air Corps
14 Air Corps
15 Air Corps

Specifications (Mitsubishi A5M4)
Data from The Concise Guide to Axis Aircraft of World War II
General characteristics
Crew: One
Length: 7.55 m (24 ft 9¼ in)
Wingspan: 11.0 m (36 ft 1 in)
Height: 3.20 m (10 ft 6 in)
Wing area: 17.8 m² (191.6 ft²)
Empty weight: 1,216 kg (2,681 lb)
Loaded weight: 1,705 kg (3,759 lb)
Max takeoff weight: 1,822 kg (4,017 lb)
Powerplant: 1x— Nakajima Kotobuki 41 9-cylinder radial engine, 585 kW (785 hp) at 3,000 m (9,840 ft)

Performance
Maximum speed: 440 km/h (237 knots, 273 mph) at 3,000 m (9,840 ft)
Range: 1,200 km (649 NM, 746 mi)
Service ceiling: 9,800 m (32,150 ft)
Rate of climb: m/s (ft/min)
Wing loading: 95.87 kg/m² (19.6 lb/ft²)
Power/mass: 0.34 kW/kg (0.21 hp/lb)

Armament
Guns: 2x— 7.7 mm Type 97 machine guns (0.303 in) fuselage-mounted machine guns

Comparable aircraft
Polikarpov I-16
P-26 Peashooter
Nakajima Ki-27

Bibliography
Bond, Major General USAF (Retd.), Charles R. and Terry H. Anderson. A Flying Tiger's Diary. College Station, TX: Texas A&M University, 1984 (8th impression 2001). ISBN 0-89096-408-4.
Francillon, Ph.D., René J. Japanese Aircraft of the Pacific War. London: Putnam & Company Ltd., 1970 (second edition 1979). ISBN 0-370-30251-6.
Green, William. Warplanes of the Second World War, Volume Three: Fighters. London: Macdonald & Co. (Publishers) Ltd., 1961 (seventh impression 1973). ISBN 0-356-01447-9.
Green, William and Swanborough, Gordon. "The Zero Precursor...Mitsubishi's A5M". Air Enthusiast. Number 19, August-November 1982. Pages 26-43.
Januszewski, Tadeusz. Mitsubishi A5M Claude. Sandomierz, Poland/Redbourn, UK: Mushroom Model Publications, 2003. ISBN 83-917178-0-1.
Mikesh, Robert C. and Shorzoe Abe. Japanese Aircraft, 1910-1941. London: Putnam & Company Ltd., 1990. ISBN 0-85177-840-2.
Mondey, David (ed.). The Concise Guide to Axis Aircraft of World War II. London: Chancellor, 1996. ISBN 1-85152-966-7.
Sakaida, Henry. Imperial Japanese Navy Aces, 1937-45. Botley, Oxfordshire, UK: Osprey Publishing, 1998. ISBN 1-85532-727-9.
Unknown. "Handbook of Japanese Aircraft 1910-1945 (Model Art Special #327)" Model Art Modeling Magazine, March 1989.
Unknown. Mitsubishi Type 96 Carrier Fighter/Nakajima Ki-27 (The Maru Mechanic #49). Tokyo: Kojinsha Publishing, 1984.
Unknown. Type 96 Carrier Fighter (Famous Airplanes of the World #27). Tokyo: Bunrindo Publishing, 1991.

Mitsubishi A5M Pictures
Living Warbirds: The best warbirds DVD series.
Source: WikiPedia