Mitsubishi A7M Video - Picture
Mitsubishi A7M Aircraft Information
Mitsubishi A7M
Mitsubishi A7M Reppū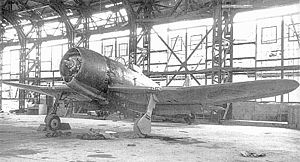 Picture - Mitsubishi A7M2 Reppū
Role: Carrier-based fighter
Manufacturer: Mitsubishi
Designed by: Jiro Horikoshi (as a participant)
First flight: 1944
Primary user: Imperial Japanese Navy Air Service
Number built: 8

The Mitsubishi A7M Reppū (烈風, "Strong Gale") was designed as the successor to the Imperial Japanese Navy's A6M Zero, with development beginning in 1942. Performance objectives were to achieve superior speed, climb, diving, and armament over the Zero, as well as better maneuverability. As a result, the wing area and overall size were significantly greater, on par with the American P-47 Thunderbolt. The A7M's allied codename was "Sam".
Design and development
Towards the end of 1940, the Imperial Japanese Navy asked Mitsubishi to start design on a 16-Shi carrier-based fighter, which would be the successor to the carrier-based Zero. At that time, however, there were no viable high-output, compact engines to use for a new fighter. In addition, Jiro Horikoshi's team was preoccupied with addressing early production issues with the A6M2b as well as starting development on the A6M3 and the 14-Shi interceptor (which would later become the Mitsubishi J2M Raiden, a land-based interceptor built to counter high-altitude bombers). As a result, work on the Zero successor was halted in January 1941.
In April 1942, the development of the A6M3 and the 14-Shi interceptor was complete, and the Japanese Navy once again tasked Mitsubishi and Horikoshi's team with designing a new Zero successor to be the 17-Shi fighter. In July, the Navy issued specifications for the fighter: it had to fly faster than 345 kn (639 km/h; 397 mph) above 6,000 m (20,000 ft), climb to 6,000 m (20,000 ft) in less than 6 minutes, be armed with two 20 mm cannon and two 13 mm (0.51 in) machine guns, and retain the maneuverability of the A6M3.
As before, one of the main hurdles was engine selection. To meet the specifications the engine would need to produce at least 1,491 kW (1,999 hp), which narrowed choices down to Nakajima's NK9 under development (later becoming Homare), or Mitsubishi's MK9 (Ha-43), which was also still being developed. Both engines were based on 14-cylinder (Nakajima Sakae and Mitsubishi Kinsei, respectively) engines converted to 18-cylinder powerplants. The early NK9 had less output but was already approved by the Navy for use on the Yokosuka P1Y Ginga, while the larger MK9 promised more horsepower.
With the larger, more powerful engine, wing loading became an issue. The Navy requested at most 150 kg/m², but wanted 130 kg/m² which complicated design considerations further. With the NK9 it could achieve 150 kg/m², but with the less power it wouldn't meet the specifications for maximum speed. With the MK9 the engineers concluded it could fulfill the requirements; however, production of the MK9 was delayed compared to the NK9, and the Japanese Navy instructed Mitsubishi to use the NK9.
Work on the 17-Shi was further delayed by factories prioritizing A6M and Mitsubishi G4M production as well as further work on A6M variants and addressing Raiden issues. As a result, the 17-Shi, which became the A7M1, officially flew for the first time on 6 May 1944, four years after development started. The aircraft demonstrated excellent handling and maneuverability, but was underpowered as Mitsubishi engineers feared, and with a top speed similar to the A6M5 Zero. It was a disappointment, and the Navy ordered development to stop on 30 July 1944, but Mitsubishi obtained permission for development to continue using the Ha-43 engine, flying with the completed Ha-43 on 13 October 1944. The A7M2 now achieved a top speed of 628 km/h (339 kn; 390 mph), while climb and other areas of performance surpassed the Zero, leading the Navy to change its mind and adopt the craft. The A7M2 was also equipped with automatic combat flaps, used earlier on the Kawanishi N1K-J, significantly improving maneuverability.
While it was hoped that the A7M would replace the A6M, production was disrupted by an earthquake in December 1944 in the Nagoya region, and by Allied bombing, with only eight aircraft completed by the end of the war. The type never saw combat.
Variants
A7M1 : Initial model powered by 1,491 kW (1,999 hp) Nakajima Homare 22 engine. Three built.
A7M2 : Revised version with 1,641 kW (2,201 hp) Mitsubishi Ha-43 engine. Five prototypes.
A7M3 : Proposed land-based fighter version with supercharged Ha-43 engine. Not built.
A7M3-J : Proposed land-based fighter version. Not built.

Specifications (A7M2)
Data from Japanese Aircraft of the Pacific War
General characteristics
Crew: 1
Length: 10.99 m (36 ft 1 in)
Wingspan: 14.00 m (45 ft 11 in)
Height: 4.28 m (14 ft 0½ in)
Wing area: 30.86 m² (332.2 ft²)
Empty weight: 3,226 kg (7,112 lb)
Loaded weight: 4,720 kg (10,406 lb)
Powerplant: 1x— Mitsubishi Ha-43, 1,640 kW (2,200 hp)

Performance
Maximum speed: 630 km/h (339 kn, 390 mph) at 6,600 m (21,660 ft)
Cruise speed: 417 km/h (225 kn, 259 mph)
Service ceiling: 10,900 m (35,760 ft)
Endurance: 2.5 hr cruise + 30 min combat
Climb to 6,000 m (13,100 ft): 6 min 7 sec

Armament
Guns: * 2 x— 20 mm Type 99 cannons
2 x— 13.2 mm (0.52 in) Type 3 machine guns

Comparable aircraft
Grumman Hellcat
Grumman Bearcat
F4U Corsair
Hawker Sea Fury
Nakajima Ki-84

Bibliography
Francillon, Ph.D., René J. Japanese Aircraft of the Pacific War. London: Putnam & Company Ltd., 1970 (second edition 1979). ISBN 0-370-30251-6.
Green, William. Warplanes of the Second World War, Volume Three: Fighters. London: Macdonald & Co. (Publishers) Ltd., 1961 (seventh impression 1973). ISBN 0-356-01447-9.

Mitsubishi A7M Pictures
Living Warbirds: The best warbirds DVD series.
Source: WikiPedia