Mitsubishi ATD-X Video - Picture
Mitsubishi ATD-X Video - News report
Mitsubishi ATD-X Aircraft Information
Mitsubishi ATD-X
ATD-X Shinshin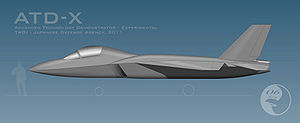 Picture - Mitsubishi ATD-X as of 2007
Role: Stealth Experimental aircraft
National origin: Japan
Manufacturer: Mitsubishi Heavy Industries
First flight: 2014
Status: Under development
Primary user: Japan Air Self-Defense Force

The Mitsubishi ATD-X Shinshin is a state of the art prototype fifth-generation jet fighter that uses advanced stealth technology. Being developed by the Japanese Ministry of Defense Technical Research and Development Institute (TRDI) for research purposes. The main contractor of the project is Mitsubishi Heavy Industries. Many consider this aircraft to be Japan's first domestically made stealth fighter. ATD-X is an acronym meaning "Advanced Technology Demonstrator - X". The aircraft's Japanese name is 心神 (shin-shin) which means one's mind. The aircraft's first flight is scheduled for 2014.
Development
Japan, which wants to replace its aging fighter fleet, has also made overtures to Washington on the possibility of purchasing the American F-22 stealth fighter. However, the U.S. Congress has repeatedly banned the sale of the plane to any foreign government, in an attempt to safeguard the country's advanced technology, necessitating Japan to develop its own stealth fighter. In 2005, a mock-up of the ATD-X was used to study its radar cross section in France. In 2006, a radio-controlled 1/5 scale model made its first flight to gain data on performance at high angles of attack, and to test new sensory equipment and self-repairing flight control systems. Decision by the ministry to push ahead with the multi billion-yen project means developers will start working toward flight tests, with production in about 10 years, it said. The reports also say that there was a possible involvement of US Lockheed Martin in the development of ATD-X. The ATD-X is expected to achieve its maiden flight in 2014.
Design
The design of the aircraft reflects those of several American fourth and fifth generation fighters, most notably the F-22 Raptor. The ATD-X will be used as a technology demonstrator and research prototype to determine whether domestic advanced technologies for a fifth generation fighter aircraft are viable, and is a 1/3 size model of a possible full-production aircraft. The aircraft also features 3D thrust vectoring capability. Thrust is controlled in the ATD-X by the use of 3 paddles on each engine nozzle similar to the system used on the Rockwell X-31, while an axis-symmetric thrust vectoring engine is also being developed for the full scale production model. The nozzles on the prototype appear to be uncovered and might have a slight adverse effect on the aircraft's stealth characteristics.
Among the features the ATD-X is to have is a fly-by-optics flight control system, which by substituting optical fibers for wires, allows data to be transferred faster and with immunity to electromagnetic disturbance.
Its radar will be an active electronically scanned array (AESA) radar called the 'Multifunction RF Sensor', which is intended to have broad spectrum agility, capabilities for electronic countermeasures (ECM), electronic support measures (ESM), communications functions, and possibly even microwave weapon functions.
A further feature will be a so-called 'Self Repairing Flight Control Capability' (自己修復飛行制御機能), which will allow the aircraft to automatically detect failures or damage in its flight control surfaces, and using the remaining control surfaces, calibrate accordingly to retain controlled flight.
The JASDF is reported to have issued a request for information for engines in the 10 to 20 thousand pound thrust range to power the prototypes while Ishikawajima-Harima Heavy Industries is to provide the engines for the completed fighter.
Specifications (ATD-X)
Data from Miyakawa et al, 2008
General characteristics
Crew: 1
Length: 14.174 meters (46.50 feet)
Wingspan: 9.099 meters (29.85 feet)
Height: 4.514 meters (14.80 feet)
Max takeoff weight: 8 tonnes max takeoff weight alt = 17,636 pounds ()
Powerplant: 2x— IHI XF5-1.
Dry thrust: 10 tonnes (22,046 pounds) each
Thrust with afterburner: 15 tonnes (33,069 pounds) each

Performance
Comparable aircraft
F-22 Raptor
F-35 Lightning II
J-20
Korea Aerospace Industries KF-X
Sukhoi PAK FA
Sukhoi/HAL FGFA
Medium Combat Aircraft

Mitsubishi ATD-X Pictures
Living Warbirds: The best warbirds DVD series.
Source: WikiPedia