Mitsubishi K7M Video - Picture
Mitsubishi K7M Aircraft Information
Mitsubishi K7M
Mitsubishi K7M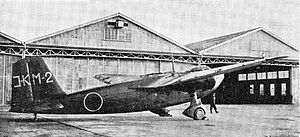 Role: Experimental crew trainer
National origin: Japan
Manufacturer: Mitsubishi
First flight: 1938
Primary user: Imperial Japanese Navy
Number built: 2

The Mitsubishi K7M (or Mitsubishi Ka-18) was a 1930s Japanese experimental crew trainer built by Mitsubishi for the Imperial Japanese Navy to replace the K3M.
Design and development
The K7M was a cantilever high-wing monoplane with a cabin for five students and two instructors, and was of metal construction, with fabric covered outer wings. The K7M was powered by two 340hp (254kW) Gasuden Tempu radial piston engines. The Navy decided the twin-engined type was too costly to replace the single-engined K3M and the type was not developed further, the two prototypes did enter service as trainers with the designation K7M1.
Operators
Japan
Imperial Japanese Navy Air Service

Specifications
Data from
General characteristics
Crew: 2
Capacity: 5 students, 2 instructors.
Length: 13.23 m (43 ft 5 in)
Wingspan: 19.96 m (65 ft 6 in)
Height: 3.45 m (11 ft 4 in)
Empty weight: 2,558 kg (5,640 lb)
Gross weight: 3,810 kg (8,400 lb)
Powerplant: 2 x— Gasuden Tempu radial piston engine, 250 kW (340 hp) each

Performance
Maximum speed: 260 km/h (160 mph; 140 kn)
Range: 950 km; 513 nmi (590 mi)

Armament
Guns: 2 x— 7.7mm (0.303in) machine-gun
Bombs: up to 90kg (198lb)

Bibliography
Richards, M.C. (1970). "Your Questions Answered...:Mitsubishi Trainers". Air Pictorial (January 1970): 0. 29.
The Illustrated Encyclopedia of Aircraft (Part Work 1982-1985). Orbis Publishing.

Mitsubishi K7M Pictures
Living Warbirds: The best warbirds DVD series.
Source: WikiPedia