Mitsubishi Regional Jet Video - Animation
Mitsubishi Regional Jet Aircraft Information
Mitsubishi Regional Jet
MRJ 70 / MRJ 90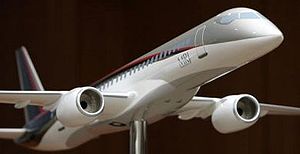 Role: Regional jet
National origin: Japan
Manufacturer: Mitsubishi Aircraft Corporation
Status: Early manufacturing

The Mitsubishi Regional Jet (MRJ) is a passenger jet aircraft seating 70-90 passengers manufactured by Mitsubishi Aircraft Corporation, a partnership between majority owner Mitsubishi Heavy Industries and Toyota Motor Corporation.. The project is in early manufacturing as of September 30th, 2010 with its maiden flight scheduled for 2012. It will be the first airliner Japan has designed and produced domestically since the NAMC YS-11 of the 1960s.
Design and development
The MRJ will be the launch platform for Pratt & Whitney's PW1000G Geared Turbofan engine. The aircraft was initially expected to be the first regional jet aircraft to adopt carbon fiber composite materials for its airframe on a significant scale. However, in a design turn-around in September, 2009, Mitsubishi announced that it would use aluminium for its wing box instead of composite material. Carbon composite parts will now make up only 10-15% of the aircraft, mostly around the tail section. This change brought increase in the cabin height by 1.5in (3.81 cm) to 80.5in (204.47 cm) and fuselage height increase to 116.5in (295.91 cm). This gave the MRJ a rounder cabin, which is wider and higher than its competing aircraft manufactured by Bombardier and Embraer.
A cabin mockup and a scale model were presented at the 47th Paris Air Show in June 2007. The company has decided to formally offer the aircraft for sale to potential customers. Production is planned to begin in 2012. The first flight is to take place in the second quarter of 2012, and the first delivery to take place in the first quarter of 2014.
All Nippon Airways is the first customer, with an order for 15 MRJ 90s, and an option for 10 more.
On 15 September 2010, the Mitsubishi Aircraft Corporation announced that it had entered the production drawing phase and continues to proceed with the manufacturing process.
Variants
Four versions are planned using two different fuselage lengths. The MRJ70 will have a passenger capacity of 70-80 and the MRJ90 will have a passenger capacity of 86-96.
Orders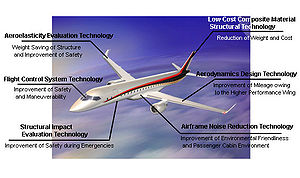 Picture - MRJ and its specifications Mitsubishi Regional Jet.jpg
Specifications
Sources: MRJ Aviation Week
Comparable aircraft
Antonov An-148
ACAC ARJ21
Bombardier CRJ700/900/1000
Embraer E-Jets
Sukhoi Superjet 100
Tupolev Tu-334

Mitsubishi Regional Jet Pictures
Living Warbirds: The best warbirds DVD series.
Source: WikiPedia