Morane-Borel monoplane Video - Picture
Morane-Borel monoplane Aircraft Information
Morane-Borel monoplane
Morane-Borel monoplane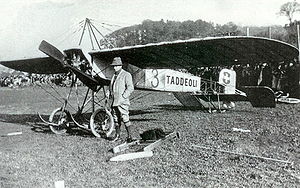 Picture - Emile Taddéoli in ~1911/13
Role: Sports plane
Manufacturer: Morane brothers and Gabriel Borel
First flight: 1911

The Morane-Borel monoplane (sometimes referred to with the retronym Morane-Saulnier Type A or simply the Morane monoplane) was an early French single-engine, single-seat aircraft. It was flown in several European air races.
Design
The Monoplane was a conventional design for its day, a mid-wing monoplane with fixed tailskid undercarriage. The wooden framework of the rear fuselage was left uncovered in some aircraft. Its powerplant was a 50 hp rotary engine driving a two-blade wooden propeller.
Operational history
The Monoplane achieved fame when Jules Védrines flew one to victory in the 1911 Paris-Madrid air race, the only competitor to finish the four-day course. Emile Taddéoli was another owner of a Morane monoplane.
A float-equipped version flew in the round-Britain Hydro-Aeroplane trial of 1912. This led to the development of a two-seater, of which eight were purchased by the Royal Navy and used as spotter aircraft until the outbreak of World War I.
Surviving examples
In 2007, a single example remains extant, undergoing conservation work at the Canada Aviation Museum
Operators
United Kingdom Royal Navy Brazil Brazilian Navy
Specifications
General characteristics
Crew: one pilot
Length: 6.28 m (20 ft 7 in)
Wingspan: 9.12 m (29 ft 11 in)
Empty weight: 280 kg (619 lb)
Gross weight: 430 kg (948 lb)
Powerplant: 1 x— Gnome et Rhx´ne rotary, 37 kW (50 hp)

Performance
Maximum speed: 110 km/h (69 mph)

Taylor, Michael J. H. (1989). Jane's Encyclopedia of Aviation. London: Studio Editions. pp. 193.
aviafrance.com

Morane-Borel monoplane Pictures and Morane-Borel monoplane for Sale.
Living Warbirds: The best warbirds DVD series.
Source: WikiPedia