Morane-Saulnier Alcyon Video - Closeups and in cockpit
Morane-Saulnier Alcyon Video - Taxi
Morane-Saulnier Alcyon Aircraft Information
Morane-Saulnier Alcyon
MS-733 Alcyon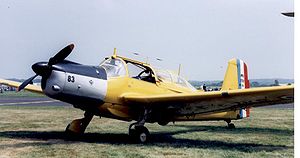 Picture - MS-733 Alcyon in the markings of the Armee de l'Air at Coventry in June 2003
Role: Basic trainer
National origin: France
Manufacturer: Morane-Saulnier
First flight: 1949
Status: several flown by private owners
Primary user: French Air Force
Number built: 208

The Morane-Saulnier Alcyon (en: Kingfisher) is a two or three-seat basic training monoplane designed and built in France by Morane-Saulnier.
Development
Designed as a basic trainer for the French military the prototype MS.730 first flew on the 11 August 1949. The protoype was a low-wing cantilever monoplane with a fixed tailwheel landing gear and powered by a 240hp (134kW) Mathis 8G.20 inverted V8 engine. The engine was replaced with a 240hp (179kW) Argus As 10 and the prototype flew again in November 1949 as the MS.731. Two further prototypes were built and flown in 1951 designated MS.732, they were each powered by a Potez 6D.30 engine and the original fixed landing gear of the prototype was replaced with retractable main wheels.
Production and service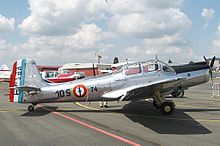 Picture - Preserved MS.733 with French Navy markings on display in France, 2009.
The production version followed designated the MS.733, with five pre-production aircraft and 200 production aircraft. The aircraft were delivered to the French Navy (40), the French Air Force (145) and the Cambodian Air Force (15). Seventy of the French Air Force aircraft were fitted with machine-guns for gunnery training and some of these were later converted for counter-insurgency operations (and re-designated MS.733A) for use in Algeria. After the war, some aircraft were sold to Morocco.
The Alcyon was a successful trainer, capable of basic aerobatic maneuvers. It was often used in replacement of pre-war vintage Stampe SV.4 biplanes. Several civilian flying schools, including Air France, used the Alcyon. For the time, it was well equipped with full IFR equipment: two VOR-ILS sets, one ADF set, two VHF radios, an attitude indicator and a directional gyroscope. For this reason, it was often used for navigation training as it was far cheaper to operate than the twin-engine designs commonly used for that task.
Since retirement by the French military services, several Alcyons have been restored to flying condition by private owners and groups.
Variants
MS.730
Prototype powered by a 240hp (134kW) Mathis 8G.20 engine, one built later re-engined as the MS.731.
MS.731
Prototype re-engined with a 240hp (179kW) Argus As 10 engine.
MS.732
Prototypes powered by a 240hp (179kW) Potez 6D.30 engine and retractable landing gear, two built.
MS.733
Production variant with a 240hp (179kW) Potez 6D.30 engine, five pre-production and 200 production aircraft built.
MS.733A
MS.733 gunnery trainers modified for counter-insurgency role.
Operators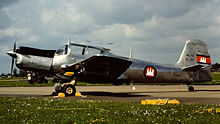 Picture - A 1956-built MS.733 in 1981 in Royal Cambodian Air Force markings
Cambodia
Cambodian Air Force

France
French Air Force
French Navy

Morocco
Moroccan Air Force

Specifications (MS.733)
Data from
General characteristics
Crew: 2 or 3
Length: 9.32 m (30 ft 7 in)
Wingspan: 11.28 m (37 ft 0 in)
Height: 2.42 m (7 ft 11¼ in)
Wing area: 21.90 m² (235.74 ft²)
Empty weight: 1260 kg (2778 lb)
Gross weight: 1670 kg (3682 lb)
Powerplant: 1 x— Potez 6D.30 inverted inline piston engine, 179 kW (240 hp)

Performance
Maximum speed: 260 km/h (162 mph)
Range: 920 km (572 miles)
Service ceiling: 4800 m (15,750 ft)

Taylor, Michael J. H. (1989). Jane's Encyclopedia of Aviation. London: Studio Editions.
The Illustrated Encyclopedia of Aircraft (Part Work 1982-1985). Orbis Publishing.

Morane-Saulnier Alcyon Pictures and Morane-Saulnier Alcyon for Sale.
Living Warbirds: The best warbirds DVD series.
Source: WikiPedia