Morane-Saulnier H Video - In aircraft museum
Morane-Saulnier H Video - At Paris airshow
Morane-Saulnier H Aircraft Information
Morane-Saulnier H
Type H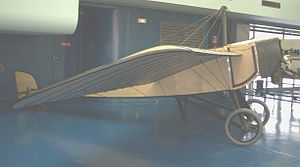 Picture - Morane Saulnier Type H on display at the Musee de l'Air et de l'Espace at Paris Le Bourget airport
Role: Sport aircraft
Manufacturer: Morane-Saulnier
First flight: 1913

The Morane-Saulnier H was a sport aircraft produced in France in the years before the First World War, a single-seat derivative of the successful Morane-Saulnier G with a slightly reduced wingspan Like the Type G, it was a successful sporting type in its day.
During the second international aero meet, held at Wiener Neustadt in June 1913, Roland Garros won the precision landing prize in a Type H.
The French Army ordered a batch of 26 aircraft, and the British Royal Flying Corps also acquired a small number, these latter machines purchased from Grahame-White, who was manufacturing the type in the UK under licence. The French machines saw limited service in the opening stages of World War I, with pilots engaging in aerial combat using revolvers and carbines.
The type was also produced under licence in Germany by Pfalz Flugzeugwerke, who built it as the E.I, E.II, E.IV, E.V, and E.VI, with increasingly powerful engines. These were armed with a single, synchronised LMG 08/15 machine gun.
A Type H is preserved at the Musée de l'Air et de l'Espace in Le Bourget.
Variants
Pfalz-built versions
E.I - with Oberursel U.0 rotary engine (60 built)
E.II - with Oberursel U.I rotary engine
E.IV - with Oberursel U.III rotary engine (ca. 24 built)
E.V - with Mercedes D.I water-cooled, inline engine
E.VI - with Oberursel U.I engine, lengthened fuselage, enlarged tail fin and additional bracing (20 built)

Operators
France
Aéronautique Militaire

Austria-Hungary
Austro-Hungarian Navy - (Pfalz-built versions)

Germany
Luftstreitkrx¤fte - (Pfalz-built versions)

Portugal One aircraft only. United Kingdom
Royal Flying Corps

Specifications
Data from flugzeuginfo.net
General characteristics
Crew: One pilot
Length: 5.84 m (19 ft 2 in)
Wingspan: 9.12 m (29 ft 11 in)
Height: 2.26 m (7 ft 5 in)
Empty weight: 188 kg (415 lb)
Gross weight: 444 kg (979 lb)
Powerplant: 1 x— Le Rhx´ne 9C, 60 kW (80 hp)

Performance
Maximum speed: 120 km/h (75 mph)
Range: 177 km (111 miles)

Grosz, P.M. (1996). Pfalz E.I-E.VI. Berkhamsted, Hertfordshire: Albatros Publications.
Hartmann, Gérard (2001). "L'incroyable Morane-Saulnier hydro". La Coupe Schneider et hydravions anciens/Dossiers historiques hydravions et moteurs. http://www.hydroretro.net/etudegh/moranesaulnierhydro.pdf. Retrieved 2008-11-07.
The Illustrated Encyclopedia of Aircraft. London: Aerospace Publishing.
"Morane-Saulnier Type H". flugzeuginfo.net. http://www.flugzeuginfo.net/acdata_php/acdata_morane_h_en.php. Retrieved 2008-11-07.
Taylor, Michael J. H. (1989). Jane's Encyclopedia of Aviation. London: Studio Editions.

Morane-Saulnier H Pictures and Morane-Saulnier H for Sale.
Living Warbirds: The best warbirds DVD series.
Source: WikiPedia