Morane-Saulnier MS.230 Video - Le Bourget Airshow Paris
Morane-Saulnier MS.230 Aircraft Information
Morane-Saulnier MS.230
MS.230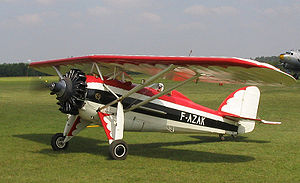 Role: Elementary Trainer
Manufacturer: Morane-Saulnier
First flight: February 1929
Primary user: Armée de l'Air Flight School, Reims, France
Number built: 1000+

The Morane-Saulnier MS.230 aircraft was the main elementary trainer for the French Armée de l'Air throughout the 1930s. In fact, almost all French pilots flying for the Armée de l'Air at the outbreak of World War II had had their earliest flight training in this machine. It was the equivalent of the Stearman trainer in the United States air services and the de Havilland Tiger Moth in the British Royal Air Force.
Development and design
The MS.230 was designed to meet French Air Ministry requirements. It first flew in February 1929 and proved to be an excellent and stable machine which was very easy to fly. It was placed into service in military flight schools throughout France and was exported abroad to the air forces of numerous other countries. It also became a popular aircraft for sport aviation. The MS.230 was of metal tubular framing with fabric covering throughout, except the forward area of the fuselage, which was metal covered. It had a wide fixed landing gear that made it very stable in takeoff and landing. Unlike other trainers of the time (which were mostly biplanes), the MS.230 was a high parasol wing monoplane. It did have the usual tandem cockpit arrangement in the fuselage for the instructor and pupil. Numbers of MS.230s survived for many years after the war and became civilian trainers and civilian flying club aircraft.
Variants
Source:
MS.229 - Hispano-Suiza H8a V8, for Swiss Fliegertruppen; two built, one converted to Wright 9Qa radial in 1932
MS.230 - over 1,100 built; 20 bought by Romania and 25 by Greece in 1931, 9 each bought by Belgium and Brazil; main Armee de l'Air trainer for years; operated by several well-known private owners including Louis Dolfus; some used for trials with Handley Page slats, or skis; one fitted with Lorraine 9Nb Algol Junior
MS.231 - six built, with 179 kW (240 hp) Lorraine 7Mb, 1930
MS.232 - experimental version with 149 kW (200 hp) Clerget 9Ca diesel, 1930
MS.233 - powered by 172 kW (230 hp) Gnome-Rhone 5Ba or 5Bc, six built in France and 16 in Portugal under licence for the Portuguese military
MS.234 - 186 kW (250 hp) Hispano-Suiza 9Qa engine, two built, one for U.S. Ambassador in Paris
MS.234/2 - converted from MS.130 racer with 172 kW) (230 hp) Hispano 9Qb and NACA cowling, entered in 1931 Coupe Michelin air race, 86 kW (250 hp) Hispano-Suiza 9Qa engine, 1933 fitted with 9Qa engine as MS.234 #2, flown in aerobatic competition by Michael Detroyat until 1938
MS.235 - 224 kW (300 hp) Gnome-Rhone 7Kb engine, one built 1930
MS.235H - twin-float version, first flown 1931
MS.236 - fitted with 160 kW (215 hp) Armstrong Siddeley Lynx 4C, 19 built under licence for Belgian Air Force by SABCA, first flown July 1932
MS.237 - 209 kW (280 hp) Salmson 9Aba engine, five built for private users, introduced 1934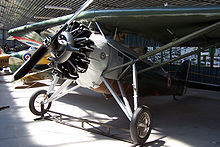 Picture - MS.230 at Praha-Kbely museum
Operators
Belgium
Belgian Air Force

Brazil Czechoslovakia (as C23) France
French Air Force

Germany
Luftwaffe (small numbers)

Greece Portugal Romania Spain
Spanish Republican Air Force

Specifications
Data from Holmes, 2005. p. 97.
General characteristics
Crew: 2 (one instructor, one student)
Length: 6.70 m (22 feet 10 inches)
Wingspan: 10.70 m (35 feet 1 inch)
Height: 2.80 m (9 feet 2 inches)
Empty weight: 829 kg (1,828 pounds)
Loaded weight: 1,150 kg (2,535 pounds)
Powerplant: 1x— Salmson 9AB, 9-cylinder, air-cooled radial engine, 109 kW (230 hp)

Performance
Maximum speed: 205 km/h (127 mph)
Range: 579 km (360 miles)
Service ceiling: 5,000 m (16,405 feet)

Armament
None
Morane-Saulnier MS.230 Pictures and Morane-Saulnier MS.230 for Sale.
Living Warbirds: The best warbirds DVD series.
Source: WikiPedia