Morane-Saulnier MS.760 Paris Video - Promotional video
Morane-Saulnier MS.760 Paris Video - Airshow demo
Morane-Saulnier MS.760 Paris Aircraft Information
Morane-Saulnier MS.760 Paris
MS.760 Paris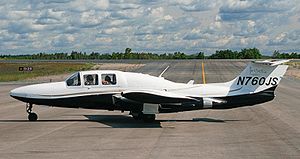 Picture - A MS.760 on the ramp of the Dryden Regional Airport (CYHD)
Role: Trainer aircraft
National origin: France
Manufacturer: Morane-Saulnier
First flight: 26 July 1954
Introduced: 9 February 1959
Retired: 1997 (France), 2007 (Argentina)
Primary users: French Navy French Air Force Argentine Air Force
Number built: 165
Developed from: Morane-Saulnier MS.755 Fleuret

The Morane-Saulnier MS.760 Paris is a French four (or six) seat jet trainer and liaison aircraft built by Morane-Saulnier. Based on the earlier side-by-side seating two-seat trainer, but adding an additional row of two seats, the MS-755 Fleuret, the Paris was used by the French military between 1959 and 1997. In 1955, a short-lived venture with Beech Aircraft to market the Paris as an Executive Business Jet in the US market was soon eclipsed by Learjet's Model 23. While four seat propeller planes are common, jet powered planes with this seating arrangement such as the Grumman EA-6B Prowler are comparatively rare.
Design and development
In the early 1950s the French Air Force needed an ab-initio jet trainer; Morane-Saulnier proposed the MS-755 Fleuret, but the competition was won by the Fouga Magister. The company re-designed the MS-755 as a four-seat liaison aircraft which they called the MS.760 Paris.
On 29 July 1954 the prototype MS.760, registered F-WGVO (F-BGVO), took off on its maiden flight. With its T-shaped vertical stabilizer, low wing, and two Turbomeca Marboré 400 kg turbines internally mounted side-by-side in the aft fuselage, the Paris offered a platform characterized by inherent stability. The aircraft had four seats, two in the front and two in the back, and a retractable tricycle landing gear.
The French military ordered 50 aircraft for liaison duties, for both the French Air Force (36) and Navy (14). The first production aircraft flew on 27 February 1958.
In 1961, production plants started rolling out the MS.760B Paris II, fitted with two Marboré IV 480 kg engines, wingtip fuel tanks, air conditioning, and a bigger luggage compartment. On 24 February 1964, a six-passenger version, designated MS.760C Paris III, made its first flight, but there was no production of this variant. Production of the Paris II ceased, and production of the Paris III never started. Some 153 aircraft (Paris I and Paris II) were produced for the French Air Force (36 planes) and Navy (14 planes), and the air forces of Argentina, and Brazil. Construction nr. (serial numbers) 109 and 110 were never built.
Operational history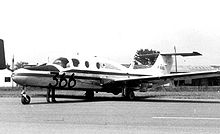 Picture - The sole MS.760C Paris III six-seat aircraft at the Paris Air Show in June 1967
On 18 July 1956 the French government requisitioned 50 aircraft, including 14 for the Navy, from Tarbes-based manufacturer Morane-Saulnier. The first plane was delivered on 9 February 1959 to Naval Air Station (N.A.S.) Dugny-Le Bourget, before going to the C.E.P.A. (directly translated as Aeronautical Practical Experiment Center - in English this would probably be "Flight Test Centre") in 1959-60, for the flight tests necessary to develop training programs and materials. The type was also purchased by several countries such as Brazil and Argentina; 36 planes were license-built by Fabrica Militar de Aviones (FMA) in Argentina. The MS.760B Paris II, with various systems improvements and integral fuel tanks in the leading edges of the wing, first flew on 12 December 1960.
The 14 MS.760 were assigned to Flight 11.S from 9 February 1959 onwards. The last plane, No. 88, was delivered on 27 July 1961. In 1965, MS.760 No. 48 was briefly assigned to Flight 3.S based at N.A.S Hyx¨res. From 1970 onwards, all the 12 remaining MS.760s were assigned to Flight 2.S based at N.A.S. Lann-Bihoué. In May 1972 they were sent to the S.R.L. On 1 September 1981 this unit became Flight 57.S (this flight had been shut down at the closing of N.A.S. Port-Lyautey, Morocco on 15 January 1962).
Their missions were Super Etendard and F-8 Crusader pilot IFR and all-weather training, advanced training for new pilots, proficiency training for other pilots and A.L.P.A. (admirals commanding the carriers and Naval Aviation), and 1st and 2nd Aerial Regions liaisons. Eight MS.760 Paris were on the unit's flightline. After 40 years of service, the aircraft were retired in October 1997 at N.A.S. Landivisiau.
In 2007, after 48 years of continuous service, the Argentine Air Force retired their last Paris.
Operators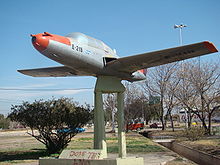 Picture - MS.760 Paris at Mendoza, Argentina
Argentina
Argentine Air Force - 48, of which 36 were license-produced at Cordoba by FMA. Used between 1959-2007

Brazil
Brazilian Air Force - 30 assembled locally.

France
French Air Force
French Navy

Survivors
N° 08 & N° 09 Dave Bennett a collector in Colorado
N° 31 and N° 33 are preserved at the Rochefort Museum of Naval Aviation Traditions.
N° 32 is owned by "Armor Aéro Passion" association
N° 40 by the Le Bourget Air and Space Museum
N° 42 by the Tristan Corbix¨re Technical High School
N° 46 by the Savigny-les-Beaume museum
N° 76 by the Museu Aeroespacial - MUSAL - in Brazil (FAB 2932)
N° 85 by the "Les Ailes de l'Aéro" association
N° 87 and N° 88 were sold to private American owners

Specifications (MS.760B Paris II)
General characteristics
Crew: 1-2
Capacity: 4
Length: 34 ft 2 in (10.4 m)
Wingspan: 33 ft 3 in (10.1 m)
Height: 8 ft 6 in (2.6 m)
Wing area: 194 ft (18 m)
Empty weight: 4841 lb (2196 kg)
Useful load: 3809 lb (1730 kg)
Max takeoff weight: 8650 lb (3920 kg)
Powerplant: 2x— Turboméca Marboré IV (later, Marboré VI C) turbojet, 1058 lbf (4.7 kN)
Takeoff thrust (sea level): 1058 lbf (4.71 kN) each
Fuel capacity (useful): 486 gal (1840 l)

Performance
Maximum speed: 432 mph (695 km/h) (375 kt)
Cruise speed: 400 mph (650 km/h) (350 kt)
Stall speed: 105 mph (170 km/h) (91 kt)
Range: 1150 mi (1850 km) 1000 nm; with IFR reserves: 850 nm
Service ceiling: 25,000 ft (7600 m)
Rate of climb: 1550 ft/min (7.87 m/s)
Wing loading: 44.7 lb/ft² (218 kg/m²)
Thrust/weight: 0.44
Landing distance: 4000 ft (1220 m); over 50-ft obstacle: 6200 ft (1890 m)

Related development
Morane-Saulnier MS.755 Fleuret

Comparable aircraft
Fouga Magister

Donald, David; Jon Lake (2000). The Encyclopedia of World Military Aircraft. NY, NY: Barnes & Noble. ISBN 0-7607-2208-0.

Morane-Saulnier MS.760 Paris Pictures and Morane-Saulnier MS.760 Paris for Sale.
Living Warbirds: The best warbirds DVD series.
Source: WikiPedia