Myasishchev M-55 Video - At MAKS 2005
Myasishchev M-55 Aircraft Information
Myasishchev M-55
M-55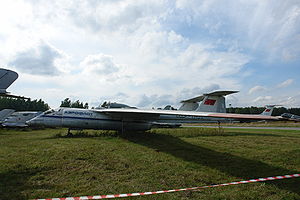 Picture - M-17 '17103' at Monino Central Air Force Museum, Moscow
Role: High altitude reconnaissance
Manufacturer: Myasishchev
First flight: 26 May 1982
Primary user: Soviet Air Force

The Myasishchev M-55 (NATO reporting name: Mystic) is a high altitude reconnaissance aircraft developed by the Soviet Union's Myasishchev design bureau. It is similar in both its mission and design to the American Lockheed U-2 spy plane. It is a development of the M-17. Differences include two turbofan engines instead of one and greater maximum take-off weight.
Development
The M-55 was first known as the M-17. Its life began in 1978 when Soviet engineers searched for ways to intercept American unmanned reconnaissance balloons. The first flight of the M-17 was 26 May 1982; this aircraft was soon detected by U.S. observers. With the introduction of another model of this class, this interceptor M-17 would later become known as the M-17 Mystic-A. On March 28 1990, M-17 '17401' piloted by Vladimir Arkhipenko set an altitude record of 21,830 m (71,621 feet). This remains a record in the 16 to 20 tonne landplane class. The M-17 set a total of 12 FAI World Records, 5 of which still stand today.
The M-17 balloon-interceptor model was terminated in 1987 and replaced by the M-17RN, also known as the M-55 Geophysica, which was dubbed by NATO Mystic-B. The first one of these flew in 1988, but as the Soviet Union collapsed, military demand dropped. In 1994, the reconnaissance version was terminated after only five aircraft were built.
On September 21, 1993, an M-55 piloted by Victor Vasenkov from Akhtubinsk airfield reached a class record altitude of 21,360 m (70,078 feet). (The M-55 being in a heavier class than the M-17) The M-55 set a total of 15 FAI World Records, all of which still stand today.
A number of M-55 Geophysica remain in service, performing in research roles. One M-55 took part in a study of the Arctic stratosphere in 1996-1997.
An Irish headquartered company, Qucomhaps, with a focus on South East Asia, have entered a USD1 Billion deal to use M55 as High Altitude Platform Stations for digital communications.
Operators
Soviet Union
Soviet Air Force

Russia
Russian Air Force

Specifications (M-55)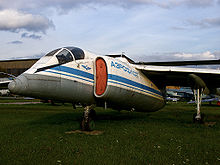 Picture - M-55 body closeup
Data from
General characteristics
Crew: One
Payload: 1,500 Kg (3,300 lb)
Length: 22.86 m (75 ft)
Wingspan: 37.46 m (122 ft 10 3/4 in)
Height: 4.8 m (15 ft 5 in)
Wing area: 131.6 m2 (1417 ft2)
Aspect ratio: 10.6
Empty weight: 13995 kg (30853 lb)
Max takeoff weight: 24,000 kg (54,013 lb)
Powerplant: 2x— Aviadvigatel PS-30-V12 turbojets, 98 kN (22,000 lbf) each

Performance
Maximum speed: 750 km/h (466 mph)
Range: 4965 km (3085 milles)
Service ceiling: 21,500 m (70,500 ft)
Endurance: 6 hours 30 minutes

Related development
Space Adventures M-55X

Comparable aircraft
B-57 Canberra
Lockheed U-2

Myasishchev M-55 Pictures and Myasishchev M-55 for Sale.
Living Warbirds: The best warbirds DVD series.
Source: WikiPedia