Nakajima E4N Video - Picture
Nakajima E4N Aircraft Information
Nakajima E4N
Nakajima E4N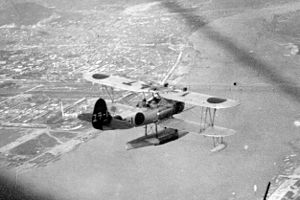 Picture - E4N2
Role: Reconnaissance aircraft
Manufacturer: Nakajima
First flight: 1930
Introduced: 1931
Status: out of service
Primary users: Imperial Japanese Navy Japanese Post Office
Produced: 1931-1933
Number built: 153

The Nakajima E4N was a shipboard reconnaissance aircraft of the Imperial Japanese Navy in the 1930s. It was a two-seat, single-engine, equal-span biplane seaplane.
Development
The first prototype of the Type 90-2 Reconnaissance Seaplane, or E4N1, flew in 1930. This was fitted with twin floats and had no cowling for the engine. This prototype was rejected.
The type was completely redesigned as the Type 90-2-2 or E4N2, with a single main-float and twin, wing-mounted outriggers and introduced a cowled engine. This entered production for the Navy in 1931.
A landplane version of the Type 90-2-2 was developed as the E4N2-C with a tailwheel undercarriage
Operational history
The E4N2 was employed as a shipboard spotter aircraft launched by catapult.
In 1933, nine E4N2-C airframes were converted to P1 mail planes. Single-seat landplanes with an enclosed cockpit, these were employed on night-mail services between the Japanese Home Islands.
Variants
E4N1 (Type 90-2) - twin-float seaplane. Prototype only.
E4N2 (Type 90-2-2) - single-float seaplane. 85 built.
E4N2-C - fixed-undercarriage landplane. 67 built.
P-1 - single-seat mailplane. 9 converted from E4N2-C airframes.

Specifications (Type 90-2-2)
Data from Japanese Aircraft 1910-1941
General characteristics
Crew: 2
Length: 8.87 m (29 ft 1¼ in)
Wingspan: 10.98 m (36 ft 0 in)
Height: 3.97 m (13 ft 0 in)
Wing area: 29.7 m² (319 ft²)
Empty weight: 1,252 kg (2,760 lb)
Loaded weight: 1,800 kg (3,968 lb)
Powerplant: 1x— Nakajima Kotobuki 2 nine-cylinder radial engine, 433 kW (580 hp)

Performance
Maximum speed: 232 km/h (125 kn, 144 mph)
Cruise speed: 148 km/h (80 kn, 92 mph)
Range: 1,019 km (550 nmi, 633 mi)
Service ceiling: 5,740 m (18,830 ft)
Wing loading: 60.7 kg/m² (12.4 lb/ft²)
Power/mass: 0.24 kW/kg (0.15 hp/lb)

Armament
1 x— fixed, forward-firing 7.7 mm machine gun and 1 x— flexible 7.7 mm machine gun in rear cockpit
2 x— 30 kg (66 lb) bombs

Comparable aircraft
Vought O3U Corsair

Francillon, Réne J. Japanese Aircraft of the Pacific War. London: Putnam & Company Ltd., 1970 (2nd edition 1979). ISBN 0-370-30251-6.
Mikesh, Robert C. and Abe, Shorzoe. Japanese Aircraft 1910-1941. London: Putnam Aeronautical Books, 1990. ISBN 0-85177-840-2.

Nakajima E4N Pictures
Living Warbirds: The best warbirds DVD series.
Source: WikiPedia