Nakajima Ki-87 Video - Picture
Nakajima Ki-87 Aircraft Information
Nakajima Ki-87
Nakajima Ki-87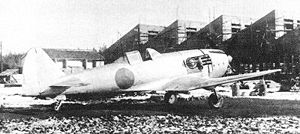 Role: High-altitude fighter-interceptor
Manufacturer: Nakajima Aircraft Company
Designed by: Kunihiro Aoki
First flight: April 1945
Status: Prototype
Primary user: Imperial Japanese Army Air Force
Number built: 1

The Nakajima Ki-87 was a Japanese high-altitude fighter-interceptor of World War II. It was a single, exhaust-driven turbo-supercharged engined, low-wing monoplane with a conventional undercarriage.
Design and development
The Ki-87 was developed in response to American B-29 Superfortress raids on the Home Islands. It followed up on earlier research by Nakajima and the Technical Division of Imperial Army Headquarters into boosting a large radial engine with an exhaust-driven turbo-supercharger, which had begun in 1942, well before the B-29 raids began. The efforts of the Technical Division of Imperial Army Headquarters eventually culminated into the Tachikawa Ki-94-I, while the Ki-87 was developed as a fall-back project, using less stringent requirements. Nakajima started in July 1943 with the construction of three prototypes, to be completed between November 1944 and January 1945, and seven pre-production aircraft, to be delivered by April 1945. The Technical Division of Imperial Army Headquarters made itself felt during the development of the Ki-87 prototype when they insisted upon placing the turbo-supercharger in the rear-fuselage, and from the sixth prototype the Nakajima fighter was to have that arrangement. The Ki-87 had a Curtiss P-40 Warhawk-like undercarriage, as space in the wing was needed for ammunition for the wing-mounted cannon. The 90° rearwards retracting undercarriage was to provide that needed space.
Construction was delayed due to problems with the electrical undercarriage and the turbo-supercharger, and the first prototype was not completed until February 1945; it first flew in April, but only five test flights were completed, all with the undercarriage in the extended position.
A further variant, the Ki-87-II, powered by a 3,000 hp Nakajima Ha.217 (Ha.46) engine and with the turbo-supercharger in the same position as the P-47 Thunderbolt, never went further than the drawing board.
Operational history
Production of 500 aircraft was planned, but the war ended before any more than the single prototype were built.
Aircraft markings
The sole completed prototype was in natural metal finish; some paintings show a black anti-glare area in front of the cockpit, but this is not seen on any of the known photographs of the plane.
Specifications (Ki-87 prototype)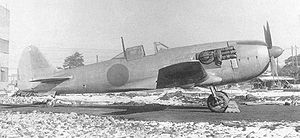 Picture - Another photograph of the first Ki-87 prototype, showing to advantage the turbo supercharger.
Data from Japanese Aircraft of the Pacific War; Japanese Army Fighters, Part 2; Famous Aircraft of the World, first series, no.76: Japanese Army Experimental Fighters (1)
General characteristics
Crew: 1
Length: 11.82 m (38 ft 9.375 in)
Wingspan: 13.423 m (44 ft 0.5 in)
Height: 4.503 m (14 ft 9.312 in)
Wing area: 26.00 m² (279.860 ft²)
Empty weight: 4,388 kg (9,672 lb)
Loaded weight: 5,633 kg (12,416 lb)
Max takeoff weight: 6,102 kg (13,448 lb)
Powerplant: 1x— Mitsubishi Ha.215 (Ha.44/11) eighteen-cylinder air-cooled radial four-blade, 1,789 kW (2,400 hp)

Performance
Maximum speed: 697 km/h (379 kn, 433 mph)
Cruise speed: 470 km/h (254 kn, 292 mph)
Service ceiling: 12,855 m (42,175 ft)
Wing loading: 216.6 kg/m² (44.3 lb/ft²)
Power/mass: 0.317 kW/kg (2.3 kg/hp; 5.2 lb/hp)

Armament
Guns: 2 x— 30 mm (1.18 in) Ho-105 cannons in the outer wing panels and 2 x— 20 mm synchronized Ho-5 cannons in the wing roots
Bombs: 1 x 250 kg (550 lb) bomb under fuselage

Comparable aircraft
Focke-Wulf Ta 152H
Republic P-47N
Tachikawa Ki-94-II
Blohm & Voss BV 155

Bibliography
Francillon, René J. Japanese Aircraft of the Pacific War. London, Putnam & Company, 1970 (Second edition 1979). ISBN 0-370-30251-6.
Green, William. War Planes of the Second World War, Volume Three: Fighters. London: Macdonald, 1961 (Seventh impression 1973). ISBN 0-356-01447-9.
Green, William and Swanborough, Gordon. WW2 Aircraft Fact Files: Japanese Army Fighters, part 2. London, Macdonald & Jane's, 1977. ISBN 0-354-01068-9.
Unknown Author Famous Aircraft of the World, first series, no.76: Japanese Army Experimental Fighters (1). Japan: Bunrin-Do Co. Ltd., August 1976.

Nakajima Ki-87 Pictures
Living Warbirds: The best warbirds DVD series.
Source: WikiPedia