Naval Aircraft Factory XN5N Video - Picture
Naval Aircraft Factory XN5N Aircraft Information
Naval Aircraft Factory XN5N
Naval Aircraft Factory XN5N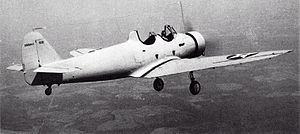 Picture - The Naval Aircraft Factory XN5N-1 in 1941
Role: Trainer
Manufacturer: Naval Aircraft Factory
First flight: 15 February 1941
Retired: 1947
Number built: 1

The XN5N was a prototype United States monoplane trainer aircraft produced by the Naval Aircraft Factory in Philadelphia, Pennsylvania in 1941. A single prototype was built and evaluated.
The type was not placed in production.
Specifications (XN5N-1)

Picture - The XN5N-1 in 1941.
General characteristics
Crew: two, student and instructor
Length: 30 ft 5 in (9.27 m)
Wingspan: 42 ft 0 in (12.80 m)
Height: ft in ( m)
Wing area: ft² ( m²)
Empty: lb ( kg)
Loaded: lb ( kg)
Maximum takeoff: lb ( kg)
Powerplant: 1x— Wright R-760 radial, 350 hp (261 kW)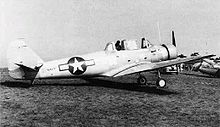 Picture - The XN5N-1 late in the war.
Performance
Maximum speed: 137 mph (220 km/h)
Range: miles ( km)
Service ceiling: 13,900 ft (4,238 m)
Rate of climb: ft/min ( m/min)
Wing loading: lb/ft² ( kg/m²)
Power/mass: hp/lb ( kW/kg)

Comparable aircraft: BT-13 Valiant
Naval Aircraft Factory XN5N Pictures
Living Warbirds: The best warbirds DVD series.
Source: WikiPedia