Nieuport 10 Video - Classic World War I Fighters
Nieuport 10 Video - Classic World War I Fighters
Nieuport 10 Aircraft Information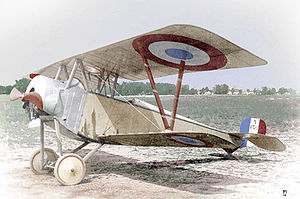 Role: General purpose aircraft
Manufacturer: Nieuport
Designed by: Gustave Delage
Introduction: 1914
Primary user: Aéronautique Militaire

The Nieuport 10 was a French biplane general purpose aircraft, in service during the early months of World War I.
Design and development
In January 1914, designer Gustave Delage joined the Société Anonyme des Establissements Nieuport, and started to design the series of aircraft that made him and the company famous. The first of these was the Nieuport 10, originally designed to compete in the Gordon Bennett Trophy race of 1914. World War I caused this contest to be cancelled, and the type was developed as a military two seat reconnaissance aircraft that entered service in 1915.
The type featured a distinctive "V" strut layout. The lower wing was much smaller in area than the upper wing, and the concept was intended to combine the strength of the biplane's wire braced wing cell with the good visibility of the parasol monoplane.
As a two-seater, the type proved to be underpowered - many were converted to single seat fighters by simply covering the front cockpit, and adding an upward firing Lewis machine gun to the center section of the top wing. In this form, the type was used as a fighter.
Two types were developed from the Nieuport 10 - the Nieuport 11 Bébé - a smaller aircraft, designed from the outset as a single seater, and the Nieuport 12 - a more powerful two-seater.
Variants
Nieuport 10AV This model has the observer/gunner seated in the front and the pilot in the rear. Nieuport 10AR The pilot was seated in the front and the observer/gunner in the rear.
Operators
Belgium France Finland
Finnish Air Force

Italy Russian Empire Ukrainian People's Republic (One aircraft only) United Kingdom
Survivors
One original Nieuport 10, flown by Charles Nungesser, is preserved at Old Rhinebeck Aerodrome on static display.
Specifications (Nieuport 10)
General characteristics
Crew: one, pilot
Length: 7.09 m (23 ft 3 in)
Wingspan: 8.20 m (26 ft 11 in)
Height: ()
Wing area: 18 m² (193.8 ft²)
Empty weight: 411 kg (905 lb)
Loaded weight: 658 kg (1,450 lb)
Powerplant: 1x— le Rhone rotary, 60 kW (80 hp)

Performance
Maximum speed: 139 km/h (75 knots, 86 mph)
Service ceiling: 4,572 m (15,000 ft)
Rate of climb: 2.1 m/s (410 ft/min)
Endurance: 2.5 hours

Armament
1 x— Lewis machine gun mounted atop the upper wing

Living Warbirds: The best warbirds DVD series.
Source: WikiPedia