Nieuport 12 Video - Replica
Nieuport 12 Video - Takeoff from grass field
Nieuport 12 Aircraft Information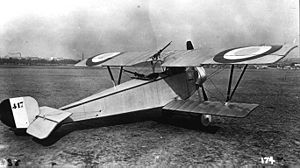 Picture - Nieuport 12 A.2 prototype
Role: Fighter/Reconaissance
Manufacturer: Nieuport
Designed by: Gustave Delage
Primary users: France Russian Empire United Kingdom
Developed from: Nieuport 10

United Kingdom
The Nieuport 12 was a French biplane fighter aircraft used by both Great Britain and France during World War I.
Design and development
To improve the performance of the Nieuport 10 a larger and re-engined version was developed as the Nieuport 12. A Lewis gun was fitted to the rear cockpit for use of the observer and the pilot sometimes had a Lewis gun fixed to the upper wing firing over the propeller. Late examples of the type, used by the Royal Flying Corps were sometimes fitted with a Nieuport or Scarff ring mounting for the observer's gun, and a synchronized Vickers gun for the pilot.
It could be fitted with either a 100 hp (82 kW) or 130 hp (97 kW) Clerget engine mounted in the nose.
Variants
Nieuport 12 Two-seat fighter-reconaissance biplane, powered by 110 hp (82 kW) Clerget 9Z engine. Nieuport 12 bis Revised version with 130 hp (97 kW) Clerget 9C engine. Nieuport 20 Version powered by 110 hp (82 kW) Le Rhx´ne 9J. Not used by France, but 21 delivered to Royal Flying Corps. Nieuport 80E.2, 80D.2 and 83E.2 Nieuport 12s were later converted into training aircraft, they were fitted with extra struts and four-wheel landing gear.
Operators
Argentina
Argentine Naval Aviation

Chile One aircraft only. France
Aéronautique Militaire

Poland Russian Empire
Imperial Russian Air Service

Thailand (Siam) One aircraft only. United Kingdom
Royal Flying Corps
No. 45 Squadron RFC
No. 46 Squadron RFC
No. 65 Squadron RFC
No. 84 Squadron RFC
Royal Naval Air Service
No. 7 Squadron RNAS
No. 10 Squadron RNAS

Specifications (110 hp Clerget engine)
Data from The Complete Book of Fighters
General characteristics
Crew: 2 (pilot, observer)
Length: 7.00 m (22 ft 11½ in)
Wingspan: 9.00 m (29 ft 6 in)
Wing area: 22.0 m² (237 ft²)
Empty weight: 550 kg (1,213 lb)
Gross weight: 850 kg (1,874 lb)
Powerplant: 1 x— Clerget, 82 kW (110 hp)

Performance
Maximum speed: 146 km/h (91 mph)
Endurance: 3 hours
Service ceiling: 3,960 m (13,000 ft)

Armament
1 x— machine gun in rear cockpit (Occasionally one machine gun braced to upper wing)

Related development
Nieuport 10

Bibliography
The Illustrated Encyclopedia of Aircraft (Part Work 1982-1985). Orbis Publishing. pp. 2597.
Bruce, J.M. (1982). The Aeroplanes of the Royal Flying Corps (Military Wing). London: Putnam. ISBN 0 370 30084 x.
Green, W; Swanborough, G (1994). The Complete Book of Fighters. Smithmark. ISBN 0-8317-3939-8.
Thetford, Owen (1978). British Naval Aircraft since 1912 (Fourth Edition ed.). London: Putnam. ISBN 0 85177 861 5.

Living Warbirds: The best warbirds DVD series.
Source: WikiPedia