Nieuport 21 Video - Classic World War I Fighters
Nieuport 21 Video - Classic World War I Fighters
Nieuport 21 Aircraft Information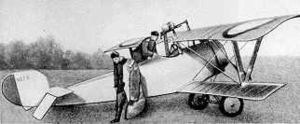 Role: Fighter
Manufacturer: Nieuport
Introduced: 1916
Retired: 1920s
Primary users: Aronautique Militaire Russian Air Force US Army Air Service Finnish Air Force

The Nieuport 21 was a French single-seat, single-engine fighter aircraft used during World War I. The aircraft was used by the French, Russian, and American air forces. After the war, the Nieuport 21 was a popular civil aircraft.
History
The Nieuport 21 was designed by Gustave Delage and it made its maiden flight in 1916. While it had a similar airframe to the Nieuport 17, it was equipped with a less powerful Le Rhxne 9C engine as it was originally intended as a fighter training aircraft. As the engine was fitted with a horseshoe shaped cowling, the Nieuport 21 was often mistaken for the smaller Nieuport 11, which had a similar cowling. However, due to the urgent requirement for fighters, it had to be taken into service as a frontline fighter. Nieuport 21s were sold to the United States (who used them as trainers) and Russia, equipped with a 110 hp Le Rhxne engine. They were also used in limited numbers by the RNAS. The Nieuport 21 was license manufactured in Russia by A/O Duks.
The Finnish Air Force (the Whites) captured one aircraft in Tampere in 1918. It was used until 1923.
Operators
Brazil France
Armee de l'Air

Finland
Finnish Air Force

Portugal Portuguese Air Force Russia
Imperial Russian Air Force - Two aircraft only.

Ukraine United Kingdom
Royal Flying Corps
Royal Naval Air Service
Five aircraft only.

United States
United States Army Air Service

Specifications
Data from Suomen Ilmavoimat I 1918-27
General characteristics
Crew: 1
Length: 6.0 m (19 ft 8 in)
Wingspan: 8.16 m (26 ft 9 in)
Height: 2.40 m (7 ft 10 in)
Wing area: 14.75 m (159 ft)
Empty weight: 320 kg (704 lb)
Max takeoff weight: 495 kg (1089 lb)
Powerplant: 1x Le Rhxne 9C rotary engine, 60 kW (80 hp)

Performance
Maximum speed: 140 km/h (76 knots, 87 mph)
Range: 250 km (132 nm, 152 mi)
Wing loading: 33.6 kg/m (6.89 lb/ft)
Power/mass: 0.121 kW/kg (0.073 hp/lb)

Armament
1 machine gun fixed to upper wing.
Sources
Keskinen, Kalevi; Partonen, Kyxsti and Stenman, Kari: Suomen Ilmavoimat I 1918-27, 2005. ISBN 952-99432-2-9.
Donald, David: The Encyclopedia of World Aircraft, Aerospace Publishing, 1997. ISBN 1-85605-375-X.

Living Warbirds: The best warbirds DVD series.
Source: WikiPedia