Nieuport 24 Video - Full Scale Replica
Nieuport 24 Video - Fokker DVII and Nieuport 24
Nieuport 24 Aircraft Information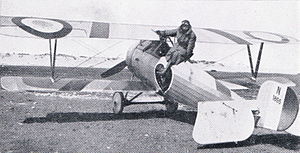 Picture - Charles Nungesser with his Nieuport 24bis.
Role: fighter / advanced trainer
Manufacturer: Nieuport
Designed by: Gustave Delage
First flight: 1917
Primary users: Aéronautique Militaire Royal Flying Corps Royal Naval Air Service

The Nieuport 24 was a French biplane fighter aircraft during World War I designed by Gustave Delage as a replacement for the successful Nieuport 17.
Design and development
The Nieuport 24 introduced a new fuselage of improved aerodynamic form, rounded wingtips, and a tail unit incorporating a small fixed fin and a curved rudder. The tailskid was sprung internally and had a neater appearance than that on earlier Nieuports. A 130 hp Le Rhx´ne rotary engine was fitted.
In the event, there were problems with the new tail, and most production aircraft of the type were of the Nieuport 24bis model, which retained the fuselage and wings of the 24, but reverted to the Nieuport 17 type tailplane, tailskid and rectangular balanced rudder. The new tail was finally standardised on the Nieuport 27.
A batch of Nieuport 24bis were built in England for the Royal Naval Air Service.
The standard armament of the Nieuport 17 (a synchronised Vickers in French service - a Lewis gun on a Foster mounting on the top wing in British service) was retained to save weight and retain a good performance, although many 24s were used as advanced trainers and normally flown without guns.
Service history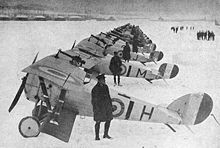 Picture - 27 December 1917: No.1 RAF Squadron with Nieuport 27s and Nieuport 24s at Bailleul.[1]
In the summer of 1917, when the Nieuport 24 and 24bis. were coming off the production line, most French fighter squadrons were replacing their Nieuport 17s with SPAD S.VIIs - and many of the new fighters went to fighter training schools, and to France's allies, including the Russians, and the British, who used theirs well into 1918, due to a shortage of S.E.5as. A few French units retained the Nieuport through late 1917 - the type was actually preferred by some pilots, especially the famous Charles Nungesser.
Some of the Nieuport advanced trainers bought by the Americans for their flying schools in France in November 1917 may very well have been 24s or 24bis.
Operators
Afghanistan
Afghan Air Force

France Japan
Imperial Japanese Army Air Force - built by Nakajima Aircraft Company

Romania Russia Serbia United Kingdom Soviet Union United States
Specifications (Nieuport 24bis.)
Data from
General characteristics
Crew: One
Length: 5.88 m (19 ft 3½ in)
Wingspan: 8.18 m (26 ft 10 in)
Height: 2.44 m (8 ft)
Empty weight: 354 kg (782 lb)
Loaded weight: 544 kg (1,200 lb)

Performance
Maximum speed: 187 km/h (116 mph)
Service ceiling: 5,550 m (18,200 ft)
Rate of climb: 22 min to 5,000 m (16,400 ft)

Armament
Guns:
(French service) 1 x— synchronised Vickers machine gun
(British service) 1 x— Lewis gun on Foster mounting on upper wing

Related development
Nieuport 17
Nieuport 27

Nieuport Fighters in Action published by Squadron/Signal Publications.
Bruce, Jack M. "More Nieuport Classics". Air Enthusiast, Number Five, November 1977-February 1978. Bromley, Kent, UK: Pilot Press. pp. 14-28.
Cheesman E.F. (ed.) Fighter Aircraft of the 1914-1918 War Letchworth, Harletford Publications, 1960 pp. 96-97

Living Warbirds: The best warbirds DVD series.
Source: WikiPedia